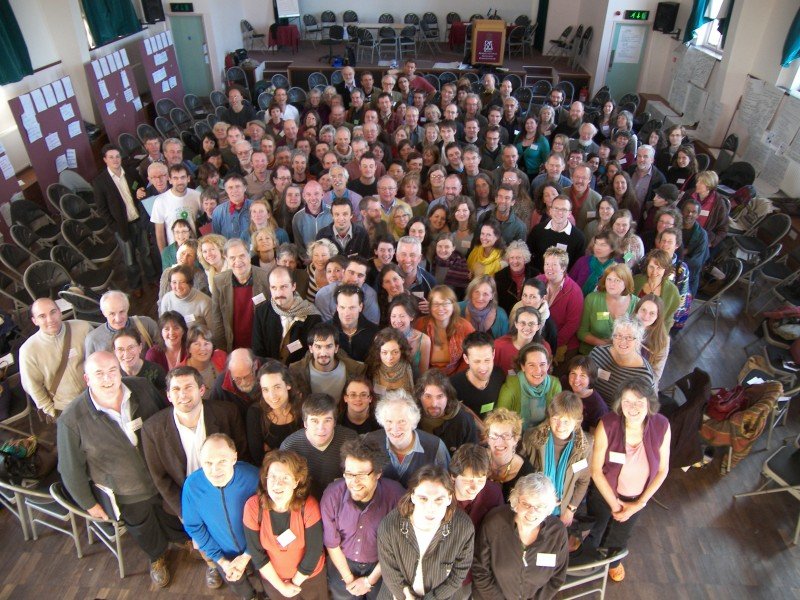 How we can move towards being better humans and, ultimately, towards a better world.

"We all need transition, one way or another. But we need guidance."
Anonymous Transition Initiative member
At a time where societies are increasingly vulnerable regarding to energy, social, environmental and economic issues, the Transition model argues that one should act at a local level, promote a new vision of the future and turn the communities into more human, sustainable and resilient places.
Fundamentally, the underlying idea is that, by planning and acting early enough, and using creativity and cooperation to unleash the innate genius of communities, we can build more fulfilling, enriching and environmentally-friendly future.
Today, there are already Transition Initiatives spread across thousands of communities around the world. They started their individual projects in the food, education, energy, construction, waste, and art industries, amongst others, in order to provide a local response to economic problems, global climate change and to achieve a reduction in the use of particular energy resources.
Transition Initiative started when Rob Hopkins (author of the Transition Handbook, co-founder of Transition Network and Transition Town Totnes) felt the need to look around for places or organizations which were using permaculture principles and sustainable thinking. As he found none, he decided to improvise a '20-years-into-the-futureplan, conventionalizing how and what could be improved, from a starting point of how they currently were. This small academic exercise was actually the beginning of something far more complex and difficult to define, as Transition Initiative can be seen as a new way of understanding life, a way of living it, within a community's particular reality.
There are many ways of approaching and conducting this experiment and scheme, but each group is individually looked at to ensure that they suit the community and are a good fit for its needs. Nonetheless, there are at least four steps that Rob Hopkins has defined as being common to all participants of the Transition Initiative.
First things first, the way to begin is by starting out. In this initial, phase people are motivated to find others whose concerns are similar to their own and that match up to the ones promoted by project- they have to ensure that they all want to see some actual changes. According to the Co-founder of the Transition Network, the act of actually forming groups is the root of the entire process, as it brings people together and it serves as a catalyst for the discussion of their local improvement needs.
There is no set rule for how to gather potential colleagues, but one common method is knocking on people's doors, as noted by Joel Prittie. He first started knocking on doors for professional reasons and then, with the extra confidence gained from the unshaking belief he had in Transition Initiative, he decided to try it for these ends. This was how he met Ali Mohamed who, despite having never been a part of a movement like this, became interested through Joel's speech about his local region (Moss Side, Manchester, UK). He is also convinced that bonding with neighbors is fundamental, as they can help out when needed. A well-connected community means a protected and unified community.
Joel has knocked on over 14200 different doors, walking along street after street, recruiting neighbors and strangers who show an interest in the initiative. This curious, but very dedicated, way of approaching people has resulted in 237 new additions to the Transition Moss Side contacts list. Others tried different approaches, such as meetings in public libraries or at their own houses – there are actually some guidelines on how to communicate ideas about Transition within the neighborhoods on the movement's official site. Some chose not to actively pursue new people and instead waited for them to come and approach them out of their own free will. However, once it becomes something more serious, people are able to make it official. In other words, after several meetings (at least seven, in most cases) and formal assurance of the members' commitment to the cause, there is the possibility of becoming an official movement. When you look at the movement's website, you can see all the procedures of how to officially become a real member of the Transition Initiative displayed in the support area. Here, you can read how registering as a member of the system and knowing a "good amount of information" about the initiative's profile and ideologies are mandatory. This actually relates to step two, which is called deepening, as it represents the process of becoming an organization, rather than just a group of people.
After completing these processes, which takes a lot of time and dedication, there's the natural path of connecting even further. This phase of the project is about embedding it much deeper in the community and approaching the authorities. In order to achieve a thriving community, one where people feel included and able to participate, is also vital to have support from the local institutions. Individual efforts are important within the framework of a logic that sees everyone as their own role-model and everyone as capable of making the changes they want to see in the world. However, even although this is all very meaningful, this effort can be even more representative and effective if it is allied with cooperation with the local authorities, who can choose to collaborate or not.
Umberto Fonda, for instance, Councilor for the Environment in Monteveglio (Bologna, Italy) and responsible for the project Energy sustainability and CO2 reduction among local COMmunities – part of the Transition Italy movement. He is an example of how politicians and institutional powers, people who are often perceived as very distant, can build strong alliances with the people they represent.
Another example of how bottom-up approaches can be met halfway by institutional powers is the case of Kilburn's platform (UK). Here, the persistence of Transition Initiative's workers, like Michael Stuart and Sanchia Dunn, with the help of the local authorities responsible for the particular change they wanted to see (which was, in this specific case, Transport for London), led to the construction of little fruit and vegetable patches right beside the train tracks. This initiative succeeded in an incredibly high profile environment- a first of its kind, a platform where fruit and vegetables grow, is in a tube station in London, with over 12,000 people passing through it each and every day. The idea of growing food on the platforms was initially not very well received at all, and it only happened due to the persistence and determination of those who had originally dreamt it. Everything depends on people- make contact, and persevere.
Transition Initiative, A Change Within Ourselves – Part 2
This article was first published in I'M Magazine
Ana Teresa Silva is a journalist, writer and life coach.
After many years as a freelance journalist, working on TV documentaries and for several newspapers and magazines, she founded I'M Magazine, an international digital magazine that covers projects and extraordinary people that are changing the world. 
Since 2008 she has been interviewing social entrepreneurs and innovators, futurists and change-makers, thinkers and facilitators from all over the world and sharing compelling life stories, ®evolutionary roads, projects for a sustainable future and ideas in motion…
Ana Teresa is also the Managing Director of a portuguese digital magazine on health and well-being. As a writer, she authored 6 books (one of her novels won a 1st prize fiction award), and she has also written 2 children's theater plays and a daily TV series. Her last published novel, "Amanhã é outro dia" was published in November 2014 by Talent Hunter Editions.
She works also as a Life Coach and PsyCH-K facilitator.