Rachel Searle and Will Harvey in front of Blake´s cottage Intelligenthq
I first came across the poetry of William Blake in 1989, when studying at an American High School. I was enrolled in an english literature class, and one day we were introduced to William Blake´s "Songs of innocence." As I read "The lamb" that simple poem struck me like a blow.
William Blake was an English painter, poet and printmaker, in sum, a polymath, that lived from 1757 to 1827. Most of his life was spent in London, except for the three years he lived in Felpham. He moved there to take up a job of illustrating the works of William Hayley, a minor poet. It was in a cottage located in Felpham, that Blake began Milton. The preface to this work includes a poem beginning "And did those feet in ancient time", which became the words for the anthem "Jerusalem". Blake´s poetry was almost forgotten until Alexander Gilchrist started working on his biography in the 1860s. Many have argued that Blake's thoughts on human nature greatly anticipate and parallel the thinking of the psychoanalyst Carl Jung.
Those three years spent in the cottage in Felpham, left a marvelous impression in the poet´s soul as he found the town more spiritual than London. He wrote about Felpham:
"[The town of] Felpham is a sweet place for Study, because it is more spiritual than London. Heaven opens here on all sides her golden Gates; her windows are not obstructed by vapours; voices of Celestial inhabitants are more distinctly heard, & their forms more distinctly seen; & my Cottage is also a Shadow of their houses. "
Blake is now widely recognized as one of the most extraordinary english poets, but strangely, there isn´t yet any place dedicated to celebrate his legacy and oeuvre. An opportunity to solve this lack appeared recently as the cottage where he lived, which has been in the ownership of one family since 1928, came recently into the market. A group of local citizens from Bognor Regis, that are collectively called "The Big Blake Project" decided to start a fundraising campaign to acquire it, with the goal of transforming it into a Centre For the Imagination.
Big Blake Project
The Big Blake Project is a local affiliated organisation to the Blake Society that arose in Felpham joining various people passionate about William Blake´s poetry. The Big Blake Project was firstly founded by Rachel Searle. She was later on joined by five more people. These are Mark Searle, Will Harvey, Abby Wilkinson, Jackie Dowling and Barney Dowling.
This group works in partnership with other local organisations to create an appropriate celebration of Blake's legacy. They aim as well to bring genuine regeneration of the area of Bognor Regis. The Big Blake project has operated until now under 4 different streams: The Big Blake trail, Big Blake arts, Blake's Cottage and Golgonooza. One of the most interesting initiatives done by this group is the Blake´s trail. If you visit Bognor Regis, you can follow stickers that will lead you to walk along the Bognor Regis seafront to Blake's cottage, visit St Mary's Church and see the Blake memorial window.
The group´ s latest goal is to fundraise enough money to help buying the cottage where Blake once lived. Once purchased it will be managed by an independent trust called Blake Cottage Society. If they manage to buy the cottage, they plan to transform it into a "centre of imagination", a hub fostering creativity and innovation.
Intelligenthq went to Bognor Regis to visit Blake´s cottage and Rachel and Will Harvey, which gave us an interview about their extraordinary project:
Everyone can contribute to the campaign of saving Blake's Cottage, just by participating in an Indiegogo campaign that the group launched entitled: let´s make a visionary home for blake. If the cottage is achieved, Bognor Regis will have a place to put in practice what Blake prophetic words once said:
"The mutual forgiveness of each vice, such are the gates of paradise. And I know that this world Is a world of imagination and vision. I see everything I paint in this world, but everybody does not see alike… "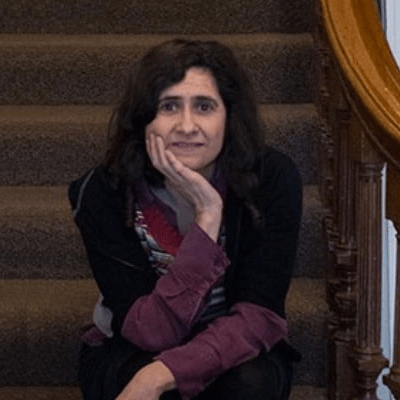 Maria Fonseca is the Editor and Infographic Artist for IntelligentHQ. She is also a thought leader writing about social innovation, sharing economy, social business, and the commons. Aside her work for IntelligentHQ, Maria Fonseca is a visual artist and filmmaker that has exhibited widely in international events such as Manifesta 5, Sao Paulo Biennial, Photo Espana, Moderna Museet in Stockholm, Joshibi University and many others. She concluded her PhD on essayistic filmmaking , taken at University of Westminster in London and is preparing her post doc that will explore the links between creativity and the sharing economy.