Mr. Pradeep Multani, President of PHD Chamber of Commerce and Industry in India, is the guest in the latest episode of Dinis Guarda YouTube podcast series. Both of them discuss how to build safe, trusted, and resilient foundations for businesses and commerce in Indian markets, and the boom of the traditional system of medicine. This series is powered by citiesabc.com and openbusinesscouncil.org.
An exceptional personality, Mr. Pradeep Multani is originally from a family of Ayurvedic physicians (also called Vaidya). After successfully studying law at Delhi University, he has journeyed through multiple industries and is currently serving as the President of the PHD Chamber of Commerce and Industry (PHDCCI). He has affluent experience of more than 40 years and is also the President of AMAM (Association of Manufacturing of Ayurvedic Medicines) where he is working tirelessly to achieve the ease of doing business and promoting the AYUSH sector.
During the interview, host Dinis Guarda finds out that Mr. Multani is zealous in carrying forward the Prime Minister's  (of India) vision to transform India's $2.8 trillion economies to $5 trillion. Mr. Multani firmly believes that at the pace with which India is growing towards globalisation, it is not far from truly becoming a self-reliant country(an Atma Nirbhar Bharat)."Trust in your leadership, trust in your own capacities. Definitely, the way India is headed today, the day is not far when these goals of being self-reliant India.", he told Dinis.
Beginning the podcast episode by exploring the potential that the Indian traditional system of medicine holds for the world, the two discussed that this system is not well recognised and approved at a global level. "In most of the countries of the world, the Ayush system is not approved as the medical system. So, all these medicines are going as health food supplements (nutraceuticals). Ayush has gone into agreement with WHO, setting up a traditional medical centre in India- the first in the world being in Gujarat, signing MoU with more than 25 countries where they are accepting this system of medicine as an acknowledged and approved system of medicine", Mr. Multani told Dinis.
---
More Interviews
James Zhang, CEO The Concept Art House – Games, Art And NFTs
Adam Hollander, Serial Entrepreneur, Pack Leader at Hungry Wolves – NFT, Gamification
Interview with Rishi Kapoor, Founder & CEO of paus.tv – The Revolutionary Streaming Platform For Independent Creators
Interview Kireet Khurana, Filmmaker & Creator Of Animation Film "Toonpur Ka Superhero" – Homelessness In India: The "Invisible Visible"
Pedro Gadanho – Architecture, Arts, Cities & Society – Former MoMA & MAAT Curator, Architect
Susan Oh, Future of AI, Blockchain; Blockchain For Impact Global Summit @ UN HQ, Top 10 Frontier Women in Digital
---
PHD Chamber of Commerce and Industry: Promoting industry, trade and entrepreneurship
Asked by Dinis about the role of PHDCCI in developing India's business and commerce, Mr. Pradeep Multani explained that he oversees its decision-making process. Utilising the strong national and international relations that the organisation has built over its 117 years of establishment, PHDCCI has been working at the grass-root level and coming up with effective strategies that align with the nation's vision and policies. Speaking about the transformation brought about by digitalisation, Mr. Multani tells Dinis:-
"Being the voice of industry and trade, the chamber has been focussing for the past few months on several cohesive strategies for a sustained economic expansion and is advocating a new recommendation to the govt. These transformations are being driven by India's technological expertise, accelerated adoption of digitalisation, invigorating entrepreneur spirit and disruptive startup culture. The chamber continues to play a proactive role of deliberating policy makers on important issues concerning the economy".
Throwing light on the future plans of PHDCCI for enhancing the trade and commerce for India, Mr. Multani says that besides servicing their fellow countrymen, PHDCCI is committed to providing an environment of confidence and security to the global investors for shifting their manufacturing capacities to the country. "We will hand-hold them, we will guide them, how to set up their plants, how to get permission, and all. India can be one of the top manufacturing hubs of the world. The PHD chamber will be working as a perpetrator who offers a win-win relationship, and we all contribute significantly to each and everyone's growth," he added.
Giving the appropriate impetus to AYUSH- the traditional Indian system of medicine
AYUSH is the acronym for Ayurveda Yoga Unani Siddha Homeopathy. This traditional system of medicine has been prevalent in India for more than 5000 years. However, it rose to popularity during the recent wake of COVID-19, when the world was struggling to revive itself from the mass destruction caused by the pandemic.
Mr. Multani tells Dinis that AYUSH has been focussing on the general well being of a person by healing a person naturally. He said almost all the diseases in the world will find some kind of cure from this system. When Dinis asked him if the Ministry of AYUSH is planning to expand this sphere of influence beyond the boundaries of Indian culture, Mr. Multani says:- "Yoga has been acknowledged globally as a healing therapy. As for the other components of this system of medicine, the Ministry of AYUSH is working on significant ways to provide necessary impetus". 
Maintaining India's vision of wisdom and pragmatism
Dinis asked Mr. Multani to elaborate India's strategic policy on welcoming entrepreneurs. "Even during the time of COVID, and now during the sad and unfortunate Russia-Ukraine war, India has played a very sensible and intelligent role. We condemn any killing in the world, because we firmly believe the world is one big family- our blood is the same, our eyes are the same.", explains Mr. Multani.
Addressing entrepreneurs, he said:- "Come out with your dreams, whatever they are. We can do great things together. We believe that the world is one big family, we can contribute very very constructively to mankind."
Bringing the solid educational foundations of the country to light, Mr. Multani tells Dinis that India has one of the finest educational institutions in the world. Nevertheless, there is a significant scope for improvement that can be seen with participation from global universities. "Education from universities abroad costs phenomenally. If we tie up with others, we would be able to provide world-class education in an economical way, with no compromise on the quality and skill of the students coming out. The day is not far when we'll have top global universities to have something that is really state of the art.", he expressed his optimism.
Concluding this captivating session, Mr. Multani invites entrepreneurs from across the globe, highlighting the seamless facility that Indian markets provide. Through the podcast, he assures the world: "There is a lot of liberalisation, ease of doing business, and it is also our responsibility at PHDCCI to ensure a safe and secure channel for all our global friends."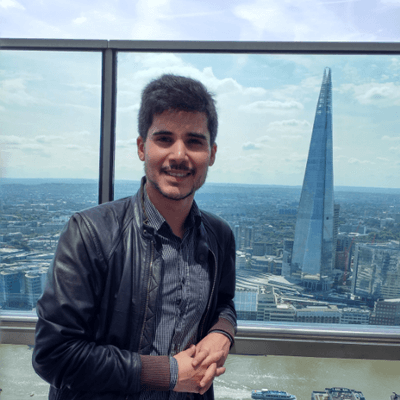 Hernaldo Turrillo is a writer and author specialised in innovation, AI, DLT, SMEs, trading, investing and new trends in technology and business. He has been working for ztudium group since 2017. He is the editor of openbusinesscouncil.org, tradersdna.com, hedgethink.com, and writes regularly for intelligenthq.com, socialmediacouncil.eu. Hernaldo was born in Spain and finally settled in London, United Kingdom, after a few years of personal growth. Hernaldo finished his Journalism bachelor degree in the University of Seville, Spain, and began working as reporter in the newspaper, Europa Sur, writing about Politics and Society. He also worked as community manager and marketing advisor in Los Barrios, Spain. Innovation, technology, politics and economy are his main interests, with special focus on new trends and ethical projects. He enjoys finding himself getting lost in words, explaining what he understands from the world and helping others. Besides a journalist, he is also a thinker and proactive in digital transformation strategies. Knowledge and ideas have no limits.