Last Thursday, some of the UK's most influential thought leaders in the digital marketing sphere gathered at the Dominion Theatre in London's West End for the annual Linkdex Think Tank event. Speakers included Stefan Hull from Propellernet, Leah Katz of Edelman, iCrossing's Paul Doleman, Andrew Girdwood of DigitasLB1 and Nick Garner from 90 Digital.
The Linkdex event is a get-together for some of the leading minds in the UK's online marketing industry, with the future direction of the ever-changing digital marketing landscape permanently installed at the top of the agenda. The key takeaway from this event was the results of a survey of attendees, which gives an inkling as to the anticipated areas of emphasis in the coming year in terms of online marketing activities and focal points.
Topping the rankings in this regard were the categories of 'measurement' and 'mobile' with over 60% of attendees selecting these as priorities for the year ahead. This will come as no surprise to anyone that is intimately involved with digital marketing, but if you're not, here's the scoop:
Measurement
For the past decade or so, SEM (Search Engine Marketing) and its many related disciplines have been at the core of every online marketing effort. But although this remains hugely relevant – with Google searches alone accounting for 25% of all web traffic – social media is playing an increasingly dominant role in marketing-related activities. Although a recent study shows that retail websites receive just 3% of their traffic from social media, the fact that Facebook is sitting at #2 in the Alexa rankings (Google is #1) shows you why marketers and brands are having to take social so seriously.
This has created something of a headache for marketers. If you thought measuring the ROI on search marketing was difficult, then you'd be in for a headache if you had to deliver a social media marketing presentation to a corporate client. The thing with social marketing is that it works – and it's where the market  has moved to – but it's very difficult to measure the effectiveness. It's a long-term, holistic effort, and is ideologically opposed to the kind of easily-measurable media buying campaign that has been the norm in the past.
That's why the marketing industry has been mounting their own equivalent of the Apollo programme when it comes to creating metrics for social media marketing. Not to over-dramatise the situation, but this quote seemed appropriate:
"We choose to go to the moon. We choose to go to the moon in this decade and do the other things, not because they are easy, but because they are hard, because that goal will serve to organize and measure the best of our energies and skills, because that challenge is one that we are willing to accept, one we are unwilling to postpone, and one which we intend to win, and the others, too."
By 'moon' we mean 'quasi-mystical place where you can actually measure the impact of something as long-term and unquantifiable as a social media marketing effort'. And, in a nutshell, that's why measurement was deemed the most important priority for marketers in the coming year.  Because, if you'll remember, the USA made it to the moon in the end. And these days, that's the kind of result that big business expects. If they're going to pay for something, they need to know what they're paying for – it's their necks on the line, after all.
Mobile
The other big priority for the respondents was mobile, which is unsurprising given the rapid growth in smartphone and tablet usage in recent times. In Q3 2013, nearly 20% of global web traffic came via mobile devices, and this proportion is expected to substantially increase in the next few years.
Like the issue of measurement, this creates something of a problem for marketers. Unlike the screen space on desktop computers, the real estate available on mobile devices is much smaller, and users are keen to have as much of it available to themselves as possible. Basically, the proliferation of mobile technologies is making it more diffiicult to reach people, and that's why developing innovative new strategies for mobile is at the forefront of most marketers' minds.
Although apps and mobile-friendly web services are undoubtedly a marketing priority, the swing towards mobile devices has brought about a seemingly unlikely revival of mobile-specific marketing techniques, particularly SMS marketing, which has been seeing something of a revival recently. People are using their phones more and their computers less, and mobile-specific technologies such as this are gaining in relevance as a result.
Community Management
With social assuming an ever-greater role in the marketing mix, it's become increasingly apparent that in order for a brand to engage, it needs someone to engage on their behalf. Community managers are those people, and the increased emphasis on personal communication brought about by social media is making them more important by the day.
Content
The modern social media landscape is all about sharing – hence the popularity of 'earned media' as a buzz-phrase. People don't share adverts with each other – not unless they want to invite suspicion and/or ridicule – but they do share content. If you want your message out there, you need to package it up in a form that people will spontaneously share with each other. Consumers are accustomed, even partially blind, to brand and product placement within the content that they consume on the internet. The key is to have content so good that people don't realise or care about the sales motive, and that's why content marketing is so high up on the priorities list this year.
Data
Big Data is becoming a big deal. Not just for measurement,  but also in terms of market research. Today, trillions of exobytes of data are being spewed out by the users of the internet by the second. This represents a goldmine for marketers, who have had to rely on small samples of people to represent the public they aim to sell to in the past, which naturally carried a huge margin for error. Big data has the potential to almost eliminate this margin, if it is interpreted accurately. Of course, this isn't the easiest thing to do by any means, but if it were to be achieved, it could open up the marketers' equivalent of Pandora's Box.
Integration
The concept of the 'social business' demands that organizations become fully integrated in their digital marketing approaches. Basically, this means that the left hand – let's call them the SEO team – knows what the right hand (for example, the PR team) is doing. Technology has demanded the emergence of several new marketing disciplines, and the challenge for any organisation is to align them so that they all pulling in the same direction. And with more and more employees adding their voice to the social footprint of a company, it is inevitable that the challenge of integrating them in a holistic fashion, without stifling their urge to engage in the first place, is near the top of the marketing agenda.
Other Notables
The lower reaches of this bar chart read like a graveyard for forgotten buzzwords from marketing's back pages – for example Google's 2012 effort 'Zero Moment Of Truth', or the still-yet-to-really-happen-but-already-old 'Real Time/Always On' objective. Also, there is a lot of crossover between the categories – for example 'Moble' isn't a million miles away from 'Screens (TV, mobile, wearable etc.The rest of the list seems to be a representation of the aspects that marketers are keen to be seen not to have forgotten about, such as Display, Email, Reputation, and Trust, but are not considered 'hot button' issues for marketers – or the the people who employ them.
As an adjunct to the findings of the survey in question, take a look at this infographic, which shows the results of a survey related to how much companies are spending on the various marketing disciplines: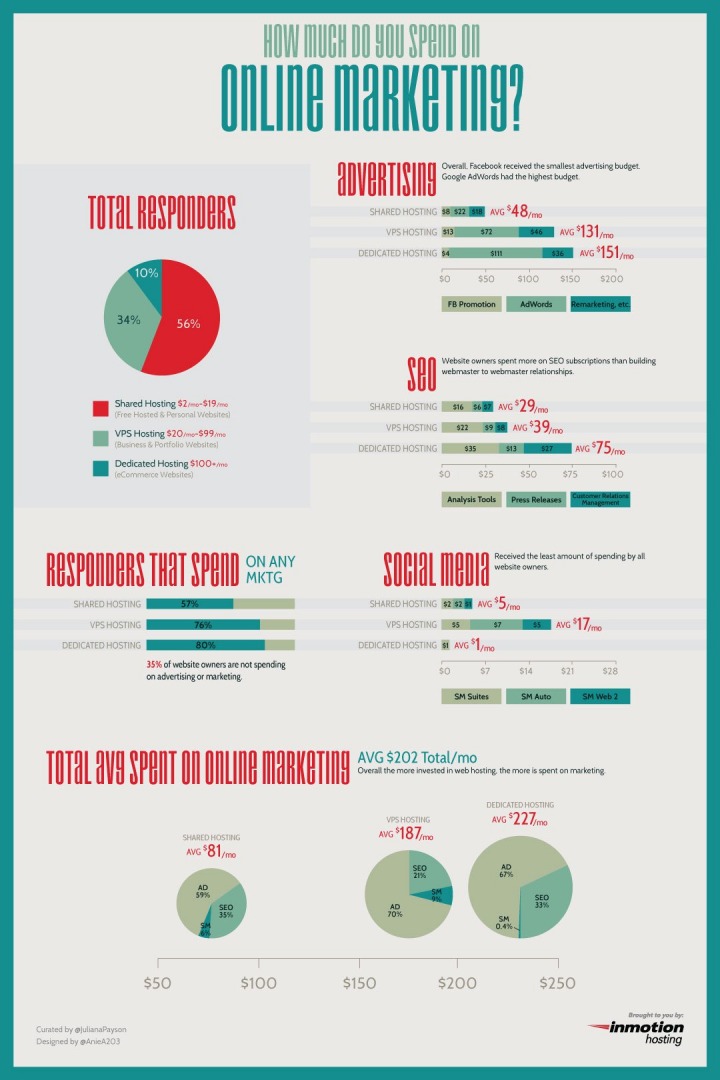 One thing is not in doubt – the marketing landscape is undergoing a period of disruption that could only come with a major shift in the technological paradigm, which has only been seen before with the innovations of print, radio, television, and the internet. Today's technology is profoundly changing the techniques that can be used to sell things to people, and any company that fails to keep on top of and adapt to these changes will find themselves struggling to maintain their position, much less grow from it, in the years to come.
I am a writer based in London, specialising in finance, trading, investment, and forex. Aside from the articles and content I write for IntelligentHQ, I also write for euroinvestor.com, and I have also written educational trading and investment guides for various websites including tradingquarter.com. Before specialising in finance, I worked as a writer for various digital marketing firms, specialising in online SEO-friendly content. I grew up in Aberdeen, Scotland, and I have an MA in English Literature from the University of Glasgow and I am a lead musician in a band. You can find me on twitter @pmilne100.