LaMondre Pough At Living With Sunny
LaMondre Pough At Living With Sunny : Dr LaMondre Pough joins Sunny (Gurpreet) Singh and Thomas Power in the third episode of the 'Living with Sunny' Youtube podcast series. The three experts discuss rising issues in wellbeing and inclusion, especially giving out inspirational quotes regarding living with disability, diversity, empowerment, and much more. Living with Sunny's episode 3 is out now on YouTube and selected podcast destinations.
LaMondre Pough At Living With Sunny
LaMondre Pough At Living With Sunny
The conversation centred around living a happy life in spite of the difficulties that we may encounter. LaMondre was diagnosed with spinal muscular atrophy as a young child and is now the CEO of BillionStrong, an organization that empowers audiences to embrace diversity and create environments where people genuinely belong.
"I believe that life is worth living and when you discover purpose when you realize that you have a purpose when you have a reason to take the next breath, that next breath should be a joyous breath, and that's how I've been all my life, and honestly, no matter what challenges we face, no matter what it is that we're going through, I believe that having an attitude where you're thankful, having an attitude of being grateful, that that is something that allows me to have hope, that is something that allows me to have energy. So, there is a quote that I created that is: 'Gratitude is the narrative of hope', says LaMondre.
The 'Living with Sunny' YouTube podcast series is co-hosted by Sunny (Gurpreet) Singh and Thomas Power. As seekers of wellbeing, the two interview a range of figures from the worlds of business, medicine, academia, science, technology, and publishing, to explore individual wellbeing journeys and map out society's progress towards a better, more harmonious world, across various industries.
This episode was mostly to introduce critical concepts related to wellbeing and mental health as well as the two protagonists of this journey.
Sunny strongly believes in the Wholistic Wellbeing concept. That is what this podcast really is about. Wholistic Wellbeing makes you feel better; it is about becoming a better person, mentally, emotionally, and physically.
As a seeker, Sunny has long studied how the use of holistic health can help everyone achieve a feeling of wholeness necessary to their overall wellbeing. He calls this concept Wholistic Wellbeing, which consists of 7 pillars: Emotional Wellbeing, Physical Wellbeing, Social Wellbeing, Financial Wellbeing, Professional Wellbeing, Community Wellbeing, and Planetary Wellbeing.
You can find 'Living With Sunny' via YouTube, but also via LinkedIn, Apple, Google Podcast, Spotify, and over 20 podcast directories. Tune into the Living with Sunny podcast on YouTube and Podcast directories. New episodes every Tuesday.
Living with Sunny: The Hosts
Sunny (Gurpreet) Singh is the founder of RoundGlass and Edifecs, and the visionary behind the Wholistic Wellbeing concept: the practice of using wholistic health in order to feel whole and at one with ourselves.
A serial entrepreneur and paragon of corporate wellbeing, Sunny has dedicated his life to developing and sharing a sustainable and accessible holistic healthcare model. The culmination of years of work in this field, RoundGlass is Sunny's magnum opus: a company through which he offers cutting-edge solutions, content, an app, and other technologies to facilitate people's journeys towards Wholistic Wellbeing.
Sunny's altruism also shines through his philanthropy, most notably through the RoundGlass Foundation in India. Among other impressive projects, the Foundation has been supporting over 700 villages in India and other exceptional work in wellbeing, education, sustainability, and sports. Offshoots like RoundGlass Sustain and RoundGlass Sports have contributed tremendous progress in their respective areas.
Thomas Power
Business advisor and tech trailblazer, Thomas Power is an entrepreneur and serial board member, with expertise spanning multiple industries. He has worked for the likes of Apple, Google, and Microsoft, and now sits on the board for The Business Café, Social Power Limited, Digital Entrepreneur, and, most significantly, 9 Spokes, the software company responsible for the 9 Spokes business management app allowing companies to aggregate meaningful data across their business, apps and banks. In this capacity, Power has harnessed his technical acumen to deliver insights to small businesses so they may improve their efficiency, and offer them access to vital industry information, normally only available to bigger businesses with greater budgets. Supporting corporations from start-ups to household names, Thomas' input is visionary and scalable to any size, helping businesses grow and thrive.
Pursuing his passion to help others on their journey to corporate success, Power founded Business is Personal, a mentoring service for businesses and professionals, in 2019. He runs the service with his wife Penny, and they offer seasoned advice on Mental Wellbeing for employees as well as bespoke services to enhance the health and vitality of businesses.
With over 1,000 speeches delivered in more than 56 countries, including a TEDx talk on 'The Future of Social Networks', Thomas' three decades at the forefront of tech have earned him enviable status as a speaker. Much of Power's present time is dedicated to traveling the world, educating and advising corporate clients, and hosting industry conferences.
LaMondre Pough At Living With Sunny
About Dr LaMondre Pough
Dr LaMondre Pough is a passionate speaker, mentor, and recognized leader for the community of People with Disabilities. In his current role as CEO of Billion Strong, he brings to the position his natural ability to empower audiences to embrace diversity and create environments where people genuinely belong. He believes that making the world a better place, not only now but for future generations, is truly what this journey is all about.
Diagnosed before his second birthday with spinal muscular atrophy, LaMondre understands firsthand the global disability inclusion space. As an African American man with a disability, he also has a lived experience with the intersectionality of minority and marginalized groups. He challenges all people, everywhere, to find purpose and ways to improve themselves in every circumstance.
In addition to his role as CEO of Billion Strong, LaMondre serves as the Chief Sustainability Officer for Ruh Global IMPACT, Chairman of Arts Access South Carolina, and recently was inducted into the Susan Daniels Disability Mentoring Hall of Fame, Class of 2020, for his unwavering work supporting disability justice, racial justice, and COVID-19 related issues that impact the disabled community.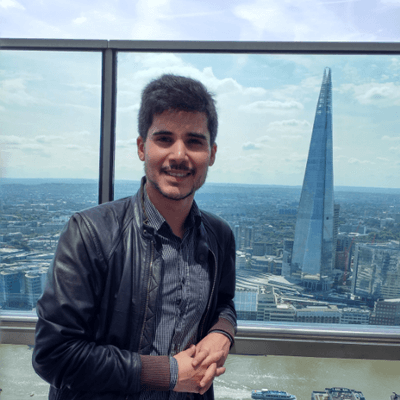 Hernaldo Turrillo is a writer and author specialised in innovation, AI, DLT, SMEs, trading, investing and new trends in technology and business. He has been working for ztudium group since 2017. He is the editor of openbusinesscouncil.org, tradersdna.com, hedgethink.com, and writes regularly for intelligenthq.com, socialmediacouncil.eu. Hernaldo was born in Spain and finally settled in London, United Kingdom, after a few years of personal growth. Hernaldo finished his Journalism bachelor degree in the University of Seville, Spain, and began working as reporter in the newspaper, Europa Sur, writing about Politics and Society. He also worked as community manager and marketing advisor in Los Barrios, Spain. Innovation, technology, politics and economy are his main interests, with special focus on new trends and ethical projects. He enjoys finding himself getting lost in words, explaining what he understands from the world and helping others. Besides a journalist, he is also a thinker and proactive in digital transformation strategies. Knowledge and ideas have no limits.