Kewal Kapoor interview
With a diverse portfolio of content creation and management background to his bag, Kewal Kapoor has an extensive and deep understanding of various industries. Besides being a founder and creator of the CHAI Kreative & Advisory agency, Kapoor is an assiduous researcher, a proficient writer, investigator, and journalist, an experienced producer and director. His cross-industry and international experience is what makes him an exceptional consultant and creative strategist. Here you can read Kewal Kapoor interview .

Kewal Kapoor interview
Kewal Kapoor was born in Indore, a small city and the hub of Hindi journalism, in India. After losing his mother at a very tender age, he started accomplishing everything on his own at the age of fourteen. He graduated in Commerce at an evening college and joined as an activist in a democratic rights organisation.
He started by getting involved in a couple of BBC projects, creating many innovative projects. The first one was the human rights show, which was never ever done earlier in the country. Thereafter, he was a part of making a documentary of thirteen-part series for tax laws, made for the Govt. of India, with KPMG.
He was also involved in creating the biggest sports portal for the Commonwealth Games in India.  Creating an encyclopedia of Gandhi, released by PMO is another one of his greatest accomplishments. This was, in those days, trending on Twitter, where the core values of Mahatma Gandhi, non-violence, and peace were the prime areas of focus.
Kewal's passion for writing is a direct consequence of his love for reading. His initial writings at various college-level competitions helped him fund his education. What started as a profession to support my education, became his passion later, and found him a job at Dainik Hindustan, a daily newspaper.
"Writing from that day till now is something that I have been doing and I do write in about seventeen dailies. Now, I write more on ageing and travelling, but I have written a lot of television scripts, shows, documentaries, and research. So, writing is close to my heart, in the sense, I feel it gave me a company I was looking forward to. A book is still a part of my life. I found most of the answers through the book and when I connected to the people, I felt that there is a bridge between the people and the book. Because I read well, it was very easy for me to connect to that." from Kewal Kapoor interview .

While being a guest speaker at the latest podcast for citiesabc with host Dinis Guarda, Kapoor shared his learnings and experiences in the field of wellness and health, especially for aged persons.
"One of the things I'd like to mention about ageing is that it's the area I'm very passionately involved in. Also, I've not approached that from the point-of-view of not-for-profit, but for social impact business. We brought a change in the Government of India policy."
Taking the audiences through an enlightening journey of his work on various projects for content creation and writing, Kapoor spins a gripping narrative of how diverse the land of his country is, and how it has nurtured him for years.
---
More Interviews
James Zhang, CEO The Concept Art House – Games, Art And NFTs
Adam Hollander, Serial Entrepreneur, Pack Leader at Hungry Wolves – NFT, Gamification
Interview with Rishi Kapoor, Founder & CEO of paus.tv – The Revolutionary Streaming Platform For Independent Creators
Interview Kireet Khurana, Filmmaker & Creator Of Animation Film "Toonpur Ka Superhero" – Homelessness In India: The "Invisible Visible"
Pedro Gadanho – Architecture, Arts, Cities & Society – Former MoMA & MAAT Curator, Architect
Luke Stokes Interview, Foundation for Interwallet Operability – Designing a Decentralized World: DAO vs DAC
---
Kewal Kapoor interview
Being from a land of diverse cultures and languages
Kewal Kapoor has lived in about 6 different cities in the country- Delhi, Bombay, Varanasi, Ujjain, Gumla, Saiwa. So diverse is the land that the gradience in language appears every 100 yards, and every 200 yards for culture.
Appreciating the diversity in language and culture of the country, he points out that for the expansion of modern technology, there is an urgent need to convert them to regional languages. Citing a convincing example he says, "It's difficult to get an Artificial Intelligence book in Hindi or in regional languages. The modern technologies, if they have to expand far more, and see more innovation in India should be more in regional languages. The digital is recognising this change. I remember when cricket (game), which is a religion in the country, was on Star TV, the moment it started broadcasting it in regional language on Hotstar, its audience went up by 32%. Hotstar made a large amount of money. So, culturally it's a diverse nation. It thinks differently, it acts differently, it eats and sleeps in a very different manner. Its festivals are even different. So, those local nuances have to be kept in mind, I feel".
Kewal Kapoor interview
About being a strategist
After serving as an executive producer at UTV, Kapoor started a company, Televista Vision. It was there that he realised his potential to bring out a working strategy for Lintas, an advertising agency
"They wanted to do something in the government sector, and they were not doing anything substantial. So, I strategized the complete offer of the government for them, which was "Incredible India", how the government should approach, what the target audience of the government is, and how government communication is different. The way you write a letter to the corporate, and the way you write a letter to the bureaucrat is totally different", he highlights.
He further adds that strategy differs with every project. With different requirements, targets, and dissemination of choice, manner, and method, the strategy varies in its nature, form, and structure.
His NGO experience
Being an activist from his college days, Kewal was a part of a democratic rights organisation. His serious side of activism involved investigating prison conditions and cases of custodial death, violence, and extra-judicial killing and murder. With the Poddar foundation, he was deeply involved with maintaining mental health for the elderly and children.
"It was actually a foundation that was promoting peace and non-violence. So, the challenge was that the kids were exposed to these gamings. The parents complained that the kids were becoming more and more aggressive and violent. It was a challenge. Peace and Non-violence is not a part of the curriculum, it is not part of our daily life, it is not part of our school or classroom, it is not there. So, when I see a lot of violence across the globe, or when I see a lot of conflicts around the globe, I think, that is one of the reasons where digital can possibly provide a solution that has peace as a value, or part of our curriculum while growing up", he emphasises.
Mental Health during the digital age
"I can tell you more about this because I interacted with a lot of elder people, who are above 60. I interacted with about 40-45 thousand people, who faced different kinds of mental health challenges. In the capital city of India where I'm sitting 33% of the elders are considered to be in a state of depression. Learning from the Poddar foundation, or my work on ageing or even interactions with a large number of people, I personally feel, about mental health, is that people don't invest time from childhood till the elder age. People don't invest time in making relationships. They are making relationships with gadgets, with all that is not a part of human interactions. That becomes a reality of life for them", he painfully explains.
He insists that it is imperative that we must be honest about expressing ourselves and seeking help for the same. Discussing fear is the first step to counter mental health issues.
About his entrepreneurial plans
Entering the post-COVID era, Kewal is zealous in two specific areas- developing digital content for various online platforms, and playing sports, especially cricket.
"I'm coming out with interesting content that is related to sports. Cricket is a religion and is growing. Cricket is going to be in the US as well. Let's play, let's bring the game on, let's go back and play, and you know it will be valid throughout life. Don't stop playing". 
Iteration of content for Web 3.0
Kapoor hopes and foresees the opportunities that Web3.0 brings with itself, content creators.
"As far as Metaverse and Web 3.0 go, I personally feel it's a huge opportunity for the creator to get away from a bigger label, bigger corporation monopolies, and have their own identity. Look together, create locally relevant content which is globally still valid. I see it that way, rather than looking at it in any other way. It is going to democratise and look like more of a pyramid. Its base is going to be far wider".
However, he does point out the crisis the world is facing in terms of creating the content. He clearly indicates that with changing times, the obsolete content will have to be updated. Catering to the changing needs of the audience and time, the content will have to be given a fresh touch of digitisation.
"You are not producing content for financial literacy, let's say if you have to produce content for a children's bedtime story. Because these stories will change because their life has changed. The stories which were relevant in the past are no longer relevant. I see that content is going to be a really exciting area, and I think that's why it's getting more and more expensive". 
Concluding his remarks on wellness and mental health, Kewal explains, "Mahatma Gandhi was shot dead at the age of 79. He was perfectly healthy and had never taken medicine in his life. He survived high blood pressure and constipation. The only thing he did was an essential walk. People said he walked so much that it was equivalent to taking a tour out of this earth. He used to walk every day. So, being healthy and happy doesn't cost a lot of money. It doesn't cost you a very great gym. It's just a simple conviction, as goes".
Kewal Kapoor interview
About citiesabc.com
https://www.citiesabc.com/​​​​​​​​​​​
https://twitter.com/citiesabc__​​​​​​
About openbusinesscouncil.org
https://www.openbusinesscouncil.org/
4IR: AI Blockchain Fintech IoT Reinventing a Nation by Dinis Guarda and Rais Hussin (4irbook.com)
Dinis Guarda citiesabc openbusinesscouncil Series is also available as podcast on
Apple Podcasts: https://podcasts.apple.com/us/podcast/dinis-guarda-citiesabc-openbusinesscouncil-series/id1510330391
On Spotify: https://open.spotify.com/show/1vA8KaDaRpJ0mAfpNbfTSF?si=H_WngL4RSOyu1W7VAmM41w&dl_branch=1
Google Podcasts: https://podcasts.google.com/feed/aHR0cHM6Ly9mZWVkcy5idXp6c3Byb3V0LmNvbS8xMDMyMzg4LnJzcw==
Amazon Music: https://music.amazon.com/podcasts/953a5156-823c-4e86-baeb-4fda1128e44c/DINIS-GUARDA-CITIESABC-OPENBUSINESSCOUNCIL-SERIES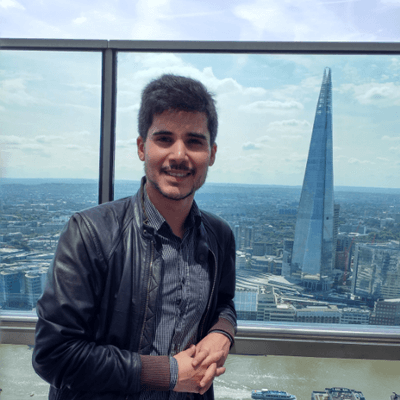 Hernaldo Turrillo is a writer and author specialised in innovation, AI, DLT, SMEs, trading, investing and new trends in technology and business. He has been working for ztudium group since 2017. He is the editor of openbusinesscouncil.org, tradersdna.com, hedgethink.com, and writes regularly for intelligenthq.com, socialmediacouncil.eu. Hernaldo was born in Spain and finally settled in London, United Kingdom, after a few years of personal growth. Hernaldo finished his Journalism bachelor degree in the University of Seville, Spain, and began working as reporter in the newspaper, Europa Sur, writing about Politics and Society. He also worked as community manager and marketing advisor in Los Barrios, Spain. Innovation, technology, politics and economy are his main interests, with special focus on new trends and ethical projects. He enjoys finding himself getting lost in words, explaining what he understands from the world and helping others. Besides a journalist, he is also a thinker and proactive in digital transformation strategies. Knowledge and ideas have no limits.