Jonathan Sims is the CPO for French company ENGIE/EQUANS and an experienced senior executive manager. Jonathan has more than 25 years of experience in different industries including engineering, energy and construction. Jonathan Sims has a strong connection with academia and holds four university degrees, including an MBA and a Doctorate in Business Administration (DBA), as an external advising practitioner to Nottingham Business School and guest lecturer at Durham Business School.
Jonathan Sims Interview Focus
1. An introduction from you – background, overview, education…
2. How did you cope with your academic and corporate career?
3. Can you tell us about your MBA and DBA fields of research?
4. Can you tell us about the industry verticals you have been involved in – from change management, to legacy systems, environment, talent management, drive to zero carbon, digital twins, digital transformation…?
5. How can businesses cope on a practical level with carbon neutral solutions?
6. Engie SA is a French multinational electric utility company, headquartered in La Défense, Courbevoie, which operates in the fields of energy transition, electricity generation and distribution, natural gas, nuclear, renewable energy and petroleum. Stock price: ENGI (EPA) €11.56 -0.05 (-0.45%), Headquarters: La Défense, France, CEO: Catherine MacGregor (1 Jan 2021–), Revenue: 60.1 billion EUR (2019), Number of employees: 171,100 (2019), Subsidiaries: Cofely AG, Electrabel, ENGIE Home Services, more. Parent organizations: Sofina, Agence des participations de l'État, Equans… Can you tell us about Engie company / companies, organisations and focus?
7. How do you see Carbon Neutral solutions for business?
8. How can businesses cope on a practical level with carbon neutral solutions?
9. ESG is a critical element of our business, society and government focus. How do you see Environmental, Social, and Corporate Governance data refers to metrics related to intangible assets within the enterprise, a form of corporate social credit score. Research shows that intangible assets comprise an increasing percentage of future enterprise value?
10. When it comes to supply chain and procurement with your experience working with hundreds of thousands, what are the most important subjects in order to simplify these big topics for SMEs and businesses?
11. How do you see the geolocation challenges when it comes to supply chain, carbon neutral and the ESG challenges?
12. How do you see your areas of expertise when it comes to #enterprisevalue, #corporatestrategy, and #culturetransformation / change management?
13. Can you highlight some concrete examples on how you deal with challenges and politics in the big organisation you have been working in?
14. You have been working in the energy and previously in the construction industry, very conservative and legacy industries. How do you see these industries when it comes to innovation and digital transformation?
15. How do you see Society 5.0 – 4IR concepts?
16. With Covid-19 what ways do you envision to redesign our society with technology and social impact?
---
More Interviews
Interview with Calvin NG, General Partner at Plutus VC – How To Successfully Manage a $200 Million Blockchain And Innovation Fund
Interview with Prof Xiaolan Fu, Director of the Technology and Management Centre for Development TMCD – University of Oxford, Founder OxValue.AI
Interview with Deyan Georgiev – Forbes 30U30 Winner, CEO at NitroPack – Digital Marketing & Website Optimization Solutions For Today's Businesses
Interview with LaMondre Pough, CEO of Billion Strong, Mentor, Recognized Leader for the Community of People with Disabilities
Interview with Richard Haigh, Managing Director at Brand Finance, BA from University of Oxford, Lecturer – "Bridging The Gap Between Marketing And Finance"
---
Jonathan Sims Biography
Jonathan Sims has 25 years of experience in the construction, engineering, and energy sectors.  Jonathan originally qualified as a development surveyor and brings significant knowledge of asset management, land acquisition and commercial property development.  Jonathan Sims has worked for two of the largest privately owned construction and engineering groups in Europe, in varied roles from strategic business projects, human resources, procurement and business transformation.  Currently, Jonathan Sims works as the CPO for the French company ENGIE/EQUANS where he manages an annual spend of £1.2bn on goods and services with a team of c65.  In this capacity, he holds expert knowledge in risk management, people development, zero carbon solutions, due diligence, and responsible business practices.
Jonathan said about his experience: "Having worked across a range of industry leading businesses, I have enjoyed senior level exposure to multiple business functions and projects including work winning, strategic procurement and supply chain management, organisational culture and strategic human resources, business transformation and general management."
Jonathan Sims has a strong connection with academia and holds four university degrees, including an MBA and a Doctorate in Business Administration (DBA). Jonathan Sims is very well versed in delivering cultural change programmes and managing transformations within organisations. Jonathan has been an external advising practitioner to Nottingham Business School for the past 9 years.  Jonathan is also a guest lecturer at Durham Business School on the executive MBA and DBA programmes.
As CPO of ENGIE/EQUANS
Jonathan Sims is the Chief Procurement Officer of EQUANS, which is the joint venture of ENGIE UK & Ireland's services-led activity under a new brand.
All of ENGIE's UK & Ireland activity in technical services & facilities management, energy efficiency and regeneration are now part of EQUANS – along with their specialist energy related capabilities: smart buildings, green mobility, district & embedded energy and decentralised renewables.
EQUANS was formed by ENGIE Group in July 2021 as a new global market leader in the sector with 74,000 employees, leveraging 200 years of expertise. It has revenues of €12 billion and a presence in 17 countries. EQUANS is a company of ENGIE.
Industries, cities and businesses face unprecedented, ever-renewing challenges. The energy, digital and industrial transitions are redesigning the way we use and optimise energy towards a net zero carbon future, the way we move, work and live. Buildings are increasingly efficient and intelligent, transport greener and connected, industrial production improved and controlled.
EQUANS empowers transitions both for today and tomorrow.
Vision
Digital Transformation in Industry
"There is a huge amount of change that is hitting a business that is typically, a sector that is typically quite slow to respond to some of those changes. And there is a real burning platform around. So the issue probably keeping us awake at night is the EDA agenda, and our need to be more representative of society and inclusive. And there is a myriad of academic papers written on just how male, pale, and stale the construction and engineering sector is and that starts to impact on our ability to attract the brightest minds into the sector. The drive to zero carbon by 2050 has a huge impact on our sector and our organisation, so Enji globally as a business contributes 0.5% of all carbon, so we are a huge carbon-heavy organisation, that is a phenomenal challenge for us".
Carbon Neutral solutions for business
"I mean it's a, the focus on carbon at so many different levels, whether it's from clients, whether it's from government, whether it's from our own supply chain, it's huge and it is a phenomenal burning platform for us, and I think for me, where everybody is striving to get to at this moment in time, we have a team within Enji that are procuring carbon neutral team. The driver for us at the minute is to baseline and to have that really robust understanding across more than a 100 thousand vendors. I was heat-mapping where our carbon is actually coming from at scope 3 level. So it's about understanding which services and which categories of spend and which subcontractors are the biggest contributors and how we can target the reduction of that embodied carbon. And it has a myriad of focus areas. It is about looking at alternative methods of delivery, be that moving to prefabricated solutions where applicable, reducing the embodied carbon in finished products and looking at the selectivity of products that we bring in".
Interview Jonathan Sims – CPO ENGIE/EQUANS – #Businesses #Challenges on #CarbonNeutrality, #ESG And #Management

– @dinisguarda
citiesabc openbusinesscouncil Youtube Podcast Series

Learn more about Johnathan Sims: https://t.co/qtcdFPXnDl pic.twitter.com/dBAr0l0sJq

— openbusinesscouncil (@openbusinesshq) August 2, 2021
Links And Sources
https://www.efficioconsulting.com/en-gb/resources/insight/the-first-100-days-interview-with-jonathan-sims-chief-procurement-officer-uk-ireland-at-engie/
https://www.linkedin.com/in/dr-jonathan-sims-bsc-msc-mba-dba-fcips-81420064/
https://issuu.com/b2e-media/docs/05.engie_cpostrategymarch2020
https://www.arounddeal.com/profile/jonathan-sims/p9kvxkeiom/
The first 100 days – tips and advice for new CPOs, interview with Jonathan Sims
https://www.youtube.com/watch?v=5exGCQwbjBo
Jonathan Sims, Chief Procurement Officer, ENGIE, and a massive procurement transformation
https://poddtoppen.se/podcast/1450714884/the-digital-insight/jonathan-sims-chief-procurement-officer-engie-and-a-massive-procurement-transformation
About citiesabc.com
https://www.citiesabc.com/​​​​​​​​​​​
https://twitter.com/citiesabc__​​​​​​
About openbusinesscouncil.org
https://www.openbusinesscouncil.org/
4IR: AI Blockchain Fintech IoT Reinventing a Nation by Dinis Guarda and Rais Hussin (4irbook.com)
Dinis Guarda citiesabc openbusinesscouncil Series is also available as podcast on
Apple Podcasts: https://podcasts.apple.com/us/podcast/dinis-guarda-citiesabc-openbusinesscouncil-series/id1510330391
On Spotify: https://open.spotify.com/show/1vA8KaDaRpJ0mAfpNbfTSF?si=H_WngL4RSOyu1W7VAmM41w&dl_branch=1
Google Podcasts: https://podcasts.google.com/feed/aHR0cHM6Ly9mZWVkcy5idXp6c3Byb3V0LmNvbS8xMDMyMzg4LnJzcw==
Amazon Music: https://music.amazon.com/podcasts/953a5156-823c-4e86-baeb-4fda1128e44c/DINIS-GUARDA-CITIESABC-OPENBUSINESSCOUNCIL-SERIES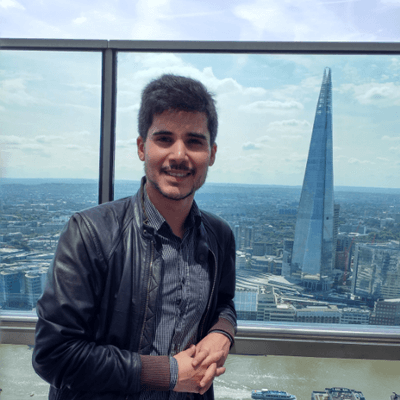 Hernaldo Turrillo is a writer and author specialised in innovation, AI, DLT, SMEs, trading, investing and new trends in technology and business. He has been working for ztudium group since 2017. He is the editor of openbusinesscouncil.org, tradersdna.com, hedgethink.com, and writes regularly for intelligenthq.com, socialmediacouncil.eu. Hernaldo was born in Spain and finally settled in London, United Kingdom, after a few years of personal growth. Hernaldo finished his Journalism bachelor degree in the University of Seville, Spain, and began working as reporter in the newspaper, Europa Sur, writing about Politics and Society. He also worked as community manager and marketing advisor in Los Barrios, Spain. Innovation, technology, politics and economy are his main interests, with special focus on new trends and ethical projects. He enjoys finding himself getting lost in words, explaining what he understands from the world and helping others. Besides a journalist, he is also a thinker and proactive in digital transformation strategies. Knowledge and ideas have no limits.