Today on IntelligentHQ, it is our privilege to have an exclusive interview with one of the foremost thought leaders in the field of social media marketing: Allan Gungormez, Director of Social Media Strategy at Transamerica.
Allan Gungormez, Director of Social Media Strategy at Transamerica
Allan has been involved in digital and social media for nearly ten years, working for several different agencies and with clients including Ford, Hotels.com, and Mitsubishi. As well as his agency experience, he also headed up the social marketing efforts for a global health and fitness brand before taking up his present role at Transamerica.
Gungormez is also the master mind behind Transamerica's hit microsite, Finfluencer, a service which determines a persons influence in the financial services industry on Twitter through the use of a custom algorithm. It aims to do for the financial services industry what Klout has done for the social media sphere as a whole – provide a standardised measure of influence, and make it easier to keep track of and engage with the most influential people in the industry.
In this interview, Allan talks a bit about his background, his current role at Transamerica, and how he sees the past, present, and future of social media from a business standpoint.
1. Can you tell us about you, education and your career?
I was born and raised in sunny southern California, I have a black belt in Tang Soo Do, compete in paintball tournaments across the country for the past 11 years, and am a proud parent of a crazy Australian Cattle Dog named Jaws. I attended California State University of Northridge where I graduated with a Bachelors Degree in English Literature. I didn't set out to get into marketing and advertising, I actually started out as an Organic Chemistry major and quickly learned that I'm terrible at any type of advanced math. I've worked for several social media marketing agencies, led the social marketing efforts for a global health and fitness brand, and have done lots of consulting for agencies and social application developers.
2. You have been blogging and very involved in social media for a long time. Can you tell us a little about that and some of your work and professional highlights?
I've been privileged to have worked on some fantastic brands over the years including Ford, Frito Lay, State Farm, Kia, Mitsubishi, Blue Diamond Growers, STARZ, Ice Cube (the rapper) and HTC. However I must say that working on Hotels.com was definitely one of the highlights of my career. The Hotels.com team was the first major brand to really trust me as a marketer in making the right decisions and providing direct input on ideas and campaigns. A lot of the work I did with them also allowed me to understand the sales power that could be generated from social media traffic.
3. How did you become involved in social media?
My first exposure to social media was when I was working for an executive search consultant. She asked me to work on ways to get more accurate contact data for potential candidates, which led me to experiment on social media. I realized that this was an area that peaked my curiosity and I wanted to learn more about it so I decided to start a blog with a few friends called The Skrilla. The goal was to see how quick we'd be able to get 100,000 unique visitors to the site using social media marketing. It took us 6 months and through that experience I learned some of the most important foundational skills that I still use today. I took that experience into my first interview at an agency and the rest is history.
4. You have worked in a variety of industries. Are there limitations to the effectiveness of social media marketing depending on the industry?
I'm a strong believer that social media doesn't make sense for every type of business and that it's important to realize that early on rather than try to force yourself into the social conversation and come off in a way you'd rather not.
5. How do you see the ability to influence another person's behaviour on the internet through various social media marketing techniques with all the new developments in digital and social media?
(You must have looked at my LinkedIn summary when writing this question!) For many people what you do on social media is a direct indication of their personality, right down to sexuality, political views and intelligence. The problem is too few brands have yet to understand the connection. A lot of brands are still focusing on the fact that their product works but I think we're in an age where people expect stuff to work and that's no longer a selling point. People care about how the brand reflects on themselves, and whether or not being publically associated with them will benefit them. Ultimately people share to build their own personal brand. Regardless of the platform the online profiles we have are digital expressions of our personality and the content on them reflects that. Or more accurately, how we want them to reflect that. People share funny Vine videos to show that they have a sense of humor and Instagram photos of their night out to show that they are fun and social.
Brands have the capability of learning from this standard behavior on social media and influence the type of content that people are putting on their profiles with one proven method: instead of making the content about the brand, make the content about the person who would be sharing it. Remember about what matters most to your audience (themselves) and make that your priority. Every single new development on social that takes place continuously allows to get deeper into understanding how people are branding themselves with what they find on the internet. It's my job as a marketer to figure out how to make my brand part of their personal brand.
6. You are the Director of Social Media Strategy at Transamerica. Can you tell us about your role, and your vision for the company regarding social media?
Transamerica has recently assembled an Enterprise Digital Marketing team that I'm very honored to be a part of. They've done a great job assembling top talent from companies like E-Trade, Match.com, Toyota, Bank of America and NBC. As the Director of Social Media Strategy it's my job to develop the overall strategic direction for the brand on social media and working with the various business units to make sure that their efforts are supported in the best way possible across our social channels. I also manage a team of 4 rock star social marketers who anyone would be lucky to have.
My vision for Transamerica on social media is simple, set the new standard for financial services brands in the social place and shift focus from the product to the consumer. There's a shockingly high percentage of people who don't have a strong understanding of financial service products and part of the vision I have is for Transamerica to increase financial literacy. When examining our competitive landscape it's surprising how the financial services industry is generally lagging when in comes to creating innovative and engaging social activations. Working inside a highly regulated industry does present it's challenges, but persistence and willingness to take risks is key to emerge ahead of the pack.
7. You launched recently Finfluencer. Can you tell us about it and your vision for the project?
Transamerica's Finfluencer, a microsite that measures the Twitter influence of people in the financial services industry
The vision for Finfluencer was the develop a tool for people to better understand how they influence the financial services conversation on twitter and for people to better identify who is providing information on the topic that is making a difference. I like to think of Finfluencer as a tool for anyone to use to help clear up the inevitable clutter that exists among the 1.5 million mentions of financial service topics on twitter.
8. Finfluencer is one of the first financial measurement tools and a big achievement in the financial world. How do you look at it and how you measure its effectiveness?
When I look at Finfluencer I see it as a first step in the right direction. Every single day I see stats come across my screen letting me know that people aren't prepared for retirement, don't know why they would need life insurance and have no clue what an annuity even is. There are tons of people on Twitter who are more than willing to begin providing those types of answers and while ideally I'd love for someone to find those answers through Transamerica content it's more important for people to simply get the right answers regardless of source. Finfluencer is designed to highlight the people who could give you the correct answers to your financial service questions.
I measure Finfluencer's effectiveness by how many people use it. Finfluencer will only get smarter and add more features to become more valuable for the end user. Expect features like topic filtering and specialities to be added in the near future.
9. How do you see digital and social media influence in the financial world?
People are hungry for financial advice. They want to better understand the options available to them and just like any other topic, they head to the internet for answers. I personally think that in the financial world one of the main battlegrounds is Google search results. I'd say that SEO ranking is just as if not more important than social media for financial service companies for one key reason: not a lot of people feel comfortable sharing their unique financial situation with their social networks. However this doesn't mean that people aren't looking to brands to proactively be distributing the content and answers they want through the social networks they use.
10. How do you see the evolution of Finfluencer and what are the next steps?
One aspect of Finfluencer that will continue to evolve is the algorithm. We definitely do not think that we nailed it on the first pass. As we're able to build the database and better understand the scores getting attributed to users we'll be able to alter our formulas to give more accurate scores based on the Finfluence of the people who are following you. We've considered integrating other social networks but seeing how many people use LinkedIn and Facebook to discuss financial service topics have made us focus more on Twitter to begin with.
11. Transamerica is a very established organisation in the financial and insurance world with a huge history. How do you see innovation and social media in such an organisation?
In the past few years we've seen a lot of longtime established companies vanish before our eyes because of a lack of innovation. Blockbuster is one of the first companies that come to mind when I think of failure to innovate. While I can't speak on behalf of Transamerica and all of these opinions are my own, I do believe that Transamerica has really embraced a culture of innovation, especially within the Enterprise Digital Department. One of the first things that were said to me by both my boss and the CMO was that I shouldn't afraid to fail, as long as I was "failing forward." We've really adopted that slogan throughout the department. I think that the mentality to feel comfortable experimenting new things without worrying about it flopping as long as something is learned is extremely important to foster innovation.
Social media is such an untapped space for financial services that really every action we take can be seen as a type of innovation in the field. The high levels of regulation in this industry have really prevented it from getting on the same level of creativity and fun that you see in the FMCG, Entertainment or Automotive sectors.
12. You wrote an article "Social Media Customer Service Report Q1" that you finished with the following claim: "Make sure that your brand is ready for the new standard of customer service on social media". Can you elaborate on that?
The average consumer sees social media as a way to get a near instant response when it comes to customer service. Brands need to have some level of being "always on" if they plan on meeting this expectation that is rapidly becoming the norm for social media users around the world. This might not apply for all industries across the board, but it's definitely the direction we're all moving towards.
13. What are for you the most important digital and social media trends for businesses to pay attention to?
I'd say the top three digital marketing trends for business to pay attention to are marketing automation such as behavioral emails, developing robust mobile properties and putting mobile first in the design process, and of course the topic everyone is talking about, content marketing. For social media in particular I think we'll start seeing more focus on social CRM, the reemergence of niche communities, and finally leveraging all of that data collected to create a more solid way to prove the ROI of social.
See also: Can Financial Influence Be Measured? Transamerica's Finfluencer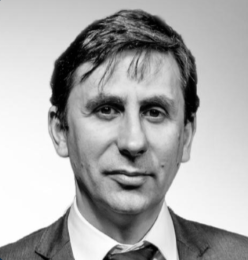 Dinis Guarda is an author, academic, influencer, serial entrepreneur, and leader in 4IR, AI, Fintech, digital transformation, and Blockchain. Dinis has created various companies such as Ztudium tech platform; founder of global digital platform directory openbusinesscouncil.org; digital transformation platform to empower, guide and index cities citiesabc.com and fashion technology platform fashionabc.org. He is also the publisher of intelligenthq.com, hedgethink.com and tradersdna.com. He has been working with the likes of UN / UNITAR, UNESCO, European Space Agency, Davos WEF, Philips, Saxo Bank, Mastercard, Barclays, and governments all over the world.
With over two decades of experience in international business, C-level positions, and digital transformation, Dinis has worked with new tech, cryptocurrencies, driven ICOs, regulation, compliance, and legal international processes, and has created a bank, and been involved in the inception of some of the top 100 digital currencies.
He creates and helps build ventures focused on global growth, 360 digital strategies, sustainable innovation, Blockchain, Fintech, AI and new emerging business models such as ICOs / tokenomics.
Dinis is the founder/CEO of ztudium that manages blocksdna / lifesdna. These products and platforms offer multiple AI P2P, fintech, blockchain, search engine and PaaS solutions in consumer wellness healthcare and life style with a global team of experts and universities.
He is the founder of coinsdna a new swiss regulated, Swiss based, institutional grade token and cryptocurrencies blockchain exchange. He is founder of DragonBloc a blockchain, AI, Fintech fund and co-founder of Freedomee project.
Dinis is the author of various books. He has published different books such "4IR AI Blockchain Fintech IoT Reinventing a Nation", "How Businesses and Governments can Prosper with Fintech, Blockchain and AI?", also the bigger case study and book (400 pages) "Blockchain, AI and Crypto Economics – The Next Tsunami?" last the "Tokenomics and ICOs – How to be good at the new digital world of finance / Crypto" was launched in 2018.
Some of the companies Dinis created or has been involved have reached over 1 USD billions in valuation. Dinis has advised and was responsible for some top financial organisations, 100 cryptocurrencies worldwide and Fortune 500 companies.
Dinis is involved as a strategist, board member and advisor with the payments, lifestyle, blockchain reward community app Glance technologies, for whom he built the blockchain messaging / payment / loyalty software Blockimpact, the seminal Hyperloop Transportations project, Kora, and blockchain cybersecurity Privus.
He is listed in various global fintech, blockchain, AI, social media industry top lists as an influencer in position top 10/20 within 100 rankings: such as Top People In Blockchain | Cointelegraph https://top.cointelegraph.com/ and https://cryptoweekly.co/100/ .
Between 2014 and 2015 he was involved in creating a fabbanking.com a digital bank between Asia and Africa as Chief Commercial Officer and Marketing Officer responsible for all legal, tech and business development. Between 2009 and 2010 he was the founder of one of the world first fintech, social trading platforms tradingfloor.com for Saxo Bank.
He is a shareholder of the fintech social money transfer app Moneymailme and math edutech gamification children's app Gozoa.
He has been a lecturer at Copenhagen Business School, Groupe INSEEC/Monaco University and other leading world universities.