Anuj Khanna is the guest in this new YouTube interview series. Anuj Khanna founder and CEO of Kashkind, a business loans marketplace. Anuj is focussed on solving the problem of making business finance easily available to SME's by automating the entire banking ecosystem and having one universal loan application process for all lenders.
Anuj Khanna Interview focus
1. An introduction from you – background, overview, education…
2. Career highlights
3. About kashkind.com: organisation and focus?
4. How do you see Society 5.0 – 4IR and all areas of digital transformation?
5. What are your views on our society, technology and digital transformations?
6. What are your goals and how do you see the future of work and the main trends in tech and society?
7. With Covid-19 what ways do you envision to redesign our society with technology and social impact?
8. What are your visions for the present and future?
Anuj Khanna Interview Notes
About Anuj Khanna's background. I have been in tech for the last 20 years including digital advertising, mobile phone, computing, etc. The reason why I moved into the loan / lender industry is because I saw a gap in the lending market for SMEs. I saw that most SMEs struggle to find the right loans to grow their business.
And the range of SMEs go from a few thousands of revenue to millions per year. And I have seen quite often that many SMEs have many financial responsibilities that can't be fulfilled through the official channels. Likewise, from filling up a loan form to actually getting the money for their needs takes a really long time. What I want to do through kashkind is to make the process more accessible and easier for SMEs.
What we do is actually from one application form we find them the best lender and more suitable for them.
In fact, the financial system was created by SMEs centuries ago but the current one is not done for them.
How kashkind works. We work with several providers and established companies to fulfill a series of loans and financial needs for SMEs. The onboarding process is as accessible as it can be. Just fill one application form, adding the name of the company and different details like how much do they need, how long and for what reason and what type of loan product they are looking for. After that, the manual work ends and our work as a platform starts. Through our tech-based platform we find the best lender for their needs. We work with a network of lenders that range from banks to private companies that have different criteria. What we do is assess our clients' own characteristics of business and present to them the best lenders for their needs so our clients can choose the ones that best fit them too.
As we understand that these products are complex and some business owners might be a bit scared of them, we are always available to assist them.
We have available many different products depending on the amount of finance these SMEs need, their size, their annual revenue, etc. We also have a specific loan program now for these difficult times of COVID-19. Our products are flexible, we have long-term loans, for cash flow requirements and loans for specific funding needs: expansion, scaling, modernization, etc.
We operate in the UK as a broker lender and we plan to expand worldwide.
Advice for SMEs. I would say to not depend entirely on VC, angel investors and equity funding because it takes time to flow. There are other options regarding government-backed funding options, short-term loans and even banks that offer money for more immediate needs. Other interesting option is crowdfunding, which is a better option for a starting company than for medium size enterprises.
---
More Interviews
Video Interview: Mamadou Toure, Founder Africa 2.0 Foundation – Digital Transformation In Africa
Video Interview: Prof Darryl Newport, Director of Sustainability Research Institute (SRI) – Green Economy And The Future of Cities
Dinis Guarda Interviews Michael Terpin, Founder and CEO of Transform Group And BitAngels – Legendary Blockchain Investor And Crypto Investor Influencer
Anil Singh, Vivek B. Singh, Founders Procam And Creators Of The Tata Mumbai Marathon On The Growing Sport Industry in India
---
Anuj Khanna Biography
Anuj Khanna is a highly experienced business development, corporate expansion, finance, marketing and product development expert with over 20 years international experience working for fast growing technology brands including:
Admarvel, ArqBravo Motors, Badoo, Bango, Boku, Buongiorno, Dialogue Communications, EVShare, FundLion, Further Networks, Globcoin, Isobar, InMobi, Infobip, Mobill, Monitor Clipper Private Equity, Mindmatics, Nokia, Neo Mobile, Netsize, Orange, Opera Software, Opera Mediaworks, Openbit, Spinlet, Star Arcade, Tanla, Vodafone, Venista Ventures, Verod Capital, Wau Movil, Wireless Expertise and The Wealth Initiative.
Career highlights
Founder and CEO of his own strategy consulting and product development company since 2009.
Founder of Kashkind.com, Business Lending Marketplace & SME Loans Comparison Portal.
Strategic partnerships experience working with application developers, payment processors, fintech brands and telecom operators.
In-depth expertise and experience in the mobile applications, telecoms, social media, financial technology, IOT, digital payments and the mobile advertising industry.
Advisory board member for leading fintech companies.
Consulting and advisory experience in SME Finance.
Expertise
Corporate Lending Marketplace, Financial Technology, Venture Capital, Private Equity, Investment appraisal, due diligence, financing, mergers and acquisitions.
Business Strategy Consulting, Business Development & Marketing Strategy.
Strategic Partnerships, Corporate Sales and New Market Entry
Corporate expansion, growing sales and revenues.
Product development, new market entry and life cycle management for blockchain, Fintech, DLT and artificial intelligence products.
About kashkind
KashKind is a Business Lending Marketplace and Loans Comparison platform.
KashKind makes it quick and easy to compare and apply for business loans from multiple banks, alternative financial platforms and industry specific finance specialists. Companies can follow a simple three step loan application process to find the best funding solution for their business. They are already authorised by the UK Financial regulators and have signed agreements with over 20 banks.
By providing a single quick and easy loan application process for multiple banks, they at KashKind have leveraged technology and smart data to create a platform that solves this problem. The platform connects businesses with multiple lenders, so you can find the best deals on loans for your business, compare lenders and make an informed financial decision. This allows them to say yes to more businesses commonly rejected by banks and help them get the capital they need to grow.
They are aiming to maximise automation of the business lending process through a network of loan origination systems, access to online accounting software and open banking integrations.
Anuj Khanna Links and references
https://www.linkedin.com/in/anujkhanna/
https://www.linkedin.com/company/kashkind/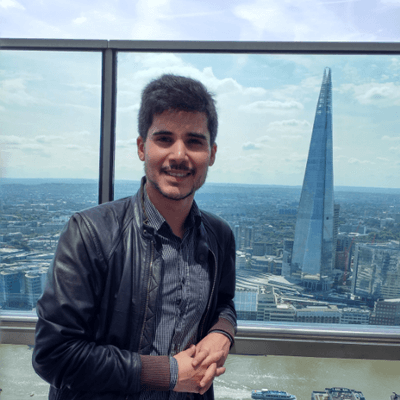 Hernaldo Turrillo is a writer and author specialised in innovation, AI, DLT, SMEs, trading, investing and new trends in technology and business. He has been working for ztudium group since 2017. He is the editor of openbusinesscouncil.org, tradersdna.com, hedgethink.com, and writes regularly for intelligenthq.com, socialmediacouncil.eu. Hernaldo was born in Spain and finally settled in London, United Kingdom, after a few years of personal growth. Hernaldo finished his Journalism bachelor degree in the University of Seville, Spain, and began working as reporter in the newspaper, Europa Sur, writing about Politics and Society. He also worked as community manager and marketing advisor in Los Barrios, Spain. Innovation, technology, politics and economy are his main interests, with special focus on new trends and ethical projects. He enjoys finding himself getting lost in words, explaining what he understands from the world and helping others. Besides a journalist, he is also a thinker and proactive in digital transformation strategies. Knowledge and ideas have no limits.