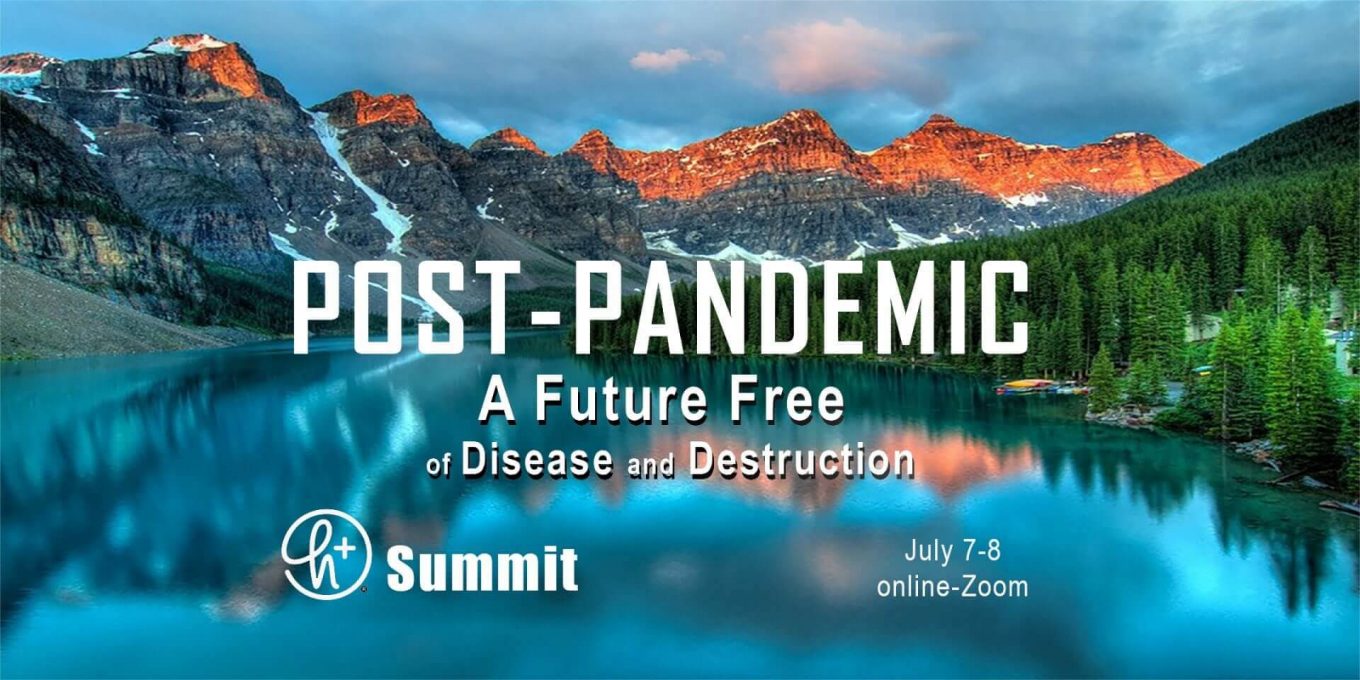 Dealing with the coronavirus pandemic is front page news. Yet, another never-ceasing crisis goes under the radar—all people are aging from negative conditions, people are suffering from scarcity, and people are affected by the cruelty of others. And the Humanity+ Summit, a free-to-attend online event, brings together top experts like Dr. Ben Goertzel and Dr. Natasha Vita-More to discuss the solutions that could empower human dignity and lessen the destruction of life.
The world is going through one of its biggest challenges in recent years and the consequences of this pandemic go beyond the healthcare crisis. SARS-CoV-2 is a war on human biology and a wake-up call for every person on the planet. It does not discriminate on the basis of race, age, or socioeconomic status. It can affect everybody, but it kills first the oldest, the weakest, and the poorest. And in this war, there is an undeniable need for new technology, science, and social efficacy to empower human dignity and less destruction of life.
That's the starting point for Humanity Plus, an international nonprofit membership organization that advocates the ethical use of technology, such as artificial intelligence, to expand human capacities, to launch the first edition of the Humanity+ Summit.
The Humanity+ Summit is a free-to-attend online event that will span across two days, the 7th and 8th of July 2020, featuring some of the world's leading futurists, technologists and thinkers. These include Dr. Ben Goertzel, Dr. Natasha Vita-More, Dr. Anders Sandberg, Dr. Max More and David Brin just to name a few.
The Summit focuses on three key topics
Beyond Mortality: The disease of aging leaves people helpless, locked in a system of sickness and death rather than a system of healthcare and life. We need new technology, science and social structures that promote positive conditions rather than negative conditions.
Beyond Scarcity: We must improve global quality of life. An economy of abundance is not about how much; it is about how good—a quality of life that provides basic human needs, freedom, well-being, and that advances opportunity and potential.
Beyond Cruelty: Discrimination of people because of sex, age, race, gender, appearance, religion, beliefs, and political and social status are global, verifiable, and prevalent. What would society need to overcome misperception and cognitive bias? With an abundance of compassion, discrimination has no place or purpose.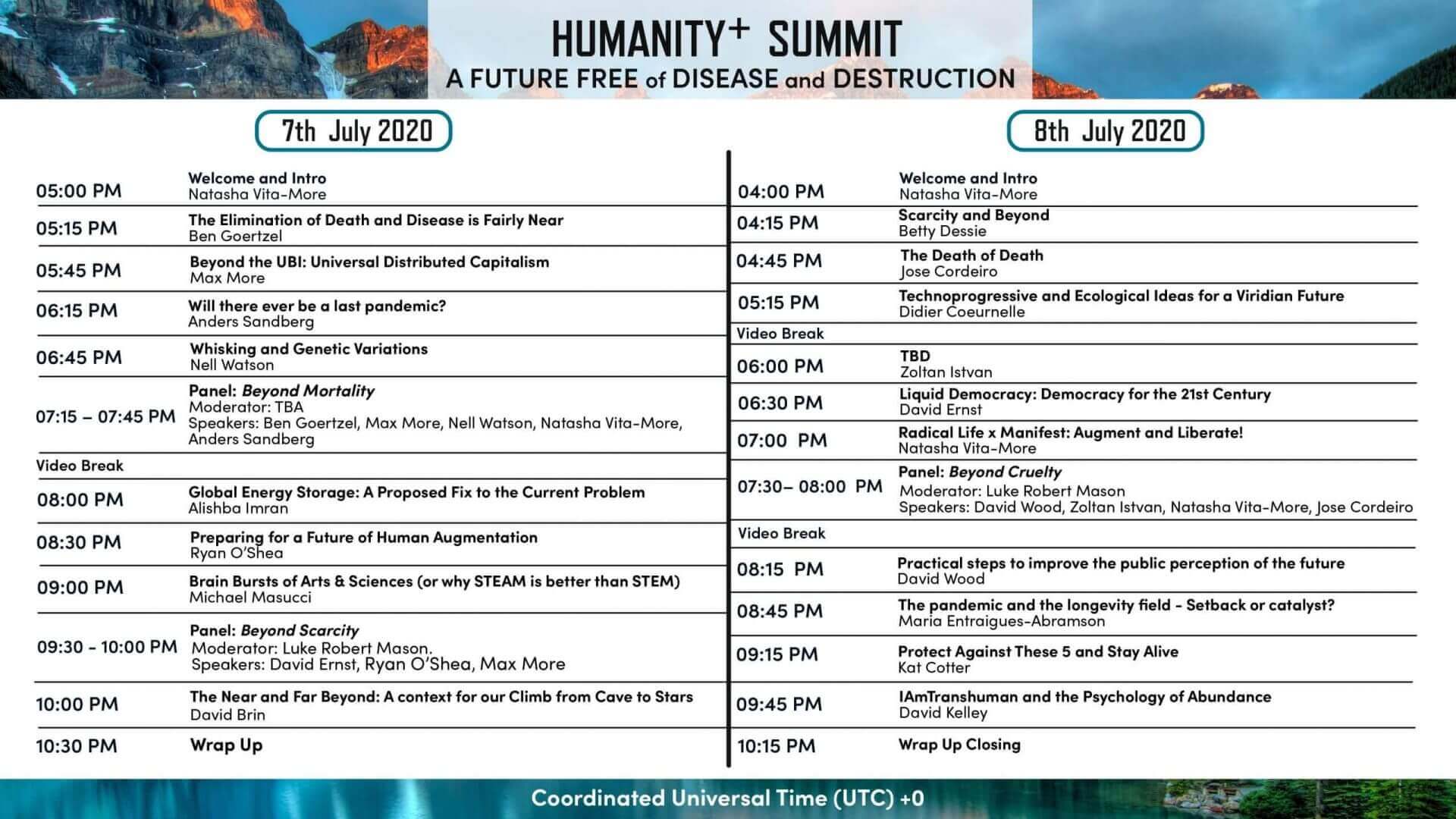 Dr. Ben Goertzel, Chairman of Humanity Plus says: "What humanity needs most right now is wise, imaginative, energetic, and compassionate thinking about how to use advanced science and technology to save, improve and advance life. This is how we're going to defeat COVID-19, how we're going to make sure we're better prepared for the next global crisis, how we're going to create an era of abundance and health for all humans — and how we're ultimately going to transform the human condition fundamentally via AGi, brain computer interfacing, nanotech and beyond. Humanity+ has a long history of bringing together the most creative and realistic futurist thinkers, so please join us at the POST-PANDEMIC event and let's put our heads together to figure out how to make the next decade 100x more amazing than the last!"
This world-wide killer infection has heightened the bandwidth of newsfeed and online events as people are trying to understand and strategize a solution. There is no question that human civilization is now alert to its own vulnerability. Rather than continuing with such vulnerability, action needs to be taken at the biological core. The human genome must be strengthened and protected.
"Everything is solvable." Says Natasha Vita-More, Executive Director, Humanity+. "At the Post-Pandemic Summit, global concerns are tackled by knowledge seekers who start at the top and then climb higher. Reaching the summit means unlocking the system of sickness and building a system of lifecare; supplying basic human needs; and motivating an abundance of compassion where discrimination has no place or purpose" 
We'd also like to understand more about your thoughts on humanities interaction with technology in this questionnaire. What do you think is and isn't acceptable as we move inexorably toward our shared future.
Complete the Questionnaire here.
The Humanity+ Summit will be streamed on Youtube at the following links and you can already set reminders on YouTube: July 7th – July 8th
About Humanity+
Humanity+ is a non-profit 501(c)3 educational organization dedicated to elevating the human condition. We aim to deeply influence a new generation of thinkers who dare to envision humanity's next steps. Our programs combine unique insights into the developments of emerging and speculative technologies that focus on the well-being of our species and the changes that we are and will be facing. Our programs are designed to produce outcomes that can be helpful to individuals and institutions. Since its inception as the World Transhumanist Association, along with the pioneering work of Extropy Institute, Humanity+ has contributed to advancing the public knowledge of how science and technology can and will affect our human future.

Founder Dinis Guarda
IntelligentHQ Your New Business Network.
IntelligentHQ is a Business network and an expert source for finance, capital markets and intelligence for thousands of global business professionals, startups, and companies.
We exist at the point of intersection between technology, social media, finance and innovation.
IntelligentHQ leverages innovation and scale of social digital technology, analytics, news and distribution to create an unparalleled, full digital medium and social business network spectrum.
IntelligentHQ is working hard, to become a trusted, and indispensable source of business news and analytics, within financial services and its associated supply chains and ecosystems.