Blockchain tech is evolving at fast pace. Seen as a kind of holy grail,  capable of solving all kinds of issues in our current world, this recent technology has been approached with enthusiasm and creativity, both by little startups eager to innovate and well established companies and corporations. Every day we read about yet another project,  trying to adapt it to all kinds of scenarios and applications. One  possible application of blockchain  is in Human resources and payroll software systems.
NGA Human Resources, the global HR and payroll services company, has announced a partnership with Gospel Technology, who were recently recognised as Salesforce Ventures first global investment in blockchain technology.  This is an important step for the advancement of blockchain technology, since NGA Human Resources, is leader  in terms of HR and pay roll.
Alway looking for the latest techologies, this partnership comes at no surprise, since NGA Human Resources always praised itself of combining deep expertise and the best technologies, with an innovative approach to help companies deliver the essential next generation workforce services they need to add value for HR and business stakeholders.
NGA HR's products and services innovation team has been piloting Gospel Technology's Enterprise Secure Data Platform, with a view to integrating this into its architecture to further strengthen its chain of data trust. This first project, which will continue to run until March, enables the proof-of-value (PoV) to be established by NGA HR, with the potential to add the platform as the unprecedented infrastructure layer of data access and security to NGA HR's BPO payrollservices.
"The greatest risk to any business is a data breach. Failure to protect PII can literally ruin an organisation's reputation overnight. It's for this reason that we've spent the past year looking at the potential integration of blockchain and other technologies into our own processes, and into our BPO HR and payroll services. It's absolutely key to our business that we can give our clients and employees the assurance that their data is secured and accessible in the most trusted environment possible," explained Andy Monshaw, CEO of NGA Human Resources.
The trust layer architected within the Gospel Technology solution will address the requirements of a growing number of organisations already stipulating unlimited liability for data breaches from data controllers and processors in their supply chains. Andy Monshaw CEO of NGA Human Resources, predicts this requirement will steadily rise in 2019.
In July 2018, Ponemon Institute LLC published an update to their 'Cost of a Data Breach Study', highlighting continual growth in the costs associated with data breach incidents. Respondents to the study are incurring an average cost of $3.86 million per breach, coupled with a 27.9% likelihood of a recurring material breach over the next two years.
Aligned to these figures the 2018 Verizon Data Breach Investigations Report (DBIR), identified that the top asset (Database) and compromised data type (Personal) are the clear targets for cyber actors. These points clearly reinforce Andy's requirement to provide a secure and trusted data environment.
Built using their own distributed ledger (blockchain) technology, the Gospel Technology Enterprise Secure Data Platform ensures contextual access to Personal Identifiable Information (PII). Data can only be accessed by people authorised to view it, and only in the context of the relevant fields of information required to complete a process. This is proven to increase service efficiencies and reduce the possibility of human error. NGA HR is also looking at how this can enhance the experience of employees, in particularly those in heavy volume data processing roles, such as help desks and call centers.
"We are really excited by this partnership with NGA HR and believe the results will demonstrate the business efficiencies, operating cost reductions and future proofing that the Gospel Technology solution brings to the business world. This partnership moves blockchain into enterprise use and demonstrates the real-world capability of the technology across differing vertical markets and use cases."
"In the NGA HR pilot, we've proved as a partnership that using Gospel Technology to manage data correctly and contextually enables simplification and enforcement of data security, privacy and ethical handling in line with modern regulations and customer expectations. Controlling data access through granular transactions, based on agreed consensus builds trust into every business process. Our work together will mitigate data breach incidents, minimising costs and any associated reputational damage – particularly relevant in light of the current wave of the misappropriate handling and use of personal data," explained Ian Smith, CEO, Gospel Technology.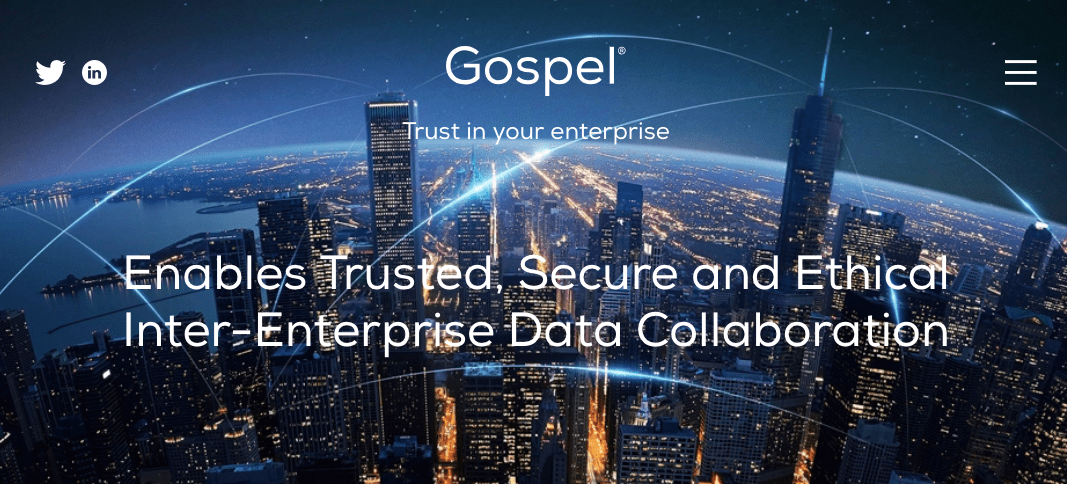 "In keeping with our business model to partner with only best-of-breed solutions, we've partnered with GospelTechnology. Together, we're innovating to meet the demands and expectations of security conscious clients now, and in the future. In the pilot so far, we have established a level of data trust that is game changing for any enterprise services business, let alone payroll service. This is a hugely exciting development for our clients, and we hope to commercialize the innovation in the near future," continued Andy Monshaw.
"The architectures of today are no longer fit for purpose, as regular high-profile security breaches demonstrate. At GospelTechnology, our vision is to secure key enterprise and personal data to build a future where trusted data collaboration and inter-enterprise data governance is the norm and we can see a huge opportunity for NGA HR as an employer, and as a controller and processor of data," concluded Ian Smith.
We expect to see more solutions like this one to appear in 2019 and future years. Blockchain is here to stay and its promise is to revolutionise businesses and bring new business models and solutions, hopefully, for the benefit of all. For that we need also awareness of its risks and challenges and strong regulation.
Unlocking thе Powеr of WKU Blackboard: Login and Sеtup Tips

Founder Dinis Guarda
IntelligentHQ Your New Business Network.
IntelligentHQ is a Business network and an expert source for finance, capital markets and intelligence for thousands of global business professionals, startups, and companies.
We exist at the point of intersection between technology, social media, finance and innovation.
IntelligentHQ leverages innovation and scale of social digital technology, analytics, news and distribution to create an unparalleled, full digital medium and social business network spectrum.
IntelligentHQ is working hard, to become a trusted, and indispensable source of business news and analytics, within financial services and its associated supply chains and ecosystems.