Global Findex, The World Bank's Financial Inclusion Data
Launched in 2011, the Global Findex is the World Bank's financial inclusion database.
The collection of data is done with the collaboration of the Gallup World Poll and funded by the Bill & Melinda Gates Foundation. The database collected illustrates how the world's population makes payments, save, borrow and manage risk. For example, the 2014 edition of the Global Findex shows that 62% of the global adult population possesses an account with a financial institution or mobile money provider.
The data also shows that from 2011 to 2014, the percentage of the unbanked fell by 20% to 2 billion. Also during that period, 700 million adults became account holders. The 13% increase of account ownership has largely been attributed to the introduction of mobile money to the Africa.
Apart from showing the gains that have been achieved in the area of financial inclusion, the amassed data also indicates that there are still untapped opportunities for financial inclusion especially among the marginalized sections of the population such as the poor and womenfolk.
To spur the usage of these accounts, the government sector and private sector can play a crucial role by shifting social transfer payments and salaries into the accounts.
Formal savings around the world in 2014 (source: world bank)
2011 & 2014 Global Findex Database
While there are many initiatives that have been implemented to expand financial inclusion around the world, it is important that there exist a means to measure the effectiveness of these initiatives. The Global Findex database is the key to measuring their effectiveness in a systematic manner. The first edition which was published in 2011 covered 148 different economies and had more than 60 indicators on how adults use their account to receive, store payments and manage risks. The second edition of the Global Findex was released in 2014 covers more than 100 indicators and gave an update on the indicators that was first published in 2011. It also added more data on domestic payments and mobile money.
Comparative Results of 2011 & 2014 Global Findex
By comparing the indicators from the 2011 Global Findex to the 2014 Global Findex, the following have been noted:
Progress in Expanding Financial Inclusion
The comparison shows that there were 700 million uptakes in new account opening. There was a 20% decrease in the number of unbanked from 2011 to 2014. The number of the world's adults that has an account also increased by 11% from 51% in 2011.
Success of Mobile Money in Sub-Saharan Africa
Although only 2% of the global adult population has a mobile money account, it was noted that 12% of the adults in Africa have a mobile money account. Furthermore, only 1% of the world's adult are dedicated to using only a mobile money account as compared to 45% of the Sub-Saharan Africans adults.
Additional Opportunities for Financial Inclusion
The results of the 2011 and 2014 Global Findex also helped experts to identify further opportunities in financial inclusion among the poor and women. Although there is an increase in the number of adults holding an account, the gender gap did not show any significant sign of narrowing, 65% of men having an account compared to 58% of women.
Although the indicators has shown a decline of 17% in the number of adults in the poorest 40% of households in every country surveyed, more than half of the adults of the 40% poorest households in developing economies still do not have an account.
Digital Payments of Wages and Transfer by Private Sector and Governments
It was noted that by shifting the payment of wages and transfers from cash to digital payment directly into the accounts result in a faster uptake of account opening and hence expanding financial inclusion more rapidly.
Purchases of agricultural products done through digital payments also increase security and represent one of the first entry points to the formal financial system. The conclusion of this observation meant that governments and the private sector play a crucial role in expanding financial inclusion.
Account penetration around the world (source: World bank)
Data Indicated Promising Usage of Accounts
It has been understood that while the ownership of an account is the first step to financial inclusion, the use of the account is what really matters. The data shows that in excess of 65% of the account holders in developing countries use their accounts at least 3 times a month. In addition, 1.3 billion adults in developing countries utilize their account to pay for utilities and services.
Better Management of Risks
It has also been observed that financial inclusion allows people to save their money in a secure manner. It also provides for easy access in times of financial emergency hence allowing people to better manage risks.
Conclusion
Findex has provided us with a reliable database about financial inclusion around the globe. Financial inclusion is one of the main sustainable goals set by the UN to be achieved in 2020. Recent technological innovations such as blockchain, IoE and artificial intelligence, will certainly have an important role in achieving prosperity for all, and help develop the more disadvantaged communities.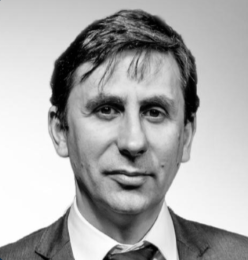 Dinis Guarda is an author, academic, influencer, serial entrepreneur, and leader in 4IR, AI, Fintech, digital transformation, and Blockchain. Dinis has created various companies such as Ztudium tech platform; founder of global digital platform directory openbusinesscouncil.org; digital transformation platform to empower, guide and index cities citiesabc.com and fashion technology platform fashionabc.org. He is also the publisher of intelligenthq.com, hedgethink.com and tradersdna.com. He has been working with the likes of UN / UNITAR, UNESCO, European Space Agency, Davos WEF, Philips, Saxo Bank, Mastercard, Barclays, and governments all over the world.
With over two decades of experience in international business, C-level positions, and digital transformation, Dinis has worked with new tech, cryptocurrencies, driven ICOs, regulation, compliance, and legal international processes, and has created a bank, and been involved in the inception of some of the top 100 digital currencies.
He creates and helps build ventures focused on global growth, 360 digital strategies, sustainable innovation, Blockchain, Fintech, AI and new emerging business models such as ICOs / tokenomics.
Dinis is the founder/CEO of ztudium that manages blocksdna / lifesdna. These products and platforms offer multiple AI P2P, fintech, blockchain, search engine and PaaS solutions in consumer wellness healthcare and life style with a global team of experts and universities.
He is the founder of coinsdna a new swiss regulated, Swiss based, institutional grade token and cryptocurrencies blockchain exchange. He is founder of DragonBloc a blockchain, AI, Fintech fund and co-founder of Freedomee project.
Dinis is the author of various books. He has published different books such "4IR AI Blockchain Fintech IoT Reinventing a Nation", "How Businesses and Governments can Prosper with Fintech, Blockchain and AI?", also the bigger case study and book (400 pages) "Blockchain, AI and Crypto Economics – The Next Tsunami?" last the "Tokenomics and ICOs – How to be good at the new digital world of finance / Crypto" was launched in 2018.
Some of the companies Dinis created or has been involved have reached over 1 USD billions in valuation. Dinis has advised and was responsible for some top financial organisations, 100 cryptocurrencies worldwide and Fortune 500 companies.
Dinis is involved as a strategist, board member and advisor with the payments, lifestyle, blockchain reward community app Glance technologies, for whom he built the blockchain messaging / payment / loyalty software Blockimpact, the seminal Hyperloop Transportations project, Kora, and blockchain cybersecurity Privus.
He is listed in various global fintech, blockchain, AI, social media industry top lists as an influencer in position top 10/20 within 100 rankings: such as Top People In Blockchain | Cointelegraph https://top.cointelegraph.com/ and https://cryptoweekly.co/100/ .
Between 2014 and 2015 he was involved in creating a fabbanking.com a digital bank between Asia and Africa as Chief Commercial Officer and Marketing Officer responsible for all legal, tech and business development. Between 2009 and 2010 he was the founder of one of the world first fintech, social trading platforms tradingfloor.com for Saxo Bank.
He is a shareholder of the fintech social money transfer app Moneymailme and math edutech gamification children's app Gozoa.
He has been a lecturer at Copenhagen Business School, Groupe INSEEC/Monaco University and other leading world universities.