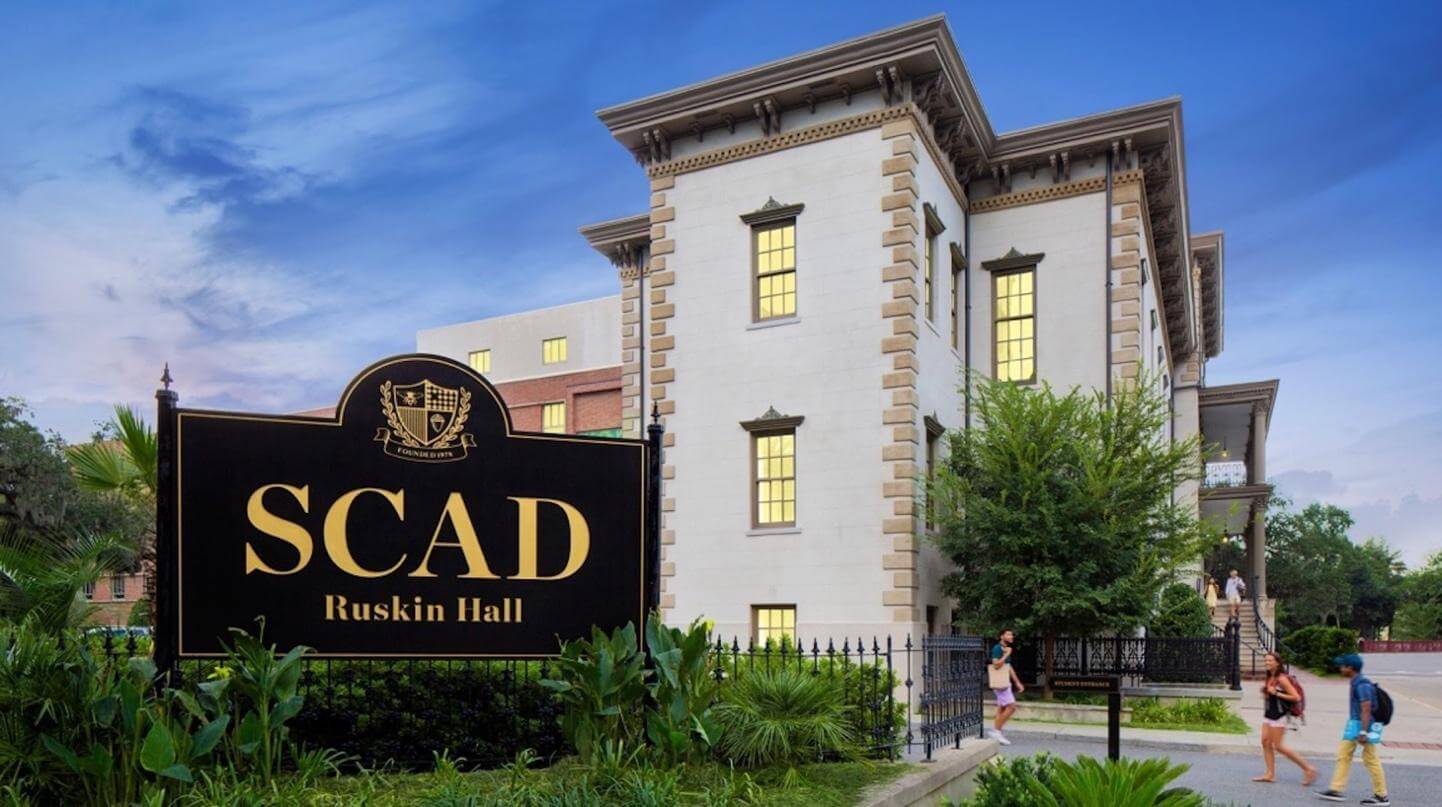 Choosing a university is a life-defining decision. From the availability of degree programs to the richness of the chosen location, all factors may contribute to a decision. For students focusing on a creative career, there is one choice: the Savannah College of Art and Design (SCAD).
Founded in 1978 by Paula Wallace, SCAD enrolled its first students in Fall 1979. Today, for more than 40 years, SCAD has pioneered opportunities for students to excel in the creative world. At the outset, SCAD offered eight majors, in well-established disciplines including photography, graphic design, and interior design. Today, those opportunities remain, supplemented by innovative new programs in disciplines including social strategy and management, themed entertainment design, or the beauty of business and fragrance.
SCAD also works tirelessly to connect the student learning experience with the diverse fabric of the university community, and Savannah at large. Initiatives including the restoration of two historic theaters—Lucas Theatre, and SCAD Theater—ensure that events from film festivals to concerts to live performances can engage multifaceted audiences.
Enticing Environment
The Savannah of the late 1970s is very different from the Savannah of today, and that's due in large part to the historic preservation and renovation efforts of SCAD.
The university has revitalized more than 60 buildings in Savannah, known to many by its nickname, the Hostess City of the South. Among those buildings is Poetter Hall—formerly the Savannah Volunteer Guard Armory—which is SCAD Savannah's very first building. Poetter Hall sits on the corner of Madison Square and houses ShopSCAD, where art, jewelry, and other merchandise made by SCAD students, alumni and faculty is available for purchase. And yet, Poetter also doubles a museum of sorts: also within the building is SCADstory, the university's 4D sensory experience that is an amusement park-style tour of SCAD history, one created using the very programs for which SCAD is renowned.
While Poetter's prominent location downtown is a starting point for many who are curious about SCAD, many others begin at Ruskin Hall, located just off Forsyth Park. Ruskin is home to SCAD admissions, SCAD Career and Alumni Services, and SCADpro—the university's in-house research and design consultancy. Ruskin occupies what was formerly Candler Hospital, a structure built in 1819.
One of SCAD's most stunning designs is the SCAD Museum of Art, which features an 86-foot-tall lantern atop the building's atrium—a gleaming, modern addition to the Savannah skyline. The museum's award-winning design is a prime example of the university's penchant for historic preservation and adaptive reuse, as contemporary features were incorporated into what was formerly a depot for the Central of Georgia Railway — and the oldest extant pre-Civil War railroad depot in the United States.
Extraordinary Experience
A SCAD education is grounded in a unique combination of functional and practical skills, paired with critical and analytical abilities. These can begin even prior to enrolling, with options including SCAD Summer Seminars, and the SCAD Rising Star program, both offered in Savannah. Once on campus, freshmen develop valuable skills throughout their foundation courses and their first-year experience sequences. In Savannah, students can enroll in the most comprehensive range of degree programs and specializations, including service design, themed entertainment design, urban design, and more. Students enrolled primarily at any SCAD location may take courses at any other SCAD location; SCAD is one school, with three locations.
As well as the academic experience, SCAD has always been a leader in student learning, development, and extracurricular opportunities. SCAD has always offered students robust opportunities for university-level competition through their participation in the NAIA. Competitive soccer was initiated in 1984; today, SCAD Savannah competes in 21 varsity sports, including lacrosse, swimming, and equestrian.
Students have also been encouraged to express themselves, and to participate in organizations and projects that serve to enrich their communities. SCAD facilitates student-led organizations devoted to diversity, and has, over the course of its history, initiated projects to protect and preserve the African American identity of Savannah — from the historic renovation of the First Baptist Church at Raccoon Bluff, on Sapelo Island, to the construction of the Walter O. Evans Center for African American Studies at the SCAD Museum of Art, as well as the installation of a historic marker to honor the actions of civil rights protesters at the lunch counter of the building that now houses Jen Library.
Finally, SCAD signature events are as much enriching educational experiences as they are delightful displays of glamour and art. SCAD students mingle with A-list celebrities at annual staples such as SCAD Savannah Film Festival and SCAD aTVfest. Still other events—SCAD deFINE ART and SCADstyle—bring auteurs and luminaries together for compelling exhibitions and delightful shows. At each SCAD signature events, students learn from stars and living legends, who sit on panels and teach masterclasses and, sometimes, pop into a classroom for a surprise guest critique.
Recognition and Renown
From fashion to film and everything in between, SCAD students and academic degree programs have a history of garnering great acclaim and recognition.
Just this year, SCAD alumnus Christopher John Rogers took home the $400,000 CFDA/Vogue Fashion Fund grand prize. That win follows other recent milestones, including SCAD's first-ever Coca-Cola Regal Films grand prize win- architected by then-students Devon Solwold and Shayain Lakhani. They created Be Happy—a short that made the rounds in Regal theaters across the country during the summer of 2019. Still other students claim top prizes, such as the team of SCAD Bees that won the 28th Annual Walt Disney Imagineering's Imagination Design Competition.
Success Stories
Success stories like these derive from the degree programs that prepare students for creative careers, and which are themselves award-winning. Take SCAD's interior design program, for example, which is consistently ranked in the top—if not No. 1—in the U.S. by DesignIntelligence. Then there's SCAD's motion media design program, ranked No. 1 by The Rookies. Adding to the list is The Hollywood Reporter, which proclaims SCAD as a Top 10 university for visual effects. From the American Society of Interior Designers to the American Institute of Architects, SCAD has a proven track record of achievement.
That track record is due to the university's president, Paula Wallace of SCAD, who herself continues to garner renown for her expertise as an educator and tastemaker. In fact, Wallace was part of Interior Design magazine's Class of 2019 inductees into the Interior Design Hall of Fame. Additionally, Wallace has received numerous other awards and honors; including the 2018 Southeast Emmy President's Award, 2017 ASID Nancy Vincent McClelland Merit Award, the National Trust for Historic Preservation's 2016 Louise du Pont Crowninshield Award, and the 2016 Roger Milliken Honorary AIA Legacy Award.
Clearly, SCAD is able to prepare tomorrow's artists, designers, makers, and business leaders. In addition to the university's full trophy case of awards, SCAD also boasts at 99% alumni employment rate. Each year the university reaches out to alumni who've graduated in the past 10 months to see where they've landed; the overwhelming majority—92%, most recently—seek gainful employment in the creative discipline they studied in at SCAD. Others go on to rewarding jobs in related fields. Still others further their education—sometimes even pursing a master's at SCAD. Whatever the case, the university clearly fulfills its mission of helping dreamers attain meaningful careers.
This is an article provided by our partners network. It does not reflect the views or opinions of our editorial team and management.
Sponsored content

Founder Dinis Guarda
IntelligentHQ Your New Business Network.
IntelligentHQ is a Business network and an expert source for finance, capital markets and intelligence for thousands of global business professionals, startups, and companies.
We exist at the point of intersection between technology, social media, finance and innovation.
IntelligentHQ leverages innovation and scale of social digital technology, analytics, news and distribution to create an unparalleled, full digital medium and social business network spectrum.
IntelligentHQ is working hard, to become a trusted, and indispensable source of business news and analytics, within financial services and its associated supply chains and ecosystems.