Financial services are mostly available in rich countries, which hold highly developed infrastructure on this matter: massive worldwide companies, high-tech at the service of these companies and a strong economy, resulting from a long run implemented neo-liberalism … Unfortunately, this has cut off the world in two halves, commonly known by the experts as the digital breach. A first class world of rich countries and, then, the poor ones. The digital breach leaves these last ones to take care for themselves, as the forgotten.
The huge differences in terms of access to financial services can't stay cloaked any more, though, as new voices claim for affordable opportunities for all. Back in the early 2000s, former UN Secretary Kofi Annan said:
"the stark reality is that most poor people in the world still lack access to sustainable financial services, whether it is savings, credit or insurance. The great challenge before us is to address the constraints that exclude people from full participation in the financial sector. Together, we can and must build inclusive financial sectors that help people improve their lives."
Following Kofin Annan's statement, governments, worldwide institutions and national banks began to design new tools and implement new policies and ways to approach the needs of their citizens.
The so-called 'Modelo Perú'
Most countries with emergent economies have to deal with two important problem that hinders a full access to financial services: lack of development and access to technology. Citizens in countries like Peru struggle to get high-tech devices such smartphones or new-generation laptops at affordable prices. Living in an almost subsistence based economy, it is believed that more than 80 per cent of Peruvians lack access to a bank account. The good news is that the government has decided to tackle the problem, by launching diverse interventions over the past five years. The new strategy aims to provide access and responsible usage of a transaction account to at least 75 percent of adults by 2021.
So the government's plan has two branches: on one hand, to provide better access to technology, on the other, to develop a sustainable financial sector affordable by the majority of the population. In that way, and after a few experimental mobile-wallets , it has launched BiM, the first fully interoperable national payments platform, focused on driving financial inclusion by extending services to Peru's unbanked, and offering accessibility to even the oldest feature phones. The program builds on the lessons learned from nearly 10 years of mobile payment platforms operating globally, which have shown how interoperability is key.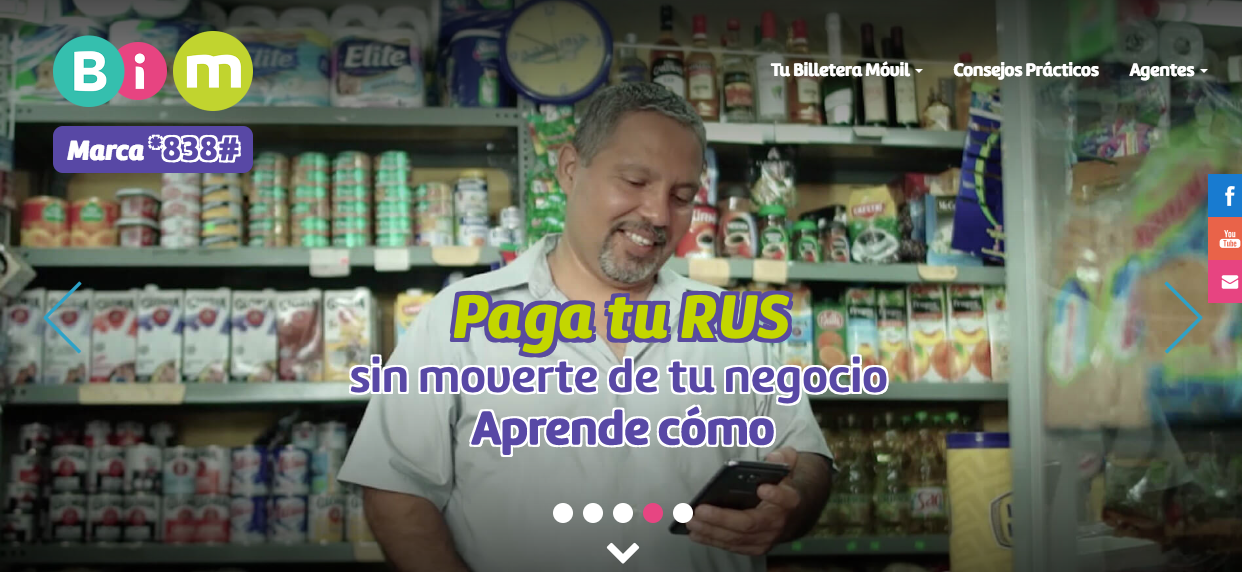 BiM was named as Peruvian Digital Payments (PDP) in association with country's financial institutions, government, telcos, and other players, in which is known internationally as Modelo Perú. Unlike many closed-looped systems that prevent clients from easily sending money across platforms, this collaborative approach, should allow optimal, interoperable customer convenience, competitive product offerings, and hopefully in turn, affordable fees.
PDP is a client centred tool where the participating financial institutions are listed as options on the menu for customers to select. To register for BiM, a client must choose a bank on the menu, and then conduct their transactions within that bank's offerings and to allow clients the choice of services that meet their needs.
In its initial phase, BiM subscribers can use the service to cash-in/cash-out, check account balances, conduct person-to-person transfers, and top-up their mobile phone any time. Overall, PDP aims to reach 5 million people in 5 years – and hopefully a large percentage of active users among them.
The "non-cash" Vietnam's strategy
Vietnam's citizens, on the other hand, have access to technology. In fact, there are almost two phones per person as average. The economy, though, runs at different speed from advanced economies and it is still based on a cash system. This means that the majority of adults have no bank account or financial services of any kind. So Moving to a "non-cash" system is a priority for the government to increase efficiency, promote business and economic development and reduce poverty including in remote rural areas where traditional financial providers have difficulty reaching out to.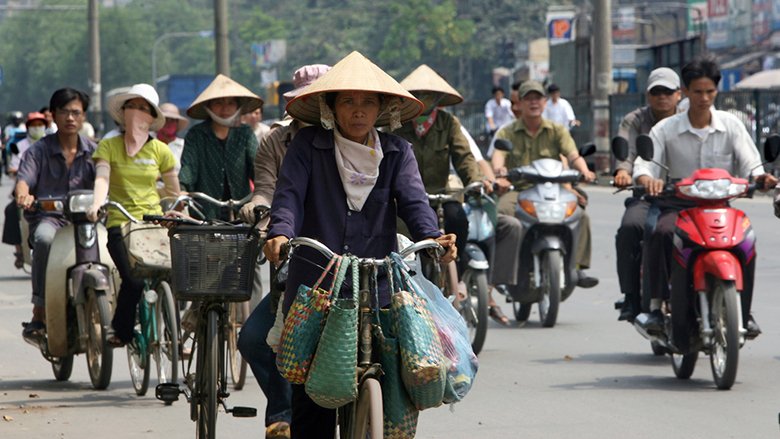 According to the World Bank, more than 6.2 millions Vietnamese can't access financial services due to prohibitive documentation requirements, and expensive costs. For that reason, only one-third of the adults has ever made a transaction through a trusted financial institution.
So since 2016 the State Bank of Vietnam, the country's central bank, has been partnering with the World Bank Group on a comprehensive approach to financial inclusion which will result in a national financial inclusion strategy. While still in development, several key elements of the strategy are clear:
A focus on digital finance including shifts in government payments to digital products and platforms;
Providing financial services to rural and agricultural communities and ethnic minorities, where growth has lagged and poverty rates are above the national average;
Strengthening consumer protection and financial education so that the next generation of consumers are prepared for a modern financial marketplace.
"Expanding and extending formal financial services to reach millions of unbanked and underbanked adults will help Vietnam achieve both poverty reduction and continued dynamic growth, propelling the nation forward toward the vision described in the Vietnam 2035 report of greater prosperity, inclusion and accountability", the World Bank has said.
These two examples of concerted action between governments and key player for the financial inclusion of the populations are exemplary of what can and needs to be done, by using technology, as a way to improve the living conditions of people around the world.
Thought leadership series on the collaborative economy, sharing economy and blockchain, powered by Humaniq.
Launched in 2016, Humaniq aims to provide mobile finance to the 2 billion unbanked population through its mobile app for good, that uses biometric authentication to replace traditional methods of ID and security. Humaniq's open source stack and API will be available for startups and other businesses to build services on its core technology, making it easy to adapt their service and plug it into Humaniq's network to reach a huge, untapped audience.

Founder Dinis Guarda
IntelligentHQ Your New Business Network.
IntelligentHQ is a Business network and an expert source for finance, capital markets and intelligence for thousands of global business professionals, startups, and companies.
We exist at the point of intersection between technology, social media, finance and innovation.
IntelligentHQ leverages innovation and scale of social digital technology, analytics, news and distribution to create an unparalleled, full digital medium and social business network spectrum.
IntelligentHQ is working hard, to become a trusted, and indispensable source of business news and analytics, within financial services and its associated supply chains and ecosystems.