Every day we send numbers of emails in our office or personal lives with the hope and trust that our emails are read and used only by the recipients. But as the number of attacks is growing day by day, fear of getting their data exposed is increasing among the users. Many of the emails you send are stored in the cloud and in devices, and can get breached by intruders and misused against you or your organization, at some point in the future.
As per the CISO magazine survey, 44% of employees admit that they've exposed personally identifiable information or business-sensitive information using their corporate mail. Despite the awareness of all the risks, employees agreed that they share sensitive data outside of the organization without encryption. This result of the study is very worrisome. It needs immediate attention as people are still unaware of the right solution, which could privatize their emails, encrypt them, augment them with privacy controls, and secure their emails and convenience to use at the same time.
One of the most common causes of the problem is that Emails rely on protocols which bear very little security.  Most of the email accounts are held on cloud servers and thus can be attacked by intruders. Second of all, email messages are easy to read and understand when not encrypted.
The Solution
Email's strength lies in its simplicity, but it is also the most significant weakness as it gives a weaker protocol with every email stored in multiple cloud servers at the sender and destination, as well as in the recipients' devices.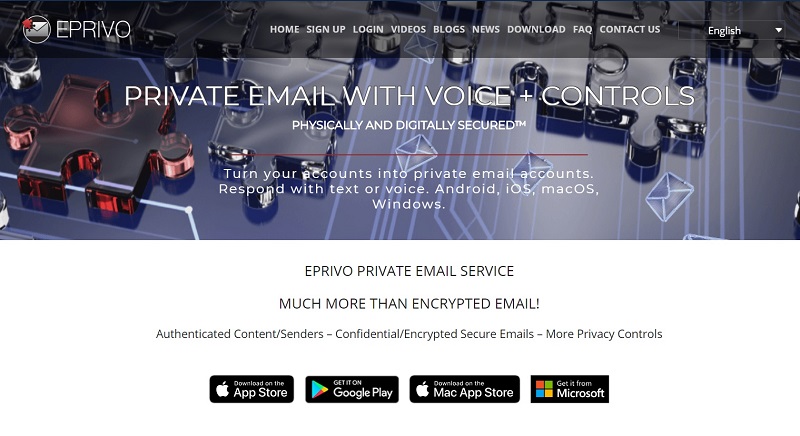 EPRIVO might be the best email security solution as it provides a great blend of the convenience of an email and yet offers a wide variety of features and, most importantly, stringent security and privacy controls.
EPRIVO offers the following features:
Privatizing email account- EPRIVO is the only email security solution that privatizes your existing email address. No matter which email provider you have been using in the past, you can privatize all your old emails whenever you decide to do so as well as any future emails.
EPRIVO ensures that email content, metadata, and the subject line can be made confidential in the cloud and kept private, which means only you and the recipient can access it. It is the only email security provider to privatize your text as well as voice emails. You can also create a private email account if you need it.
2. Encryption and physical security- EPRIVO very well encrypts your email so that no one can read or understand your emails except you and the recipient. With this, EPRIVO provides digital security as well as physical security.
It separates email providers with email security services. It does not store any of your emails, which means not even EPRIVO can access your mails, thus taking your security level at additional heights.
3. Recall messages- A CISO magazine study has shown that 37% of the times, cyber-attacks were caused by sending sensitive data to the wrong recipient, and therefore a callback feature is a must for an email provider.
Therefore, EPRIVO offers full sender-based controls where you can recall your messages anytime from the cloud and recipient devices. Similarly, you can also set an expiration time for the mails, after which the letters will automatically get destroyed from the recipient's device as well as cloud servers.
4. Control of viewing and forwarding- A sender can also set a limit for how many times the recipient can view the message you have sent. If you set that the recipient can see private email only once, then it will automatically expire after it is viewed once by the recipient.
Similarly, you can also set whether the recipient can forward the sent message or not. Often, we do not see where our email is being forwarded. If somebody inside the organization forwards our privacy-sensitive mails to an unauthorized recipient who could misuse our information, it could be harmful. Therefore, sender-based controls are more useful for saving our data and having control over it even after sending it.
5. Privacy sensitivity- EPRIVO also offers a feature where you can see the privacy sensitivity of an email. With its specially curated system based on patterns and trends,
AI in today's world can identify the privacy sensitivity of an email and mark them 1 to 4, 4 being the most privacy-sensitive message. This privacy meter helps identify the users whose mails are more prone to risk and thus needs to be privatized as soon as possible.
6. Privatize sender- With EPRIVO, you can also privatize the sender's email address so that once the recipient opens the email the sender's address is wiped out not only from the recipient's device but cloud as well. This feature helps in preventing any leak of email addresses.
7. Two-Factor Authentication- When you download your app on iOS or Android, you can turn on two-factor authentication, which gives an additional layer of security while entering your mail account.
You can set your biometrics as an additional security compliance requirement before entering the mail app and accessing your emails. In case your device gets lost, stolen, or accessed by an unauthorized person, they still cannot access your mails without your biometrics.
Pricing
Their pricing starts from as low as $1.00 per month for a single user. You are billed annually for the all plans but as mentioned earlier, they offer a 90 days free trial.
You can start using their services and one assured of their quality, you can for a relevant plan as per your requirements. We recommend getting the Family Plus version.
Summing Up
A continually evolving tool like EPRIVO deals with new threats and attacks while providing the same level of convenience as a conventional insecure email provider. And this beautiful blend of convenience and security by EPRIVO has taken email security to the next level. It plays a vital role in helping numbers of organizations and people worldwide to identify and protect their data and themselves against harmful threats and attacks.
The trust of using mail as a method of communication is slowly weakening as attacks and threats are increasing day by day. But simultaneously, technology is getting stronger day by day. Companies like EPRIVO are using it to address the security of emails and give you full control.

Founder Dinis Guarda
IntelligentHQ Your New Business Network.
IntelligentHQ is a Business network and an expert source for finance, capital markets and intelligence for thousands of global business professionals, startups, and companies.
We exist at the point of intersection between technology, social media, finance and innovation.
IntelligentHQ leverages innovation and scale of social digital technology, analytics, news and distribution to create an unparalleled, full digital medium and social business network spectrum.
IntelligentHQ is working hard, to become a trusted, and indispensable source of business news and analytics, within financial services and its associated supply chains and ecosystems.