Dinis Guarda interviews Dr Commander Kartikay Saini, Chairman of the Scottish High International School in India about Challenging Education, Intellectual Disability
Dr. Commander Kartikay Saini is a humanist and a certain kind of man, a man of integrity and quality, a true visionary to reach the pinnacle of success, and yet maintain an air of humility that is striking in its simplicity. It takes a man like Dr. Cdr KARTIKAY SAINI, a humanitarian, a true leader to validate that success and humility co-exist.
Dr. Commander Kartikay Saini is the Chairman of the Scottish High International School and also Chairman of the Board of Directors for Special Olympics Bharat, the national Special Olympics Program for India; and serves on the Special Olympics International Advisory Committee.
Dr. Commander Kartikay Saini Interview focus
1. An introduction from you – background, overview, education…
2. Career highlights
3. About education in India
4. Intellectual disability and education opportunities
5. What are your views on our society, technology and digital transformations?
6. What are your goals and how do you see the future of work and the main education trends in tech and society?
7. With Covid-19 what ways do you envision to redesign our society with technology and social impact?
8. What are your visions for the present and future?
Dr. Commander Kartikay Saini Quotes & Highlights
· While I was in the navy I decided to move from medicine to engineering. It was at that point I decided to stop my career in the navy and start in education.
· About the army. I spent years in the army forces in India. The Indian army is complex to say the least. There are thousands of different languages, multiple religions and traditions across the country and all of them are represented in the army one way or another. However, in the army there are strict rules so you can't have religious figures, or representations in your quarters nor you can show them in public.
· By my fifteen year of service, I just became commander and my son was just diagnosed with autism. At first we were angry, then we went through the stage of denial and then into mourning. After a little while, we accepted it and we decided to act. My wife and I decided to quit our jobs and give our lives to help our son. We started looking for schools that would be good for our child and provide all the attention he needed. However, we couldn't find any. That is why I decided to create a school only for children that needs special attention and provides the best education possible. That is how Scottish High International School was created.
· Scottish High International School welcomes children with and without disabilities. In India, parents still hide children that have intellectual disabilities. When we set up the school we had it very clear that all children would be accepted and integrated. All children were going to share the same classes, being taught by the same teachers and have the same opportunities. Likewise, I knew that some children need special attention so we brought in physiotherapists, psychologists to support children with disabilities to feel integrated and help get the best out of them.
· Our main goal with all these actions and special policies we followed was to make parents and society accept all children and change the overall feeling about having children with disabilities.
· Challenges when starting the school. We first wanted to move away from traditional education. Normally, education is all about books and memory, that just wouldn't work in a school like the one we were building. Instead of the usual 7 to 4 normal school hours, we created a schedule that would suit the children better including regular breaks and outdoor activities. And we wanted it to be truly international sealing off partnerships and collaboration with international schools all around the world. We really tried to make something different for the children so we could promote their true potential. And that means helping the children become their best self.
· I have been on the board of Special Olympics for almost 15 years now. I started as a volunteer and grew up in the ladder to become one of the board members. I haven't seen a more professional organization than the Special Olympics in my entire life. Everything is well organized, structured and planned. It is an organization that has helped more than 5.6 million of people with disabilities all over the world, their families and give them purpose through sport events. The Special Olympics have been very special for me and I have to thank my son for that.
· When people with children with disabilities, especially intellectual disabilities, come to me, I always say congratulations, because this child will never lie, will never be dishonest, will show unconditional love and respect and if they can connect with them, they will be truly happy and joyful. The second thing I say is stop mourning. I found that parents usually focus on the negative side like they blink, they have to follow rituals, etc but they also smile and laugh, they are trustworthy, etc. The third one is to teach them as much as they can to become the best person they can be. Cooking, finance, social skills, etc are good skills to start with and then adapt to its own pace. I tell parents that it is a long journey, but parents need to find the strength to keep going and never give up because the children won't. And most importantly, parents need to acknowledge that their children have a disability and need to accept that and normalize the situation. Hiding them, making them tabu or using euphemisms never help.
· COVID-19 has promoted technology greatly. In education, for example, we use technology to keep the classes going and provide support to the children. However, I also think that technology can't replace real life experiences which is especially important for small children that are just discovering the world. They need to go out and live them firsthand for themselves.
---
More Interviews
Video Interview: Mamadou Toure, Founder Africa 2.0 Foundation – Digital Transformation In Africa 
Video Interview: Prof Darryl Newport, Director of Sustainability Research Institute (SRI) – Green Economy And The Future of Cities
Dinis Guarda Interviews Michael Terpin, Founder and CEO of Transform Group And BitAngels – Legendary Blockchain Investor And Crypto Investor Influencer
Anil Singh, Vivek B. Singh, Founders Procam And Creators Of The Tata Mumbai Marathon On The Growing Sport Industry in India
---
Dr Commander Kartikay Saini Biography
As a former commander of the Indian Navy, Dr. Saini has over three decades of distinguished experience in the civil and defense forces with over 19 decorations. He has undertaken numerous leadership roles in his career and has been a key speaker in various workshops and seminars on leadership and governance around the world. Dr. Saini is currently the Director of Hema Engineering Industries Ltd and the Chairman of Scottish High International School, India.
Dr. Saini has been involved in sports for his entire life, enjoying a multitude of various sporting activities. He has contributed nationally to education for the underprivileged, integrated education for children with intellectual disabilities, and pioneered research as the head of the Autism Research Center of India. Dr. Saini has served Special Olympics in various capacities since he started volunteering in 2003, including as the Chairman of Special Olympics Bharat and Chairman of the Special Olympics Asia Pacific Advisory Council.
Very few are adept at cracking the code of success with such poise, patience and perfection.
A few elements of his persona that endorse this claim are…
Motivational leader: Apart from his laudable accomplishments in the field of education at the National and International levels, Dr. Cdr Saini has served and continues to serve as a key speaker in workshops and seminars on leadership and governance in different parts of the world-Spain, Switzerland, China, U.S.A, Macau, Philippines, Malaysia, to mention a few. He constantly challenges the status quo, expunging mediocre ideas and concepts with his radical views and innovative ideas on global issues. He models true leadership by practicing what he teaches. Little wonder that he is highly respected in the community, with his ideas catching on like wildfire. He has led youth conferences in India and abroad inspiring thousands of youth across the globe.
Dr. Kartikay Saini has been invited to lead conferences and workshops across the world and honored for his excellent humanitarian work in the field of 'disability'.  His workshops include the Academies of Asia Pacific, Europe Eurasia Youth summits, America's Youth Congress, etc.
Artiste & Orator:  Dr. Cdr. Kartikay Saini is a keen writer, a poet, and has contributed to a number of journals and magazines including the US Proceedings, USA. His oratory skills and interest in drama & music embody the qualities of a well-rounded leader who works hard and plays even harder.
The Fore-runner: Dr. Saini is the first INDIAN to have been the Chairman of 30 Nations Asia Pacific Unified Sports Advisory Committee. He has brought laurels to India by leading the social cause of Unification across the Asia Pacific continents including Australia, New Zealand and Malaysia. He has made the country proud time and time again as he is the FIRST INDIAN to have been appointed on the Board of Special Olympics International Washington, mentoring 177 countries of the world including continents of America, Africa, Asia, and Europe.
Notable Credits
· Chairman-Scottish High International School
· Director-Hema Group of Industries
· Board Member-Special Olympics
· Head-Autism Research Centre of India
· Board Member- The Golf Foundation of India
· Advisory Board Member INTED Spain
Noteworthy contributions
The achievements of Dr.Cdr Kartikay Saini in the area of education and humanitarianism has earned him commendations by many Heads of Global organizations and Country heads of 'Special Olympics International' in Asia and Europe as well as America. He has received noteworthy recognition for his social work and education of people with disabilities.
Prominent personalities like Dr. Timothy Shriver, nephew of US PRESIDENT John F Kennedy, Consulate General of India Ms. Neeta Bhushan at Chicago USA, the Bhutan Government Special Olympics, and   CEO- Special Olympics International, Ms Mary Davis have lauded his meritorious contributions in the same.
Awards and Accolades
Dr. Kartikay Saini is a highly decorated Officer. His contributions to the world, especially in the field of Education and Inclusion has changed the lives of millions of families across the globe. He is a highly decorated Educationist with over 200 National and International awards on his name, including the Forbes 'Most Influential Leader', 'Hindustan Times Change Maker', INTED Spain, 'Visionary Leader', National Derozio Award to name a few. He was felicitated last month at the House of Commons, London as the Indian Educationist for the year among the Lords and members of the British Parliament.
His contributions to the field of Education and Special needs have very few parallels. Honored with 'Derozio Award', 'SAICON- Sports Authority of India', 'Inspirational Leaders Award' 'Visionary of the Year Award', 'Indian Achiever's Award", "Education Stalwart Leader", "Trendsetter of the Year 2018" and many more, Dr. Saini continues to make a mark in the hall of excellence.
Links and resources
https://www.scottishigh.com/core-management-team/chairman/
http://talent.sartajfilms.com/envira/scottish-high-chairman-dr-commander-kartikay-saini/
https://www.forbesindia.com/article/global-indian-business-leaders/an-audacious-ambition/53255/1
http://talent.sartajfilms.com/envira/scottish-high-chairman-dr-commander-kartikay-saini/
https://www.youtube.com/channel/UCP8pBnTzZtaFZYLy4WTHrbA
http://theeduset.com/our-team.html
https://specialolympicsbharat.org/images/chairmanprofile.pdf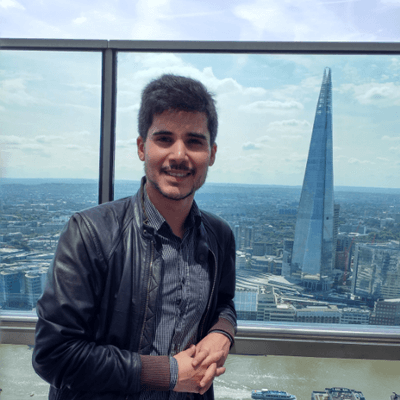 Hernaldo Turrillo is a writer and author specialised in innovation, AI, DLT, SMEs, trading, investing and new trends in technology and business. He has been working for ztudium group since 2017. He is the editor of openbusinesscouncil.org, tradersdna.com, hedgethink.com, and writes regularly for intelligenthq.com, socialmediacouncil.eu. Hernaldo was born in Spain and finally settled in London, United Kingdom, after a few years of personal growth. Hernaldo finished his Journalism bachelor degree in the University of Seville, Spain, and began working as reporter in the newspaper, Europa Sur, writing about Politics and Society. He also worked as community manager and marketing advisor in Los Barrios, Spain. Innovation, technology, politics and economy are his main interests, with special focus on new trends and ethical projects. He enjoys finding himself getting lost in words, explaining what he understands from the world and helping others. Besides a journalist, he is also a thinker and proactive in digital transformation strategies. Knowledge and ideas have no limits.