Jason Michael Primrose, the author of the Lost Children of Andromeda series and the founder of Cluster Chronicles, was the guest at the latest episode of Dinis Guarda YouTube podcast series, powered by citiesabc.com and openbusinesscouncil.org. He enlightens the audience with his journey from writing a sci-fi series to utilizing Web 3.0 and NFTs to build a thriving community.
Jason is a serial entrepreneur, writer, storyteller, creator, and strategist. Being from a family of literature, poetry, and prose, Jason was magnetized to the world of storytelling from his tender years. He worked twelve hard years of consulting in brand, creative, experiential, and influencer marketing building up skills that nurtured his brainchild "The Lost Children of Andromeda".
Sharing with Dinis about his experiences during his early professional years, Jason said that the analytical tools in Web 3.0 are a beneficial resource that facilitates great things to happen within the creator economy, a feature that was lacking in the earlier versions of marketing and the internet.
Explaining it further, he said that it all starts with creativity. According to him, passion is the driver, "I think it's the ideas and the imagination that flows the desire, or the capacity to be the business part. Because, let's be honest, if I was doing business about something that I wasn't passionate about, I wouldn't be good at it. So, because I'm passionate about the story, I'm going to figure out the business."
"Web 3.0 is a medium just like television, films, and podcast", he told Dinis, "but NFTs are the special keys for storytelling and engagement. I mean, that's how we use technology."
---
More Interviews
James Zhang, CEO The Concept Art House – Games, Art And NFTs
Adam Hollander, Serial Entrepreneur, Pack Leader at Hungry Wolves – NFT, Gamification
Interview with Rishi Kapoor, Founder & CEO of paus.tv – The Revolutionary Streaming Platform For Independent Creators
Interview Kireet Khurana, Filmmaker & Creator Of Animation Film "Toonpur Ka Superhero" – Homelessness In India: The "Invisible Visible"
Pedro Gadanho – Architecture, Arts, Cities & Society – Former MoMA & MAAT Curator, Architect
Susan Oh, Future of AI, Blockchain; Blockchain For Impact Global Summit @ UN HQ, Top 10 Frontier Women in Digital
---
Empowering the creators with NFT drops
Being an influencer and an expert in Web 3.0, NFTs, and Metaverse himself, Dinis was interested to know how Jason strategized the NFT drops for his series. Jason told him that he took elements of the book, like the main technology and the novels, and released those NFTs as CYNQUE Prototypes on OpenSea. These technological devices give users access to the world of The Lost Children of Andromeda.
"They give you voting rights for future novels, you can decide what photos go in there, you can decide on book coverage, they give you access to future characters that haven't been released yet, it gives you access to artifacts which help you to build a wall around your character, and then you can also earn the world's digital tokens that everyone uses in the story, and we wanted to give you the opportunity to earn that, and they can use it to buy more artifacts, other characters, future merchandise. So, we really tried to build this gamified literature ecosystem that started with these NFT drops.", he highlighted.
He emphasized that the original strategy is to bring the users a read-to-earn experience. "The whole vision", Jason told Dinis, "is to basically re-instil imagination in people. When people come into The Lost Children of Andromeda, they are reminded that they can tell stories, and so all the things we do to earn peace, allow you to read the novel and learn parts of the story. Like the artifacts, like the currency, everything like that."
Contributing to building a sustainable creator community
Having a background experience in Influencer and experiential marketing, Jason esteems a sustainable community, where he contributes with his mentorship, support, and collaboration. He told Dinis that he believes in sharing really powerful content and being of service to the community. He highlighted that he was personally involved in the back-channel to facilitate a variety of content creators- artists, writers, musicians, and many more. Although he did not build very large communities, he said, small and loyal communities yielded a lot of value out of their engagements and conversations.
Sharing his experiences, Jason said, "When it comes to community, it's really like what do they need. If you want to make music for your characters, instead of writing short stories, go ahead. How do we allow our people, that's what our community is for. So that people can have fun again, can use their imagination again and break out from mundane day-to-day life."
Sharing his future plans, Jason says he is persistent about building a community that is sustainable and has longevity. Focussed on a vision to achieve wider distribution, Jason is phasing out the NFT project for better penetration, so much so, he says, that it becomes a community-built franchise.
Weighing the options where the project could evolve, Jason is focused on giving ownership to his creator community.
"Whatever we grow into, people know that they were actually a part of the building of the Intellectual Property, and the assets that they have are going to increase the value because they were a part of the building of it because they were loyal because they stuck around because they shared because they participated. So, it's like how do we all grow together, where people are getting back value for what they put in and they use their creativity at the same time.", he concluded.
Call for action
Lostchildren.xyz has a lot of information about NFTs and the NFT roadmap. It is very web 3.0 centric and looks like a game.
Lost Children of Andromeda on Instagram is where you can find Jason's personal storytelling journey
LCOA 2050 on Twitter, where it is like Web 3.0 mixed with the book, a holistic platform sharing both sides of that journey
Join the Discord, it's very fun. They have an onboarding game where you choose yourself, your power, your position. There is a game that takes you to the end of the world. They have more games coming.
You can also read the book for free on medium. They are realising chapter-wise so you can have a chapter every week.
About citiesabc.com
https://www.citiesabc.com/​​​​​​​​​​​
https://twitter.com/citiesabc__​​​​​​
About openbusinesscouncil.org
https://www.openbusinesscouncil.org/
4IR: AI Blockchain Fintech IoT Reinventing a Nation by Dinis Guarda and Rais Hussin (4irbook.com)
Dinis Guarda citiesabc openbusinesscouncil Series is also available as podcast on
Apple Podcasts: https://podcasts.apple.com/us/podcast/dinis-guarda-citiesabc-openbusinesscouncil-series/id1510330391
On Spotify: https://open.spotify.com/show/1vA8KaDaRpJ0mAfpNbfTSF?si=H_WngL4RSOyu1W7VAmM41w&dl_branch=1
Google Podcasts: https://podcasts.google.com/feed/aHR0cHM6Ly9mZWVkcy5idXp6c3Byb3V0LmNvbS8xMDMyMzg4LnJzcw==
Amazon Music: https://music.amazon.com/podcasts/953a5156-823c-4e86-baeb-4fda1128e44c/DINIS-GUARDA-CITIESABC-OPENBUSINESSCOUNCIL-SERIES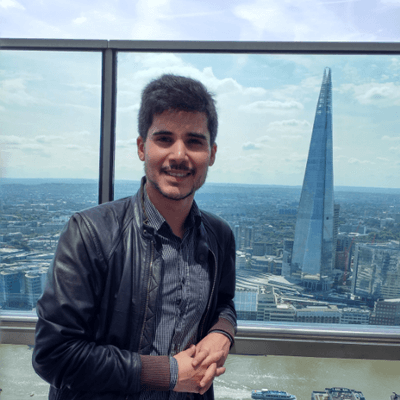 Hernaldo Turrillo is a writer and author specialised in innovation, AI, DLT, SMEs, trading, investing and new trends in technology and business. He has been working for ztudium group since 2017. He is the editor of openbusinesscouncil.org, tradersdna.com, hedgethink.com, and writes regularly for intelligenthq.com, socialmediacouncil.eu. Hernaldo was born in Spain and finally settled in London, United Kingdom, after a few years of personal growth. Hernaldo finished his Journalism bachelor degree in the University of Seville, Spain, and began working as reporter in the newspaper, Europa Sur, writing about Politics and Society. He also worked as community manager and marketing advisor in Los Barrios, Spain. Innovation, technology, politics and economy are his main interests, with special focus on new trends and ethical projects. He enjoys finding himself getting lost in words, explaining what he understands from the world and helping others. Besides a journalist, he is also a thinker and proactive in digital transformation strategies. Knowledge and ideas have no limits.