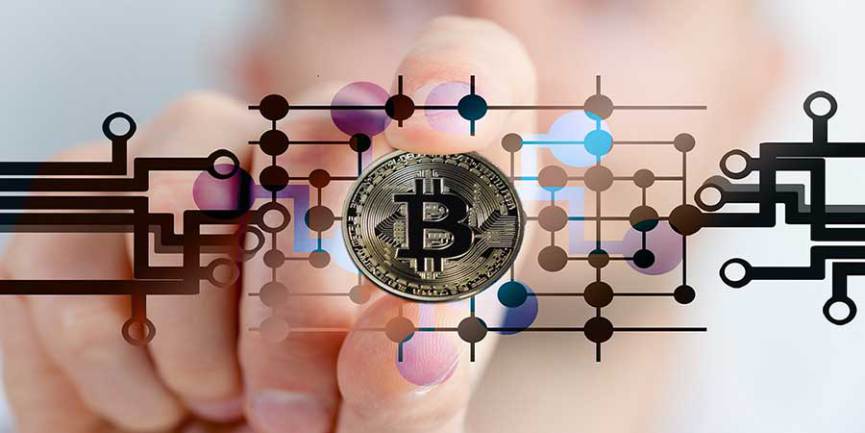 In a masterclass conference, blockchain experts Dinis Guarda, Martin Bartlam, Jonny Fry, Derin Cag, Genevieve Leveille and Athanassios Kollyris will discuss the crypto world and the future of the democratization of investing and trading. The event, that will take place in London on December, 20, 
Law company DLA Piper in partnership with Covesting,  tradersdna.com, and richtopia.com are promoting an event in London addressing Crypto, Blockchain and the future of investing and trading.
The event, that will happen the following December 20th between 5.30 pm and 8.30 pm at DLA Piper headquarters, located at  3 Noble Street,  London EC2V 7EE, London,  will be hosted by blockchain experts Dinis Guarda, Martin Bartlam, Jonny Fry, Derin Cag, Genevieve Leveille and Athanassios Kollyris. Together, they will discuss the fascinating world of Cryptocurrencies and its back-end technology, Blockchain.
This is an important event to know more about the disruptive world of crypto-economics.
About the organisations behind the project:
DLA Piper is a global law firm with lawyers located in more than 40 countries throughout the Americas, Europe, the Middle East, Africa and Asia Pacific, positioning us to help clients with their legal needs around the world.
We strive to be the leading global business law firm by delivering quality and value to our clients.
We achieve this through practical and innovative legal solutions that help our clients succeed. We deliver consistent services across our platform of practices and sectors in all matters we undertake.
Our clients range from multinational, Global 1000, and Fortune 500 enterprises to emerging companies developing industry-leading technologies. They include more than half of the Fortune 250 and nearly half of the FTSE 350 or their subsidiaries. We also advise governments and public sector bodies.
About the event, Dinis Guarda said:
"Crypto investing is becoming widely used by investors worldwide and is an area which is successfully replacing conventional investment instruments and somehow implemented and time-tested on equity, FX and CFD markets. With increasing transactions value and growing popularity of cryptocurrencies – it's a perfect time to see what and where cryptocurrencies will  go and how peer-to-peer investing and asset management solutions can be created into the blockchain world."
This event comes at an important moment, as this year as seen the total market cap of cryptocurrencies raise from just $30B to well over $500B. Many reports suggest that only 1-2% of investors have moved into crypto markets so far, for reasons such as lack of knowledge, lack of awareness, security and volatility. So there is still space for wider growth!
All speakers are authors, traders, crypto influencers and founders of platforms, crypto funds, algo trading. The masterclass will address the present challenges with crypto, bitcoin, legal and compliance, how to do better investments and how new crypto platforms are emerging, and creating a new ecosystem at an astonishing velocity.
That is the case of Covesting.io.  Covesting is a platform that can help investors and traders to learn, improve and manage their portfolio of investment and trading.
The Covesting  platform, helps investors and cryptocurrency traders to find each other and allows its users to automatically copy the trades made by the successful cryptocurrency traders and profit together. Basically, the plan at Covesting.io seems to be to take the popular technique of copy / social trading and "p2p asset management" from the FX trading world, and adapt it to digital currencies. Their plan is to allow ordinary investors, who have yet to enter the cryptocurrency markets, to copy the trades of some of the best cryptocurrency traders from across the globe. The project is guided by former investment bankers from Saxo Bank, JPMorgan, Citibank, Zurich Insurance and several other large investment firms.
All the speakers of the event have outstanding curriculums:
Genevieve Leveille is founder of AgriLedger, a FinTech venture aiming to empower agricultural producers by democratizing their access to financial services and improving the transparency of the supply chain. Their first product, is a distributed Cryptoledger Mobile App that acts as an incorruptible source of truth. AgriLedger won the special prize from Singularity University at the 2016 FinTechJam in London.
Genevieve serves as the vice-chair for the techUK Distributed Ledger Technologies (DLT) Working Group.  The DLT Working Group will provide strategic direction for all techUK activities related to blockchain and DLT. It will consider what action can be taken to industrialise, support blockchain technology readiness, help organisations with adoption and consider use cases not limited to financial services but a wide range of other sectors, including, the Internet of Things, smart energy & utilities, smart contracts and government.
Genevieve was an Inaugural Member of the Advisory Group for the Estonian Government's eResidency initiative. The Advisory Group was made up of thought leaders in several industries relating to security, technology and economic empowerment and it was formed to support the Estonian Government's e-Residency team.
FinTech is about problem solving, rethinking old problems and building the technology to make things easier, faster and less costly. Genevieve's attitude towards change and new technologies are reflected in her successful journey and her selection as a finalist in the Women in IT Awards 2016 in the category 'Security Champion'. Genevieve continues to gather additional recognitions for her work, she was recently recognized as of the Women in Fintech PowerList 2016/7 published by Innovate Finance.
Having deep understanding of the moving parts and pain points in the financial sector, Genevieve's ambition is to collaborate on and build innovative solutions to address inefficiencies and obstacles towards the simplification of the customer journeys.
Dinis Guarda
Dinis is a fintech serial entrepreneur influencer, Strategist, and Blockchain leader. He is a social trading, Crypto and ICO Evangelist. Dinis is the founder/CEO of LifeSci – a P2P, blockchain, PAAS.  He is a co-founder of Covesting.
Dinis created Ztudium tech platform a digital and blockchain company that publishes  intelligenthq.com hedgethink.com and tradersdna.com. He is a lecturer at Copenhagen Business School, Cambridge University, Group INSEEC/Monaco University.
He is an advisor and initial shareholders for the fintech social money transfer app Moneymailme moneymail.me. Between 2014 and 2015 he was involved in creating fabbanking.com a digital bank between Asia and Africa. He was involved in the business development, technology set up and legal international foundations working as founder COO and CMO.
He has been working in various projects with Saxo Bank, Mastercard, Barclays, Oanda. He was the founder of tradingfloor.com for Saxo Bank, and socialmediacouncil.org with Jamie Burke.
Martin Bartlam
Martin Bartlam is experienced in complex capital markets transactions, securitisation and derivatives. He has over 20 years of experience as a finance lawyer and has lectured on and acted as external examiner on international bond finance, project finance, syndicated lending and financial instruments at Kings College, London University.
Martin has acted for all significant participants including acting for arrangers, issuers, investors, sponsors, originators, monolines, credit rating agencies, trustees, servicers and other interested parties.
Martin is the International Group Head of the Finance and Projects practice of DLA Piper.
Jonny Fry
Jonny Fry is a blockchain, crypto economics, ICO and funds specialist, with over 25 years experience as CEO of an asset management business which he floated in London with over £1 Billion under management .
His focus has been on the dynamics of financial innovation, advising on ICOs, Tokenomics, Crypto funds and he is a regular speaker on these topics. He has extensive knowledge and experience of the financial services sector. looking after private clients and institutions assets managing funds in the UK and overseas.
He has been CEO and on the board of a variety of regulated and unregulated companies in the U.K. and overseas, in a number of different industries.
He has first-hand experience of working with the press and managing corporate and reputational risk for a number of organisations.
Derin Cag
Derin is a digital and social media specialist with global expertise in digital transformation. Derin is a global top influencer in blockchain and crypto economics. He is the founder of Richtopia, an online business magazine and blog covering a mix of valuable content written by thought-leaders, top lists of influencers, and inspirational videos with successful authorities in their respective areas of expertise.
In addition to Richtopia, Derin is also the co-founder (with Tim Campbell MBE) of professional services firm Marketing Runners Ltd. Marketing Runners Ltd provides advisory and consultancy services on web development, social media marketing, digital asset mergers & acquisitions, video production, public relations, and crisis management.
In 2015, Derin created with Dinis Guarda,  Blockchain Age, the global leader in blockchain research and consultancy. Derin is a lecturer of Digital Marketing Studies at Sup de Pub (Groupe INSEEC), which is a postgraduate course for Master's degree students in London.

Founder Dinis Guarda
IntelligentHQ Your New Business Network.
IntelligentHQ is a Business network and an expert source for finance, capital markets and intelligence for thousands of global business professionals, startups, and companies.
We exist at the point of intersection between technology, social media, finance and innovation.
IntelligentHQ leverages innovation and scale of social digital technology, analytics, news and distribution to create an unparalleled, full digital medium and social business network spectrum.
IntelligentHQ is working hard, to become a trusted, and indispensable source of business news and analytics, within financial services and its associated supply chains and ecosystems.