Blockchain Applications to Expand Financial Inclusion to Refugees
With the current figures of refugees and displaced persons tagged at 60 million, a figure that is continuously rising, there have been calls made by NGOs and government agencies for initiatives and programs to target financial inclusion for this group of vulnerable people. With the global economy moving towards a digital economy and with a heavy focus on digital finance, it has become even more crucial for policymakers and the FinTech industry to ensure that refugees and displaced persons do not become financially excluded in the new world.
Financial service providers that cater to the poor are strategically placed to provide initiatives that can empowered the refugee populations. By providing crucially needed financial products and services such as insurance, easily accessible credit and funds access points, they can help refugees to transit from relying on economic assistance to achieving independence much faster.
The first step towards providing refugees with access to the formal financial system is the establishment of their identity. To overcome the lack of formal identification documents which most refugees lack, some companies have come up with blockchain-based applications to enable refugees to procure a digital identity which cannot be forged. One such example is BanQu, the world's first ever blockchain based identity technology platform. To establish the digital identity, the user will first take a selfie picture and load it together with any additional identification information up to the blockchain.
Once the selfie and other information have been uploaded to the blockchain and with the user's permission, it can be accessed by any NGO or any entity that needs to verify the user's identity. The ultimate goal of BanQu is to act as a gathering point for data that will help to establish a person's identity onto a single profile. In short, BanQu allows the user to take his "identity" with him even when external circumstances force him to become a displaced person.
Another initiative that relies on blockchain technology to store identification data is the Humaniq project. The Humaniq project relies on biometric information and facial recognition technology to verify the identity of the platform user. However, the Humaniq project is more than just providing a digital identity verification platform. It also includes providing the user with a digital wallet which can be used to store the native digital currency.
To help distribute cash aid more cheaply and faster, digital currency or mobile money is often used to deliver the financial aid. Each year, aid agencies hand out more than $5 billion in emergency financial aid. By riding on existing mobile phone infrastructure and using peer to peer transfer technology, the cash aid can be disbursed almost in real time at a fraction of the cost of traditional payment methods.
Beyonic is an Uganga startup that builds products that make mobile money work for enterprises. According to Dan Kleinbaum, co-founder and chief operating officer of Beyonic, "Pretty much anywhere you don't have widespread access to bank accounts but [do have] very high penetration of mobile phones – I'm talking 50 percent to 90 percent – is a good recipe for mobile money and P2P transfers." The following video, explain how Beyonic works:

Refugees and Mobile Phones
Based on an Oxford University study in Uganda, it is found that 89% of urban refugees and 46% of rural refugees use mobile phones. With such a high mobile phone penetration rate among the poor and refugees, the physical infrastructure for the deployment of services that will encompass the financial excluded no longer requires additional investment.
What is required is just the applications which can tap into the mobile phone infrastructure to deploy the required services to refugees and the unbanked. According to the executive director of the Digital Finance Institute (DFI), a Toronto-based non-profit, Christie Duhaime, "We have a chance to reinvent banking services…The crisis in Syria requires creative solutions to reintegrate long-term refugees into financial services, and the difference is digital."
The "Banking for Refugees" project launched by DFI aims to develop a cloud-based bank which will specifically cater to the needs of refugees. The solutions being developed include e-wallets, biometric identification on prepaid cards which NGOs and government agencies can utilize for disbursement of aid and the verification of a refugee's identity.
The project was developed aiming to help refugees by offering the financial inclusion. The emphasis on providing refugees with financial services is anchored in the belief that this will actually help their hosting countries and economies. When refugees are given access to money and to jobs, the economy tends to grow.
While the road to total financial inclusion isn't exactly a straight path, what the blockchain technology has done is to provide a way for people to conduct financial transactions without having to go through a traditional brick and mortar establishment. Hopefully in the near future, a refugee can go to a bank and show the bank the digital currency transactions and use the credit history as the basis for a loan application.
Article powered by Humaniq
Launched in 2016, Humaniq aims to provide mobile finance to the 2 billion unbanked population through its mobile app for good, that uses biometric authentication to replace traditional methods of ID and security. Humaniq's open source stack and API will be available for startups and other businesses to build services on its core technology, making it easy to adapt their service and plug it into Humaniq's network to reach a huge, untapped audience.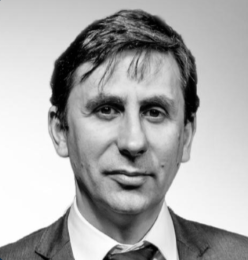 Dinis Guarda is the founder of intelligenthq.com and an author, serial entrepreneur and CEO of ztudium that manages openbusinesscouncil.org, fashionabc.org, blocksdna.com, lifesdna.com.
He creates and helps build ventures focused on global growth, 360 digital strategies, sustainable innovation, Blockchain, Fintech, AI and new emerging business models such as ICOs / tokenomics.
Dinis is the founder/CEO of ztudium that manages blocksdna / lifesdna. These products and platforms offer multiple AI P2P, fintech, blockchain, search engine and PaaS solutions in consumer wellness healthcare and life style with a global team of experts and universities.
He is the founder of coinsdna a new swiss regulated, Swiss based, institutional grade token and cryptocurrencies blockchain exchange. He is founder of DragonBloc a blockchain, AI, Fintech fund and co-founder of Freedomee project.
Dinis has created various companies namely Ztudium, a tech, digital and AI blockchain startup that builds cutting edge software, big data insights, publishes intelligenthq.com, hedgethink.com, fashionabc.org, openbusinesscouncil.org and tradersdna.com, citiesabc.com among others.
Dinis is the author of various books. His upcoming books "4IR AI Blockchain Fintech IoT Reinventing a Nation", "How Businesses and Governments can Prosper with Fintech, Blockchain and AI?", also the bigger case study and book (400 pages) "Blockchain, AI and Crypto Economics – The Next Tsunami?" last the "Tokenomics and ICOs – How to be good at the new digital world of finance / Crypto" will be launched in 2018.
Some of the companies Dinis created or has been involved have reached over 1 USD billions in valuation. Dinis has advised and was responsible for some top financial organisations, 100 cryptocurrencies worldwide and Fortune 500 companies.
Dinis is involved as a strategist, board member and advisor with the payments, lifestyle, blockchain reward community app Glance technologies, for whom he built the blockchain messaging / payment / loyalty software Blockimpact, the seminal Hyperloop Transportations project, Kora, and blockchain cybersecurity Privus.
He is listed in various global fintech, blockchain, AI, social media industry top lists as an influencer in position top 10/20 within 100 rankings: such as Top People In Blockchain | Cointelegraph https://top.cointelegraph.com/ and https://cryptoweekly.co/100/ .
He has been a lecturer at Copenhagen Business School, Groupe INSEEC/Monaco University and other leading world universities.
He is a shareholder of the fintech social money transfer app Moneymailme and math edutech gamification children's app Gozoa.
Between 2014 and 2015 he was involved in creating a fabbanking.com a digital bank between Asia and Africa as Chief Commercial Officer and Marketing Officer responsible for all legal, tech and business development. Between 2009 and 2010 he was the founder of one of the world first fintech, social trading platforms tradingfloor.com for Saxo Bank. In 2011 he created the B2B platforms socialmediacouncil.org and openbusinesscouncil.org with Jamie Burke.