Technology is the key point for the future of mankind. Every development brings new opportunities, opens new paths and solves already existent problems. But if we are to mention the three more disruptive ones, which are likely to change the way the world works in the years to come, we definitely need to pick the likes of Artificial Intelligence, Virtual Reality and Blockchain -and crypto-currencies for instance-.
At least, that is how they think at The Futurama Blockchain Innovators Summit, an event that will take place in Dubai from May, 3 – 6,  and where these three technologies will be discussed and shared by the most representative experts on these categories.
The summit will highlight "the fruits of the three most revolutionary technologies of the 21st century at once: blockchain, artificial intelligence, and virtual reality. They'll showcase futuristic solutions, from the new generations tools for managing your personal health data, to a billion dollar trading algorithm that represents the most advanced artificial general intelligence that can reason and theorize."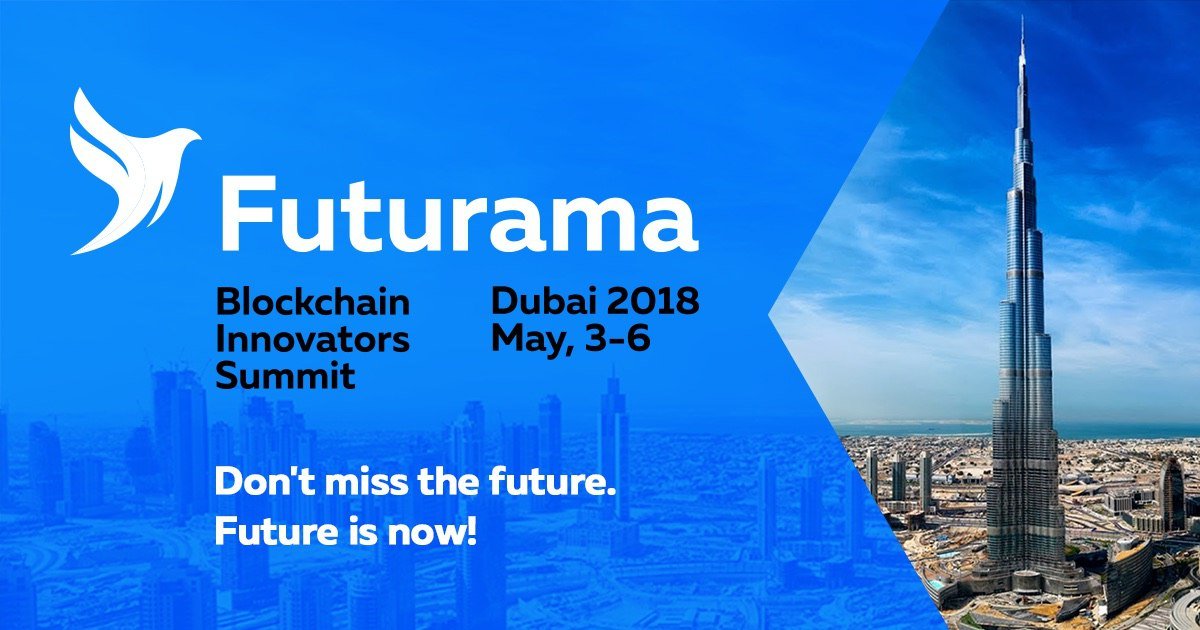 Throughout the three days that the event will last, top experts on these categories will have their say in how these tech-fields have been developed and applied in real life and the complex challenges ahead. To say few of a more than 20 honourable line-up of speakers, The Futurama Blockchain Innovators Summit will highlight the likes of:
– Miko Matsumura, Evercoin Exchange & BitBull Capital;
– Dinis Guarda, TOP 30 Most Influential People in the Blockchain, a lecturer at Copenhagen Business School, Cambridge University, Groupe INSEEC/Monaco University and an author, serial entrepreneur, advisor and experienced CEO.
– Nicholas Merten, DataDash YouTube (283k subs);
– Federico Pistono, Hyperloop;
– James Glasscock, DNA Capital (the world's premiere crypto venture fund);
– Jonathan Teo, Binary Capital (over 300M under management);
– Stephen Stonberg, Hedge Fund and Investment Bank (Goldman Sachs, J.P. Morgan, Deutsche Bank);
– And more than 20 top names in the industry.
"Futurama can help us create a truly global community that's passionate about solving world's biggest problems with the newest technologies and begin taking steps toward a better future by connecting those who want to build together across jurisdictions and countries" – says Henry Liu, Blockchain Venture Capitalist and ex-Facebook E-Commerce.
Disruptive Technologies
On the one hand, Artificial Intelligence is already being applied in multiple sectors, from driverless cars to web search engines. To say more there is a very real and practical use for AI and it is now evolving faster than ever, being applied in numerous ways to improve the lives of individuals and business operations. From your virtual assistants like Apple's Siri or Google's Home, to Netflix suggesting movies for you or web support chat bots.
The event will probably focus on the future of this tech, and while the future applications of AI are anticipated to help make our lives easier and more efficient, there is caution among some of not only the reliance on this technology, but the number of jobs that will replace humans.
AI is highly related to Blockchain or distributed ledger technologies. Born as the back-end algorithm behind Bitcoin and other cryptocurrencies, Blockchain was developed to disrupt the financial industry. It served the purpose of establishing a trustless economy through its cryptography and decentralised components, rendering the need for third parties of traditional financial transactions useless. Blockchain's 3 main features: decentralisation, transparency, and security, aimed to make the financial industry more secure while reducing fees, allowing for faster transactions, and free from control by a single point of authority.
At last but not least, Virtual Reality and Augmented Reality are most notably thought of for its ability to transform the entertainment industry to new levels, there are a number of cases for its application in other industries including healthcare, travel, education, architectural design, sports, and more. A shift in the construction industry is also expected with the development of VR, AR, and MR (mixed reality), combining with existing software to help architects and 3D designers to help in building and refurbishing tasks.
All these three breakthrough technologies will be at the very centre of the Futurama Summit. Taking place in a business hub such it is Dubai, assistants are expected to "join the most exclusive blockchain event in the most technologically perfect place on the planet."

Founder Dinis Guarda
IntelligentHQ Your New Business Network.
IntelligentHQ is a Business network and an expert source for finance, capital markets and intelligence for thousands of global business professionals, startups, and companies.
We exist at the point of intersection between technology, social media, finance and innovation.
IntelligentHQ leverages innovation and scale of social digital technology, analytics, news and distribution to create an unparalleled, full digital medium and social business network spectrum.
IntelligentHQ is working hard, to become a trusted, and indispensable source of business news and analytics, within financial services and its associated supply chains and ecosystems.