Comfort zones are pleasant, but they're not where the magic happens. Businesses that don't embrace what's ahead of them risk getting left behind by their competitors. Therefore, keeping an eye out for when a company can digitalize different processes is crucial for success. You might be on the brink of making a change, from team to team, with compromised order handling, shipping, and inventory limitations. Still, you're asking whether taking on such a significant endeavor and changing how your business does things is worth it.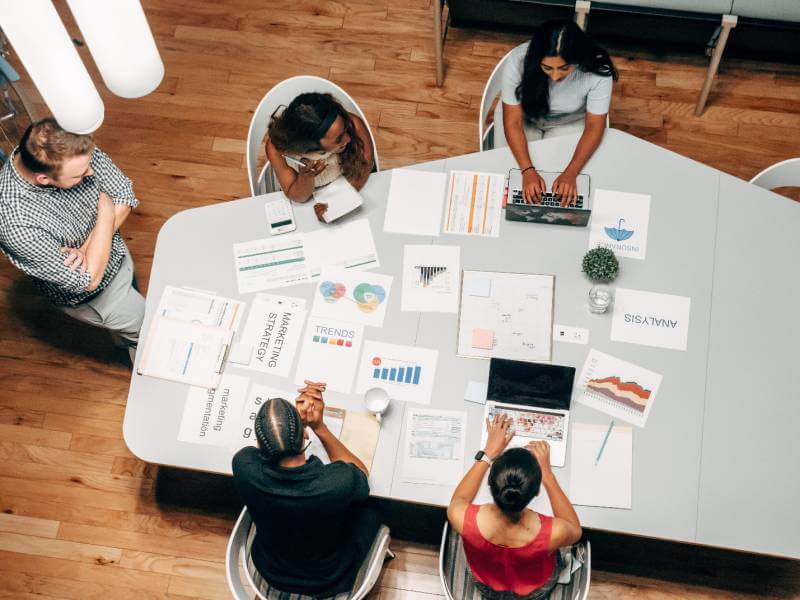 Several companies globally are switching to cloud solutions and other digital tools to increase productivity and efficiency. As businesses move data to the cloud, they replicate existing services in a digital format. However, true digital transformation goes much deeper. It may be a shift in thinking about how you engage customers or how you develop new products. It's not just about automating what you already do; it's about using technology in new ways to do it better.
What is Digital Transformation?
It is the method of developing new or maintaining existing business processes, cultures, and client encounters to satisfy shifting corporate and market demands through the use of digital technologies. This re-engineering of your company for the digital age is necessary to remain competitive. And it's becoming more urgent than ever because customers now demand engaging experiences, which are often only possible through technology.
What Digital Tools and Processes Can Help Your Business?
The digital world can leave anyone bewildered with all of the choices. But digital transformation is not about trying out every new technology that comes along. It's about finding the right tools and processes to help your business achieve its specific goals. Platforms like Digital Supermarket come in really handy in such cases as they provide an overview of all the software solutions available on the market, their key features, and pricing.
Some standard digital technologies and processes that businesses use include:
Automation: Automating tasks that are repetitive, time-consuming, or require high precision can free up employees to focus on more creative and strategic work.
Cloud Computing: Cloud-based solutions can improve collaboration, increase flexibility, and reduce costs.
Data Analytics: Collecting and analyzing data can help you make progressive decisions, improve operations, and understand your customers better.
Omni-Channel Experiences: Creating a seamless experience for your customers across all channels (e.g., in-store, online, mobile) can improve customer satisfaction and loyalty.
Virtual and Augmented Reality: These technologies can be used for training, marketing, and product development.
The Benefits of Digital Transformation
Changing how a business operates can mean breathing new life into the company. It can result in increased revenues, higher profits, and happier customers. Below are some of the top benefits that businesses can experience from digital transformation:
Improved Customer Experiences
Customers are the fairy dust of every business. Whether you're B-to-B or B-to-C, your customers are critical to your success. They're also the hardest people to please because their expectations constantly change. Technology can help you meet (and even exceed) their expectations by providing personalized experiences, increasing convenience, and offering new and ingenious products and services.
With the assistance of big data and artificial intelligence (AI), businesses can now gather more customer data than ever before. It offers them the insights they require to create better customer experiences.
Customer relationship management tools (CRMs) can also manage customer data, track customer interactions, and automate marketing and sales processes. A few trusted CRMs include Salesforce, HubSpot, and Zoho.
Increased Revenue and Profits
It goes without saying that the ultimate goal of any business is to make money. And digital transformation can help enterprises to do just that by improving operational efficiency, reducing costs, and increasing sales.
Boston Consulting Group found that companies that digitized faster between 2010 and 2015 saw their revenues grow three times as swiftly as those that didn't.
Software like Salesforce and HubSpot offer features that businesses can use to increase sales and grow revenue. The essence of these tools is to automate repetitive tasks, which frees up employees to focus on more critical tasks, like selling.
Cut Down Costs:
A business invests a lot of resources in day-to-day operations. So, it's only natural that companies want to cut down on their costs. Whether by reducing paper waste or automating tasks, digital transformation can help businesses save a lot of money.
According to a finding by Aberdeen Group, best-in-class companies are twice as likely as laggards to have fully deployed process automation. These companies saw a reduction in their operating expenses by 12%.
Additionally, reducing storage space by moving to the cloud can help businesses save on costs. Cloud-based solutions are often pay-as-you-go, so you only need to pay for your storage.
Faster Time-to-Market
In today's fast-moving world, businesses must be able to adapt to change and get new products and services to market fast quickly.
Digital transformation can help businesses achieve this by streamlining processes, increasing collaboration, and improving communication, which lead to shorter development cycles and faster time-to-market.
For example, using a project management tool like Asana can help teams track progress, give feedback, and make changes in real-time. With reduced time to market, businesses can get a leg up on the competition and better serve their customers.
Improved Employee Engagement and Culture:
A happy workforce is a productive workforce. Armed with the right tools and technologies, employees can be more engaged and productive at work.
Digital transformation can also help create a better company culture. When everyone is on the same page and working towards the same goal, it can do wonders for morale.
Human Capital Management software like BambooHR can help businesses track employee performance, compliance, and development. With this information, businesses can make data-driven decisions to improve their workforce. If budget is a constraint, you can rely on Namely, a free human resources (HR) software.
Energized Supply Chain Management:
The supply chain is pivotal for any business. A good supply chain is efficient, productive, and cost-effective. A bad one can be a nightmare.
Digital transformation has the power to energize the supply chain by improving communication, collaboration, and visibility.
For example, Business Process Management software like Appian can be used to automate and streamline supply chain processes. With the help of technology, businesses can avoid disruptions, optimize their resources, and deliver a better customer experience.
If your business involves logistics, you can use Transport Management Systems (TMS) to plan and execute transportation operations. TMS systems track shipments, optimize routes, and manage driver compliance. A few popular TMS software include Descartes, Oracle, and JDA.
Ending note:
Digital transformation is not a one-size-fits-all proposition. The benefits that businesses can experience will vary depending on their specific needs and goals. However, one thing is for sure – digitization is no longer a luxury but a necessity for businesses to stay enterprising in the market. MIT Sloan Management Review and Deloitte discovered that 89% of executives believe their organizations must transform digitally to remain competitive or grow over the next five years.
It's time you break free from the status quo and embrace digital transformation!

Founder Dinis Guarda
IntelligentHQ Your New Business Network.
IntelligentHQ is a Business network and an expert source for finance, capital markets and intelligence for thousands of global business professionals, startups, and companies.
We exist at the point of intersection between technology, social media, finance and innovation.
IntelligentHQ leverages innovation and scale of social digital technology, analytics, news and distribution to create an unparalleled, full digital medium and social business network spectrum.
IntelligentHQ is working hard, to become a trusted, and indispensable source of business news and analytics, within financial services and its associated supply chains and ecosystems.