Tokenization Property And Holiday Experiences With LynK
Real estate, conventionally, has been the most illiquid of all the asset classes. It required significant capital commitments and entailed long and expensive transaction procedures. The real estate investment landscape is witnessing a huge transformation due to the impetus provided by the greater efficiency, higher security, and cost-effectiveness of the blockchain. This new wave of technology provides fresh and innovative solutions in the form of tokenization and NFTs, complying with the demand of the digital era we are living in.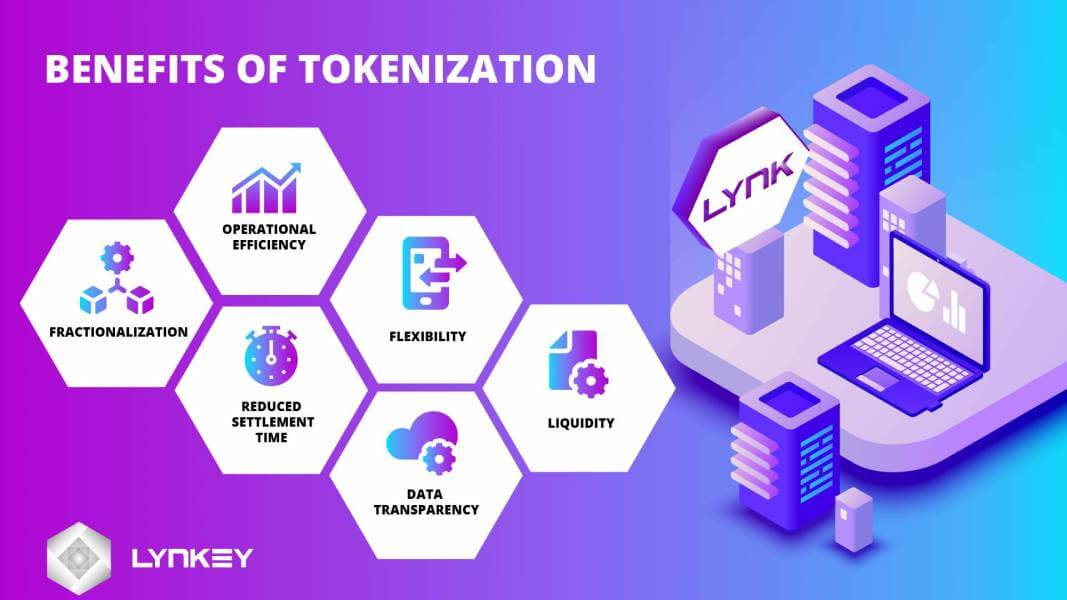 Tokenization
Tokenization is one of the rapidly developing dimensions, enabling investments in the form of digital tokens that are backed by real-world assets. Blockchain technology forms the core of this concept. LynKey ecosystem leverages the secured and immutable nature of the blockchain to facilitate the digital fractional ownership of real estate. This helps in securing the transaction and settlement records using its smart contracts feature.
LynKey is an "all in one" ecosystem that focuses on tokenizing the tourism and property industry. It aims to link the world with its advanced property technology, smart tourism, and blockchain, optimizing timesharing, prepaid lease, or licensing premium experiences at the vacation property. It promises a reward system for the loyal community over the ecosystem, having access to amenities and utilities to increase its prospects of customer satisfaction in an efficient manner.
LynKey's cutting-edge marketplace offers an NFT platform where LynK tokens can be exchanged for exquisite tourism experiences created within the network. With access to over US$8 million in property and tourism resorts, it promises to evolve the smart tourism industry with significant and innovative solutions in the future.
The ecosystem leverages emerging technological solutions to democratize and streamline the property transaction process, providing a more meaningful experience related to tourism or property. Moreover, the design of the project is based on the DeFi model, where the community and members mutually increase the prospects of making profits, while benefiting the management and operations of the ecosystem.
LynKey Tourism and Property Ecosystem
Backed by more than US$8 billion worth of the premium property and tourism assets in Vietnam, LynKey family proudly announces its top-tier projects- Crystal Holidays Harbour Van Don, Crystal Holidays Marina Phu Yen, Crystal Holidays Heritage Ly Son, Xuan Dai Bay, Van Don Heritage Road Smart City.
More interesting projects are soon to be added to the ecosystem as LynKey expands its span of influence to Singapore, Australia, and the other countries of the world.
LynK: The utility token
While a security token secures the property and acts as a resource to build the trustworthy ecosystem, LynK (a utility token) goes beyond that dimension and offers access to the products and services to the LynKey members and tourists.
It could be conveniently accessed at various DEX and CEX platforms once the listing formalities are finalized. Additionally, reward and loyalty credits could be the other ways to earn LynK to your wallets.
LynK offers real-world value to every aspect of your holiday experience- a particular resort for a family vacation, upgrading a business trip, purchasing a timeshare, buying a resort experience, or securing your share of ownership, lease, or license in a premium property.
In this ecosystem, LynK allows a frictionless experience for its users, ensuring every feature of smart tourism. With its evolution, the tokens will grow in value, facilitating the exchange of goods and services, especially the timeshare experiences like licensing and leasing your accommodation and earning upgrades.
In other words, LynK offers smarter experiences for all- property developers, world travelers, or fractional owners of the premium vacation property. You could earn exclusive profits from a foreign market, or make your tourism experiences more yielding, not just limited to good memories. With the power of the blockchain, all this becomes unique and more enjoyable, hassle-free, transparent, and efficient.
How can you use LynK?
The fungible token, LynK, can be used to buy tourism products and services within the ecosystem. Here are some of the examples:
Travel bookings: You can book your air tickets and local transfers in the most transparent and reliable way.
Lodging and Accommodation: Resort and hotel stays at your favorite holiday property. Further, you could get upgrades and complimentary offers to make your stay a world-class experience.
Leisure and entertainment: Pay for premium city guide services, spa experiences, desert safaris, cruises, resort tours, adventure sports, and many more engaging activities while making your stay the most memorable one.
Food and dining: Dine at LynKey's most premium partner restaurants and food outlets to avail exclusive benefits and rewards.
Additional benefits include hassle-free visa processing, access to exclusive lounges, and many more.
Further, LynKey takes pride in its point-based reward system for loyal members that involve the transfer of LynK tokens directly to the holder's wallet.
In addition, the NFTs created for exclusive tourism experiences could also be traded over the secondary markets. And lastly, you could also get involved in various other DeFi protocol-based transactions to increase your share of the profits.
Tokenization is rapidly gaining traction in the real estate sector. The traditional real estate institutions are, apparently, partnering with technology providers, exploring the tokenization of debt or equity. The real estate investment is expected to be invigorated with the increased access to quality property assets for the investors as more and more technology-backed real estate projects come to fruition.
Technology providers will in turn benefit from quality asset origination as well as the financial expertise of an expanding network of traditional real estate stakeholders. LynKey's revolutionizing ecosystem has the potential to bring a new world of real estate investment featuring increased choice and flexibility for all stakeholders, but it will be a group effort to get there. It is further strengthened with the power of smart contracts, providing a robust marketplace for secured transactions.
Conclusion
The innovative solutions proposed by LynKey are the harmonic combination of classical methods for property transactions and the immense potential of the most progressive and modern achievements of the digital economy.

Founder Dinis Guarda
IntelligentHQ Your New Business Network.
IntelligentHQ is a Business network and an expert source for finance, capital markets and intelligence for thousands of global business professionals, startups, and companies.
We exist at the point of intersection between technology, social media, finance and innovation.
IntelligentHQ leverages innovation and scale of social digital technology, analytics, news and distribution to create an unparalleled, full digital medium and social business network spectrum.
IntelligentHQ is working hard, to become a trusted, and indispensable source of business news and analytics, within financial services and its associated supply chains and ecosystems.