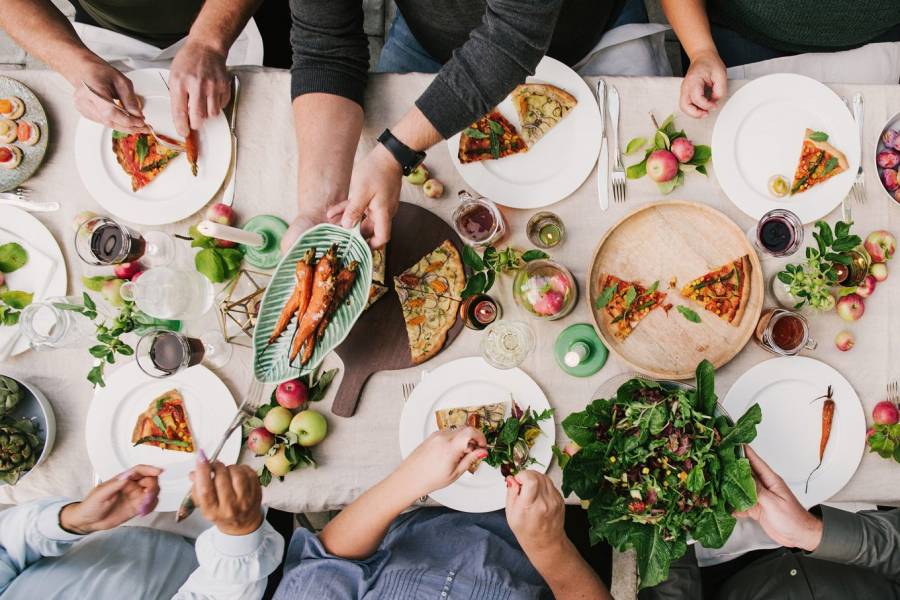 There is a good reason why spending a meal in a restaurant has more of an appeal than staying at the kitchen table –  another person bringing their favorite foods while going above and beyond to make the dining experience an enjoyable one is not an everyday occasion. The nature of this experience has led to it becoming a norm. Going out to eat has been both an occasion and staple in modern society for longer than we can remember. Even a couple of generations ago, spending the evening in a restaurant was something special. Today, this has not changed in the slightest. Though, the wide variety of dietary preferences and restrictions has. Gone are the days of everyone consuming similar meals. However, this should not deter people from dining together. Why? Professional chef Giada De Laurentiis answered this question, "Food brings people together on many different levels. It's nourishment of the soul and body; it's truly love."
With this ideal in mind, it is easy to see why one should not give up eating out if they are vegan. Thankfully, there are plenty of solutions and workarounds for people who follow this diet. Below, you will find helpful tips for eating out while vegan.
Do Your Research
Any person who has followed a vegan diet for a substantial amount of time knows just how much work can go into selecting a restaurant that meets their dietary needs. The tricky part is finding a restaurant that remains appealing to others with a more traditional diet. Like it or not, a little bit of leg work is required to ensure that the restaurant of choice meets the needs of both parties. From google reviews, to scouring the online menu, and more, there are plenty of ways to go about finding a place like this. Stephanie Venn-Watson is the CEO of Fatty15, a brand offering fatty acid supplements designed to repair and restore the health of  our cells. She believes doing so will make all the difference in the world.
"Taking the time to look over all your options when it comes to identifying a restaurant that serves food to meet your vegan diet is nowhere near as simple as pulling into the McDonalds drive thru. It might even require you to carefully review the different sections of menus to make certain that there is something there you will be able to consume. But it will make your dining out experience far more relaxing if you put in the effort."
Learn About Cultures
Long before the vegan diet came into existence, cultures from across the globe based their entire diets on a variety of different food bases. For example, Asian and African cultures relied heavily on rice while European cultures built their diets around grains such as wheat. These attributes are due in part to the geographic location of these cultures as well as the belief systems held by them. Causes aside, this has resulted in many cultures' food selections being inherently vegan. Information pertaining to this can be extremely beneficial in locating places to eat out while vegan. Kroma specializes in functional lifestyle nutrition and is a next generation superfood company. Their CEO and Founder, Lisa Odenweller, suggests as much.
"Some peoples groups from all over the world have been following a largely vegan diet long before the term vegan came along. Take the mock duck from China as an example – it has been around for centuries and is still used as a meat alternative today. Facts like this about different cultural foods will make a vegan dining experience one worth repeating."
Don't Assume Anything
Attempting to make sense of all the reasons a restaurant does not reveal all the ingredients used in an item is enough to make anyone's head spin. Each chef, and even restaurant, has unique methods for creating and completing every item on their menu. This characteristic highlights the beauty of creating meals. But in some cases, this can result in non-vegan ingredients being added to dishes that one might consider vegan on a regular basis. Obviously, no vegan-choosing person wants to unknowingly consume the food they intentionally avoid. To counter this, staying on one's toes so to speak is wise. Nourishing Biologicals is a business providing clinically proven, and sustainable skin care products. Their Director of Aesthetics, Natália Sadowski, considers this approach favorable.
"Breaking your vegan diet unintentionally is a defeating and sometimes traumatizing moment. For many, the choice to go vegan is one of care and appreciation for the life and happiness of animals. Breaking that choice can feel like bringing harm to the animals one strove to care for.. Socially, asking specific questions about a menu item may be a little uncomfortable but in return you'll receive peace of mind for the rest of the meal."
The Sides Menu Might Be Your Best Friend
Unfortunately, there will be instances where you find yourself at a restaurant and the vegan options are few and far between at best. However, eating food still needs to happen, if not for the social norm of it, then for sustenance alone. But what is a person to do when they find themselves sitting at a southern barbeque joint and every entrée is some variation of animal meat? Look at the side's menu. It may not be the five-star meal of one's dreams, but it will get the job done. Brandon Adcock is the Co-Founder and CEO of Nugenix, a brand offering a scientifically formulated line of free testosterone boosters. He advises others to familiarize themselves with this type of eating also you can learn how to improve research skills and find new recipes on the internet.
"Anyone who has been vegan for a while has faced the dark reality of dining at a restaurant which only seems to serve meat and cheese-based meals. It's never an ideal situation but it will happen from time to time. When it does, the side menu might be your best friend. From starter salads to fries and more, there's usually something that falls into the vegan category."
Eating out while vegan will prove itself challenging but in the long run, adjusting to this practice may prove advantageous. Musician Erykah Badu highlighted why this is the case, "Vegan food is soul food in its truest form. Soul food means to feed the soul. And to me, your soul is your intent. If your intent is pure, you are pure."

Founder Dinis Guarda
IntelligentHQ Your New Business Network.
IntelligentHQ is a Business network and an expert source for finance, capital markets and intelligence for thousands of global business professionals, startups, and companies.
We exist at the point of intersection between technology, social media, finance and innovation.
IntelligentHQ leverages innovation and scale of social digital technology, analytics, news and distribution to create an unparalleled, full digital medium and social business network spectrum.
IntelligentHQ is working hard, to become a trusted, and indispensable source of business news and analytics, within financial services and its associated supply chains and ecosystems.