From basketball and the NBA to healthcare based Pfizer or Moderna, TIME has revealed the first-ever TIME100 Most Influential Companies, a new list—and an expansion of the annual TIME100 franchise—that highlights 100 businesses making an extraordinary impact around the world.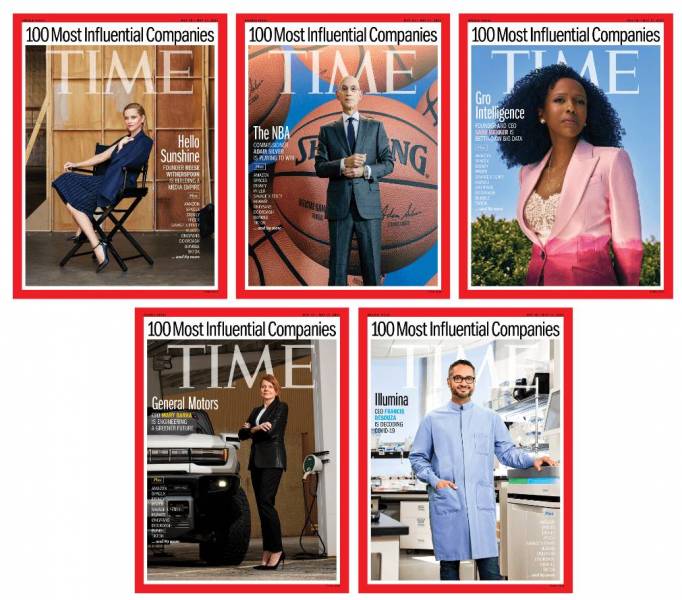 To assemble it, TIME solicited nominations across sectors including health care, entertainment, transportation, technology and more, from our global network of editors and correspondents as well as from industry experts. Then, we evaluated each one on key factors, including relevance, impact, innovation, leadership, ambition and success.
The TIME100 Most Influential Companies issue features 5 worldwide covers, each spotlighting a CEO from a company on the list with an in-depth profile, including: Reese Witherspoon of Hello Sunshine, Adam Silver of the National Basketball Association, Mary Barra of General Motors, Francis deSouza of Illumina, and Sara Menker of Gro Intelligence.
Today, TIME also launches TIME Business. TIME CEO and editor in chief Edward Felsenthal writes: "For nearly a century, TIME has been a barometer of influence, and it's hard to recall a moment when the corporate world has had a greater influence on our lives than it does now. That's why we're launching TIME Business, devoted to covering the global impact of business and the ways it intersects with our public and personal lives. Our first major project: the TIME100 Most Influential Companies, a new list… highlighting 100 companies that are shaping our collective future, as well as the leaders who steer them…. The mission of TIME Business is to help illuminate the path forward. We're in the midst of a reset, one that is already transforming the economy and what employees, customers and our broader communities expect of companies."
Felsenthal continues: "Our aspiration is for TIME, in our company and in our coverage, to be among the ranks of businesses that drive positive action. When I started at TIME in 2013, our mission was often described as "explaining the world." Today, we see it somewhat differently—it's about telling stories about the people and ideas that shape the world, in hopes of doing our part to improve it."
On the first-ever TIME100 Companies list, Dan Macsai, editorial director of the TIME100, says: "We're excited to evolve our TIME100 franchise to explore and interrogate the influence of companies, particularly at a moment when so many of them are shaping our collective future."
Highlights from the Time100 Companies Cover Interviews
On how women like Britney Spears, Paris Hilton and Lindsay Lohan were portrayed as 'bad,' while women like herself and her friend Jennifer Garner were 'good' by the media, Reese Witherspoon of Hello Sunshine tells TIME: "What if the media had decided I was something else? I would be in a totally different position….I want to say it's my decisions or the career choices I made, but it felt very arbitrary. And kind of sh-tty."
On how basketball could influence human rights in China,Adam Silver of the National Basketball Association tells TIME: "I do think that in order to bring about realistic change that we have to build relationships. At the end of the day, we're all human beings. And while there are many differences between our society and Chinese society, there are enormous commonalities as well. One of them is to love a sport. And basketball happens to be the most popular team sport in China right now. We think that through that common love and appreciation of the game of basketball, that that's a way to bring people together. It's as simple as that."
On how, while Tesla's market cap is around $700 billion, GM's is $85 billion, Mary Barra of General Motors tells TIME: "One of the pieces I think that sometimes investors miss is that virtually all the assets necessary to achieve our vision we already have and have demonstrated. Sometimes we will forget we actually sell more vehicles in this country than anyone else. We have strong brands. We have industry-­leading loyalty. And we have an incredibly capable manufacturing team. We have to tell our story better and put a few more points on the board."
On what makes her hopeful that her company can help identify a more sustainable path forward, Sara Menker of Gro Intelligence tells TIME:"If you think about so many of the world's challenges today, it's about this tension between ecological preservation and economic growth. That tension doesn't need to be there…."
On how the pandemic is providing a stage for demonstrating what genetic sequencing can do for infectious diseases like COVID-19 as well as other conditions like cancer, Francis deSouza of Illumina tells TIME: "­Genomics and genomic epidemiology have emerged as powerful tools in fighting this pandemic.  The pandemic has brought us into the 21st century, into the era of biology and the era of the genome. We now have genomics being used in a big way in public-health systems, and the role of genomics in infectious disease is permanently changed. I don't think we are ever going back." 
Highlights from the 2021 Time100 Companies List
The inaugural list features 64 companies headquartered in the United States: Home Depot, Mastercard, Nike, Mattel, Twitter, Johnson & Johnson, Epic Games, Rothy's, AT&T, FedEx, Clubhouse, Airbnb, GoFundMe, Lime, Robinhood, Tesla and more. 
18 companies on the list are headquartered in Europe: English Premier League, Equinor, Maersk, Volkswagen, Adidas, Lego, Farfetch, Stripe, Oatly, Unilever and more.
Pfizer, BioNTech, Moderna, Johnson & Johnson, CVS, Walgreens, and Illumina are among the companies on the list that are playing a critical role in COVID-19 prevention, vaccine creation and the vaccine rollout process.
Major tech companies—including Microsoft, Samsung, Huawei, Apple, Tencent, Nintendo, Nvidia, Taiwan Semiconductor Manufacturing Corporation, Zoom and more—are included on the list.
Several companies are in the financial technology industry, including Nubank, Alibaba, Mastercard, Robinhood, Stripe, Flutterwave and more. Some—such as Digital Currency Group and Coinbase—specialize in digital currency.
The entertainment industry is also represented on the list by a range of businesses, including Netflix, Spotify, TikTok, HYBE, and Disney.
The most recently founded company is Clubhouse, which was created in spring of 2020.
Clubhouse: "As the COVID-19 pandemic drags on, many are desperate for ­gatherings…. Enter Clubhouse, whose app allows handfuls of people to gather in digital rooms to talk about anything from technology to art to politics. Since its April 2020 debut, it has lured more than 10 million weekly active users, including Elon Musk and Oprah; each had to be invited by an existing member, giving the app an alluring sense of exclusivity."
Coinbase: "It's been a huge year for cryptocurrencies, but nothing's been as validating as the April 14 direct listing of Coinbase, which operates an exchange where 56 million users buy and sell Bitcoin and more…. For the moment, Coinbase is riding the high of surging interest in all things even remotely crypto-adjacent, but its value may come tumbling back to earth should crypto turn out to be a bubble."
Savage X Fenty: "Founded in 2018 by pop superstar Rihanna (right), fresh off the success of her Fenty Beauty makeup line, Savage X Fenty is a new kind of lingerie company: one with body positivity at its core. Its catalog ranges from XS through 3X and includes everything from classic T-shirt bras and lacy balconettes to a sheer, tiger-striped crotchless catsuit."
Oatly: "Sweden-based Oatly…first became popular with baristas in the U.S. around 2017, and demand has soared ever since. In the first weeks of the pandemic, sales of the cartons, which have a shelf life of up to one year, surged even more quickly than sales of hand sanitizer."
Klutch Sports Group: "In the span of a decade, Klutch Sports Group has grown from a startup with two employees into a disruptive super­agency. Klutch now has over 70 clients across the NBA and NFL, including superstars like ­LeBron James and Anthony Davis…. Most important, the agency and founder-CEO Rich Paul have helped define an era of heightened player empowerment, in which athletes have moved between teams with greater ease, by striking a series of headline-making deals…"
Rothy's: "Already known for having converted almost 100 million water bottles into colorful, fashion-forward shoes, the brand…now pledges to take its commitment to sustainability one step further. This spring, the company, led by CEO Stephen Hawthornthwaite, announced a plan to double down on its trademark use of recycled materials by piloting its first-ever recycling program of its own inventory…"
Huawei: "To the U.S. government, Huawei is a Chinese Communist Party front intent on harvesting private data for nefarious goals. To the Chinese, it's a paradigm of engineering excellence whose founder, Ren Zhengfei, is feted like Steve Jobs…. Huawei's leading role in developing 5G, a transformative technology that allows an exponential rise in download and upload speeds, prompted the U.S. to ban Huawei technology and campaign for allies to do the same; nonetheless, that push has done little to slow its ascent."
English Premier League: "The most popular sports league on the planet, in the world's most popular sport, is the English Premier League (EPL)…. Internati nonal TV deals have offered a source of growth: such riches have allowed the EPL, now broadcast in 190 countries, to attract the world's best talent—more than 100 EPL players suited up in the last World Cup. More recently, the EPL helped lead the opposition to the European Super League proposal, which fizzled after six of the league's top teams backed out."
SpaceX: "SpaceX has gone on to demolish record after record, becoming the first private company to send a spacecraft to the International Space Station, the first to safely land and reuse the first stage of a rocket, and, as of last May, the first to send astronauts into space. Earth's orbit is only the beginning: this spring, NASA tapped SpaceX to build the lunar lander the U.S. will use to have astronauts back on the surface of the moon in this decade."
OnlyFans: "For $4.99 a month, admirers of Cardi B can view her personal confessions, music-video outtakes and photo-shoot snippets not available anywhere else. It's one example of the way that OnlyFans is monetizing human connection, in many forms, at scale…. [O]ver the past year…a growing number of celebrities and influencers—as well as sex workers—started using it to bolster their income….Although OnlyFans still faces challenges in security, safety and content moderation—like keeping underage users and creators off the platform—its business is booming."
Tilray: "Irwin Simon was best known for creating a health-food giant before signing on to head ­Aphria, a cannabis company based in Canada, where recreational marijuana is legal. Separately, Brendan Kennedy went to Nanaimo, British Columbia, to launch Tilray after co-founding a private-­equity firm to buy cannabis startups. Now they're merging the two to form the world's largest cannabis company by annual ­revenue—more than $685 million."
Netflix: "The streamer's success—203 million subscribers and counting—has forced the most powerful studios, from Disney to Warner Bros., to launch their own at-home offerings, accelerating Hollywood's realignment…. It's unclear as people get vaccinated whether the ease of watching Net­flix at home will continue to define the cinematic experience. But one thing is certain: watching movies (and TV series) for the first time on Net­flix has become the rule, not the exception."
Airbnb: "Airbnb, which transformed the hospitality industry by turning spare residences and bedrooms into rentals for travelers, is emerging from its most brutal year ever—in which bookings plummeted, resulting in a series of painful staff cuts—well positioned to leverage the changed travel landscape. As employers get more comfortable with remote workers, the San Francisco–based company believes that people are more able to 'live anywhere'; as concerns linger about interacting with staff and guests at hotels, its platform offers millions of private alternatives."
Headspace: "To reach those who might need it most, ­Headspace—whose services typically cost $12.99 a month—offered more than a million free subscriptions to health care workers, educators and unemployed individuals. It has also partnered with companies such as Starbucks, Unilever and Adobe to offer access to employees. And now, Headspace has an animated Netflix series, which guides viewers through techniques to help with stress and sleep."
Peloton: "When gyms closed last year, demand for Peloton's pricey at-home treadmills and exercise bikes…spun out of control…. In December, the company acquired fitness equipment maker Precor for more than $400 million, increasing its manufacturing capacity and gaining entry into hotel gyms and other commercial facilities—which will be of strategic importance to Peloton as the COVID-19 vaccine rollout continues and exercise returns to the public sphere."
Disney: "The launch of Disney+ proved to be a saving grace for the megaconglomerate as the pandemic shut down movie theaters and reduced crowds at its theme parks. With the streaming service, Disney translated the massive theatrical success of franchises like Marvel and Star Wars to the small screen, surpassing 100 million subscribers in under 18 months with hits like The Mandalorian and WandaVision, and established itself as Netflix's most vicious competitor."
Spotify: "Spotify's streaming service has transformed how people listen to music; it ended 2020 with 345 million monthly active users and 155 million paying subscribers. It's now undertaking a massive global expansion, reaching more than 170 markets, and has made a nearly $1 billion investment in podcasting, buying Gimlet…. It's signing up hosts ranging from Meghan Markle to Joe Rogan, and recently unveiled a series of conversations between Bruce Springsteen and Barack Obama."
Nextdoor: "Traffic to the platform, which functions as a digital bulletin board for local communities, spiked nearly 50% as people sought everything from lost pets to COVID-19 vaccines. But the content, like the ads that help fund the site, isn't limited to locally owned entities, and Nextdoor's supposedly safety-oriented posting function has proved ripe for racial profiling. (Facing criticism, Nextdoor added reminders to focus on specific behavioral descriptions.)"
The Complete 2021 Time100 Most Influential Companies List
Adidas
Airbnb
Alibaba
Amazon
Apple
AT&T
BP
Beyond Meat
BioNTech
Bumble
BYD Co. Ltd.
BYJU's
Clearview AI
Clubhouse
Coinbase
Coursera
CVS
Darktrace
Delta
DiDi Chuxing
Digital Currency Group
Disney
DJI
DoorDash
Duolingo
English Premier League
Epic Games
Equinor
Facebook
Farfetch
FedEx
Flutter Entertainment
Flutterwave
General Motors
GoFundMe
Google
Gro Intelligence
Headspace
Hello Sunshine
Home Depot
Huawei
HYBE
Ikea
Illumina
Jio Platforms Ltd.
Johnson & Johnson
Klutch Sports Group
The Lego Group
Lime
Maersk
Mastercard
Mattel
Mercado Libre
Microsoft
Moderna
National Basketball Association (NBA)
Netflix
Nextdoor
NextEra Energy
Nike
Nintendo
Nubank
Nvidia
Oatly
OnlyFans
Orsted
PayPal
Peloton
Pfizer
Procter & Gamble
Rad Power Bikes
Robinhood
Roblox
Rothy's
Samsung
Savage X Fenty
Shopify
Softbank
Sony Group Corporation
SpaceX
Spotify
Strava
Stripe
Taiwan Semiconductor Manufacturing Corp
Teladoc Health
Tencent
TerraCycle
Tesla Inc.
TikTok
Tilray
Twitter
Unilever
UPS
Volkswagen Group
Walgreens
Walmart
World Wide Technology
Yum China
Zillow
Zoom
Time100 Talks – Featuring the World's Most Influential Companies
On Friday, April 30th at 1PM ET, TIME will host key leaders from companies featured on the inaugural TIME100 Most Influential Companies list, for a special installment of TIME100 Talks, the virtual series that convenes leaders from every field to spotlight solutions and encourage action toward a better world. Presented by Volkswagen, the event will feature conversations with Microsoft CEO Satya Nadella, Spotify CCO Dawn Ostroff, musician, performer and actor Usher, MSNBC Anchor and NBC News Senior Business Correspondent Stephanie Ruhle, Strava co-founder Michael Horvath, Gro Intelligence CEO Sara Menker and more.

Founder Dinis Guarda
IntelligentHQ Your New Business Network.
IntelligentHQ is a Business network and an expert source for finance, capital markets and intelligence for thousands of global business professionals, startups, and companies.
We exist at the point of intersection between technology, social media, finance and innovation.
IntelligentHQ leverages innovation and scale of social digital technology, analytics, news and distribution to create an unparalleled, full digital medium and social business network spectrum.
IntelligentHQ is working hard, to become a trusted, and indispensable source of business news and analytics, within financial services and its associated supply chains and ecosystems.