Thinkers360, the premier platform for B2B thought leaders, influencers, and experts, unveils its annual list of the "Top 50 Global Thought Leaders and Influencers on Metaverse for 2023." This exclusive ranking not only showcases the individuals who are at the forefront of shaping the future of the Metaverse, but it also provides details of their specific work in the area. The patent-pending algorithm of the platform positions the likes of Luis Bravo Martins, Dinis Guarda, and Justin Goldston at top positions.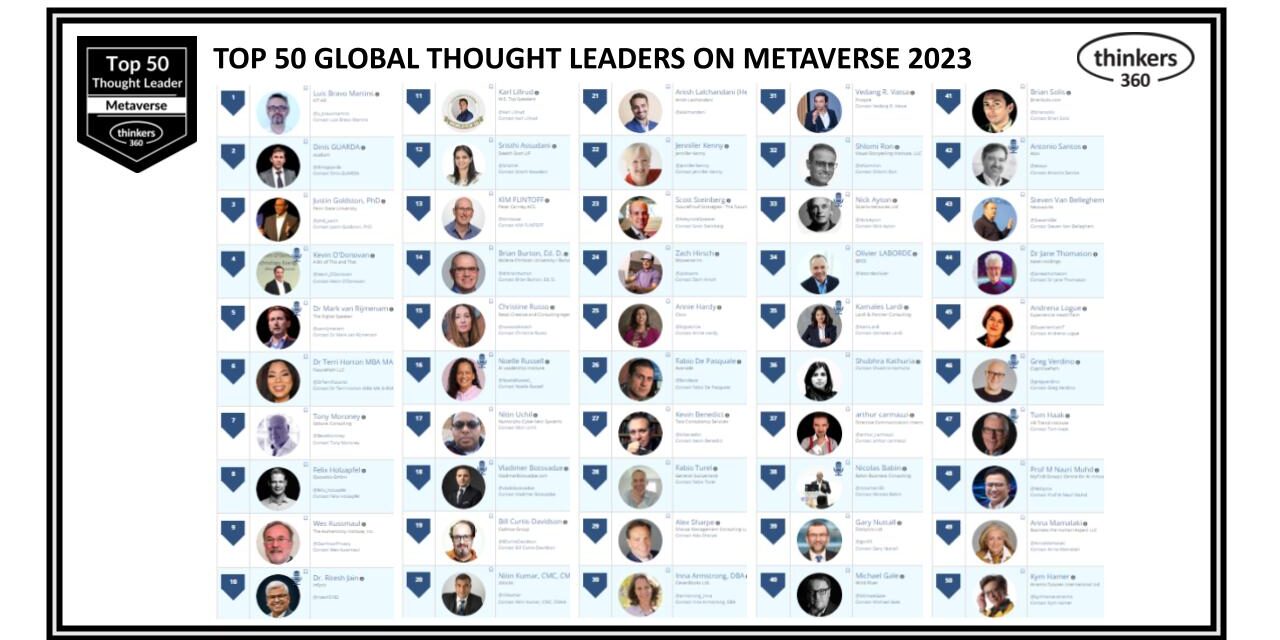 The Top 50 Global Thought Leaders and Influencers on Metaverse for 2023 list is an instrument to bring awareness about the fundamentals of the metaverse. It also tries to establish the metaverse as an integrated space of physical and virtual reality where users interact with a computer-generated environment and also with each other.
The Thinkers360 leaderboard stands apart from traditional rankings by employing patent-pending algorithms that measure thought leadership and authentic influence beyond just social media presence. This comprehensive approach ensures that brands and organisations can identify and collaborate with the most relevant experts in their respective fields.
The top global thought leaders and influencers on metaverse
Leading the pack is Luis Bravo Martins, Chief Marketing Officer at KIT-AR, claiming the top spot with a Thought Leader Score of 100. Martins' extensive knowledge and expertise in the Metaverse realm have made him a trusted voice in the industry.
"Since the beginning, I understand technology as the main driving force behind human behavioral change, behind new ways we find to communicate and, overall, behind how we reinvent ourselves as human", he says.
A keynote speaker at various events, some of the topics Luis has been speaking about include: Metaverse applications on 30+ markets, Being Metaversed – New Job Roles, Responsible Marketing in the Metaverse, and HumanCentered factories in the Metaverse.
Dinis Guarda, CEO and Founder of ztudium, secured the second position with an overall score of 98.29. His expertise and passion for the Metaverse makes him a valuable resource for organisations seeking to navigate this transformative landscape.
Dinis has been spreading awareness about the metaverse through various mediums including social media posts, blog articles, as well as his popular YouTube Podcast, which has released about 300 episodes featuring top experts and discussions about the metaverse and related technologies.
He states:
"The Metaverse is not just a concept; it is a reality that is shaping the future of how we interact and engage in digital environments. Being part of this esteemed group of experts is both an honour and a responsibility. I am committed to driving innovation, fostering collaboration, and exploring the immense potential of the Metaverse to revolutionize industries and enhance the human experience." 
Among the other esteemed professionals featured in the top ranks are Justin Goldston, PhD, from Penn State University, and Kevin O'Donovan from A Bit of This and That, with a score of 71.83. These thought leaders have demonstrated their exceptional insights and contributions to the Metaverse domain, making them instrumental in driving innovation and thought-provoking discussions.
The importance of Thinkers360's Metaverse Experts 50 list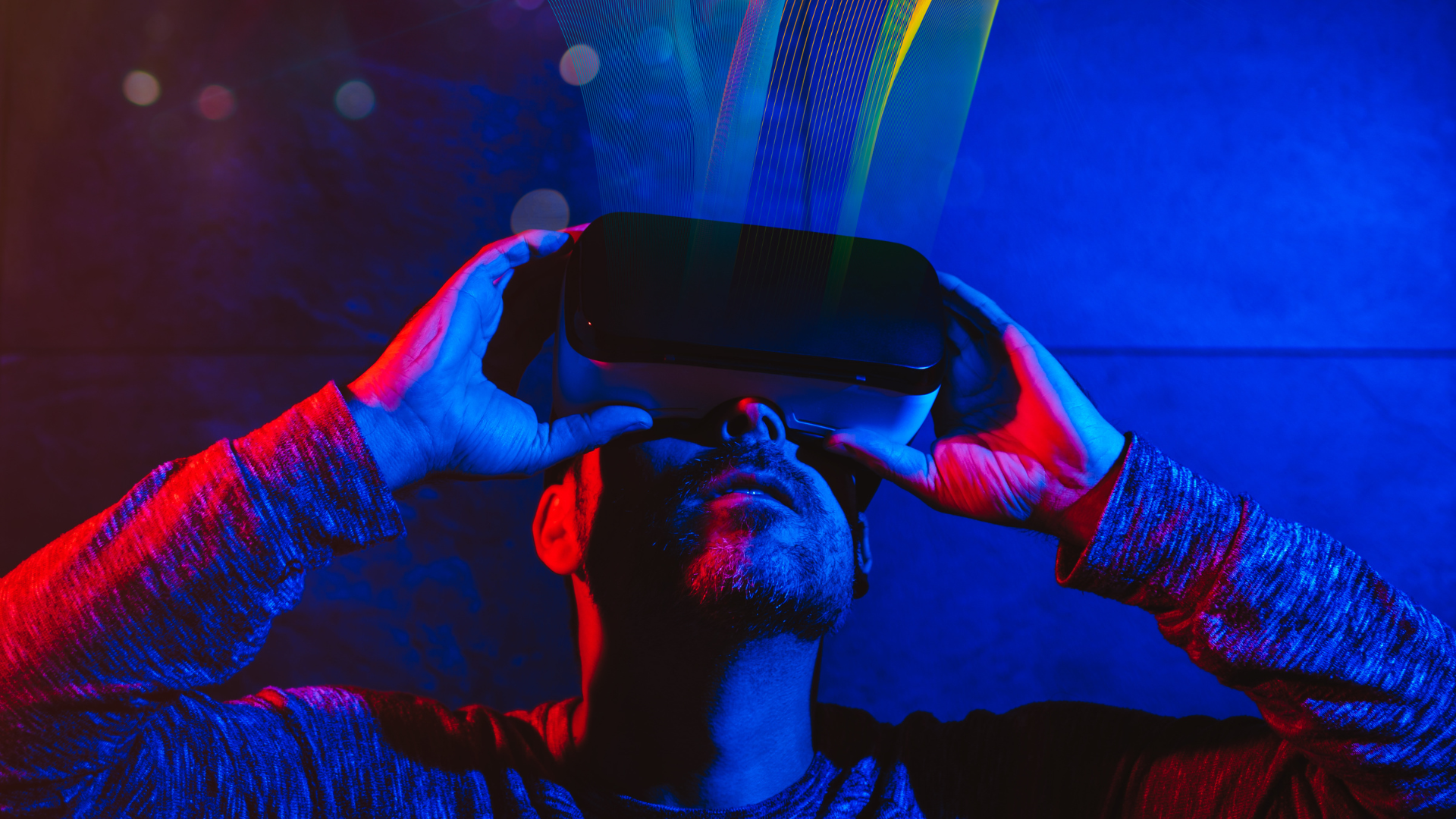 The Thinkers360 Top 50 Global Thought Leaders and Influencers on Metaverse 2023 list serves as a valuable resource for businesses seeking collaboration and guidance from the most respected minds in the Metaverse field. With a combined following of over 100 million, these influential thought leaders possess the expertise and vision to help organisations navigate the evolving landscape of the Metaverse and its myriad applications.
"Thinkers360 is committed to facilitating meaningful connections between thought leaders and organizations, providing access to cutting-edge insights and perspectives that can shape the future of industries. By leveraging the Thinkers360 platform, businesses can tap into the collective wisdom of these top thought leaders and influencers to drive innovation, foster collaboration, and seize the opportunities presented by the Metaverse revolution", states the platform.
To learn more about the top 50 thought leaders and influencers shaping the Metaverse landscape in 2023, visit the Thinkers360 website and explore the extensive expertise and valuable insights they offer.
About Thinkers360
Thinkers360 was founded to help solve some of the current issues in the thought leadership "industry". Today, the thought leadership ecosystem is highly-fragmented and often closed to most outsiders. Once a specialized art, practiced by a few, thought leadership is now a widespread discipline practiced by many – beyond the current 1% that the "industry" currently serves.
Many upcoming thought leaders and experts aren't yet social media stars, celebrity authors, influencers or speakers, but are leading authorities in their fields. Both established and emerging thought leaders need new ways to measure their expertise – looking beyond influence – and a platform to advance their audience and impact.
Their mission is to disrupt the proprietary thought leadership "industry" and open it up to a wider array of established and emerging academics, authors, entrepreneurs, inventors, influencers and speakers – helping them to succeed in making the world a better place.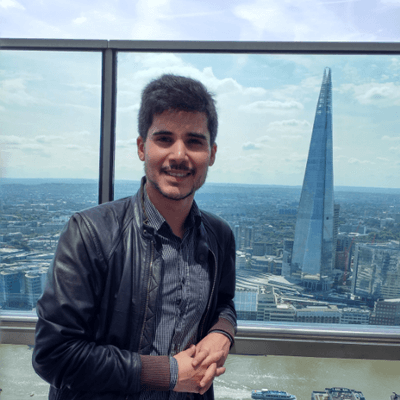 Hernaldo Turrillo is a writer and author specialised in innovation, AI, DLT, SMEs, trading, investing and new trends in technology and business. He has been working for ztudium group since 2017. He is the editor of openbusinesscouncil.org, tradersdna.com, hedgethink.com, and writes regularly for intelligenthq.com, socialmediacouncil.eu. Hernaldo was born in Spain and finally settled in London, United Kingdom, after a few years of personal growth. Hernaldo finished his Journalism bachelor degree in the University of Seville, Spain, and began working as reporter in the newspaper, Europa Sur, writing about Politics and Society. He also worked as community manager and marketing advisor in Los Barrios, Spain. Innovation, technology, politics and economy are his main interests, with special focus on new trends and ethical projects. He enjoys finding himself getting lost in words, explaining what he understands from the world and helping others. Besides a journalist, he is also a thinker and proactive in digital transformation strategies. Knowledge and ideas have no limits.