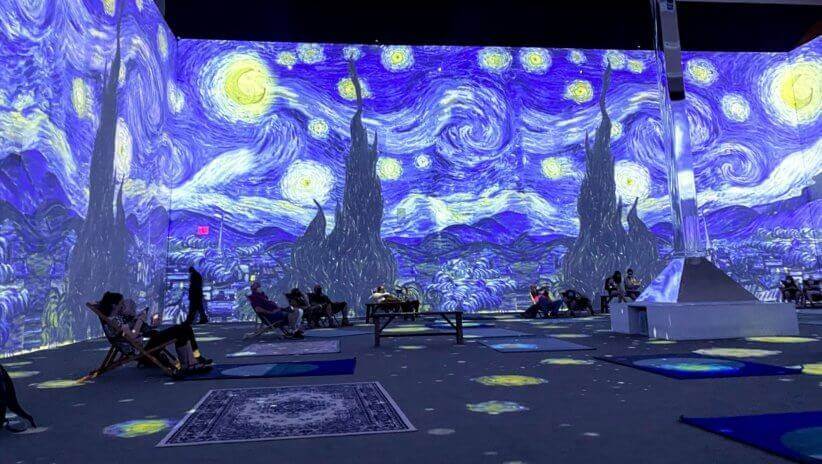 What Is the Van Gogh Immersive Experience?
Have you ever imagined walking inside a painting? Take an awe-inspiring voyage inside Van Gogh's immersive experience, one of the 19th century's greatest artistic geniuses. Through cutting-edge 360-degree digital projections, a spectacular virtual environment, and a distinctively immersive light and sound display, discover his life, his art, and his secrets like never before.
This unforgettable experience has previously wowed audiences from nearly all over Europe and the USA. Immerse yourself in the works of art around you and experience a shift in reality as you enter the realm created by Van Gogh's brush strokes.
The Van Gogh Experience is a 360 digital art display that enables you to enter the world of Vincent van Gogh, the Dutch genius. By attending one of these expos, you can immerse yourself in 600,000 cubic feet of breathtaking projections that bring the masters' work to life and illuminate the genius's thoughts. Wander through massive projections that bring paintings, detail, and colour to life as you've never seen them before.
Cinematic Musical Odysseys In the Van Gogh Immersive Experience
From classical composers like Bach, Handel, Mussorgsky, and Barber to Theosophist guru Helena Blavatsky, Edith Piaf, Meiko Kaji, Mexican electronica master Murcof, and Britishers Guy Sigsworth and Thom Yorke from the rock band Radiohead, the found music in Van Gogh Immersive is certainly eclectic. Longobardi also "recomposed" Handel and Barber, as well as converted a Bach cello suite to a piano version, in addition to his four original works.
Longobardi started working on the music by focusing on the man behind the art. "As an artist, I can identify with Van Gogh since he is both a complicated and modern person," he explains. The Paris production was a review of Van Gogh's life and work, but the latest version of the music is more psychological, focusing on what was going on in Van Gogh's head. As a result, the music is not linear. Longobardi said he has composed more unique compositions for this new musical version to represent Van Gogh's modern persona, as opposed to the Paris version, which was largely classical.
Longobardi believes that music and images have a profound connection and it seems that they are born together. The images are enhanced by his music. It's not just for show. He wants people to feel the same way he does when he listens to music. "The animation pace varies from scene to scene, and the music must keep up," Longobardi adds. When the stars in "The Starry Night" fall to the ground, for example, the audience needs time to truly view them, hence the music tempo and melody are both slow".
Longobardi, the holders of the Van Gogh Immersive Experience expo, other performers, and conductors have tried to blur the border between virtuality and real life.
But here are the questions, will musicians like Longobardi stop trying so hard to blur this border and leave their studios to start music in the metaverse? Will the visitors continue to like their experience of listening to music and virtually touching Van Gogh's paintings? Can art, music, and technology be connected? What will music look like in the virtual world of Metaverse? Can users listen to music in the metaverse?
The Connection Between Virtual Reality (Metaverse) & Music
The Metaverse is a concept for a connected 3D virtual environment in which real and digital worlds are merged using virtual reality (VR) and augmented reality (AR). Virtual reality headsets augmented reality glasses, and smartphone applications will all be used to access this immersive environment.
Roblox, an online game company, was one of the first to enter the metaverse market. It is still one of the most popular games on the market, with a growing user base.
Roblox, moved into music, with the target to help humans listen to music in the metaverse, which came as no surprise. They collaborated with Insomniac, a prominent producer of electronic music festivals, to stage a dance music festival named Electric Daisy Carnival (EDC) in their metaverse. They also have guaranteed funding from Warner Music Group and have presented multiple virtual concerts with Twenty One Pilots, a musical band.
After the Covid-19 pandemic, digital concerts have exploded in popularity, as these instances demonstrate. There are more chances for the music in the metaverse now than ever before.
That's because, with virtual reality, music isn't restricted to virtual streams, but can also provide a customized immersive experience for audiences.
Fans may also be more than passive listeners to music in the metaverse. They can communicate, socialize, and move around, precisely as Mark Zuckerberg predicted in his Connect 2021 keynote.
Horizon Venues, a virtual location for events, is one of the interconnected spaces in Facebook's metaverse that users may visit. You may attend concerts from your own home, listen to music in the metaverse by wearing a Quest headset, and have a 3D avatar appear at the event. Horizon Venues also allows you to host chit-chat sessions with the performers in a virtual setting.
Music Opportunities & Challenges In Metaverse
Consumer expectations are changing as well as the way musicians perform. Traditional production approaches and platforms are no longer sufficient for artists and producers to stay up to date. Artists and musicians may move out of their physical recording studios and step into music in the metaverse and virtual creative area in the next years.
Several musicians and record labels have already begun to experiment with this, and there are virtual reality controllers available that allow users to interact with graphical interfaces in a similar way to how they engage with musical instruments.
When you air your guitar in the reality, it will sound like a real guitar playing music in the metaverse.
However, as the music industry expands into the metaverse, it faces new challenges, particularly in terms of ownership and royalties. Where linear ownership and licensing rights cannot be proved, there may be concerns about copyright infringement.
Amrita Sen, A Painter & Musician
Amrita Sen grew up in Colonia, New Jersey, which is considered a small town by most standards. Her home was around 1500 square feet, and there were usually 8 to 15 people living there. It was difficult for her not to trespass on other people's space, no matter how hard she tried to keep her oil paintings away from the family crowds. Amrita remembered striving for peace and stability as a child. There were a few open spaces in the home that might be used for this, one of which was the dining room. Her younger brother would sit and think, something she wished she could do but couldn't. Amrita recalls her reflection being so adorable that she wanted to photograph it.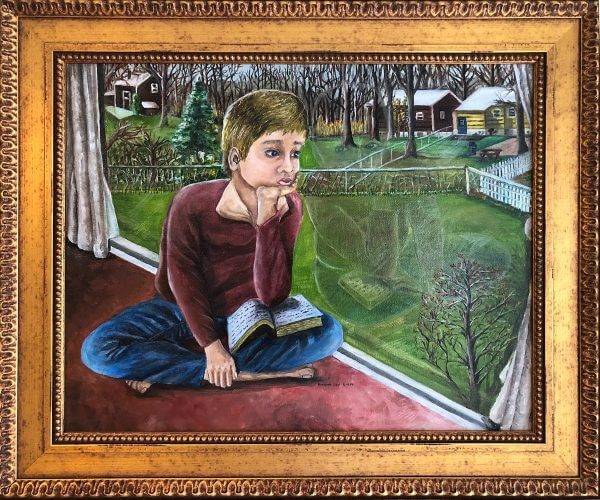 Her favourite tree can also be seen in the lower right corner of this photograph. Her beloved tree was unexpectedly cut down without explanation, but she was able to restore the picture through this painting. Amrita's husband proposed that they put an expensive frame on the tree to remember what the tree meant to her and what her little brother meant to her many years later. It's on display in their Los Angeles home's dining room.
Take a look at her website (https://www.amritasen.com/) to find out more about her art, paintings, and pieces of music she was awarded for.
The Final Word
There's no arguing that music in the metaverse is beneficial, but developing a safe, fair, and transparent market in the metaverse will take time and effort from a variety of stakeholders.

Founder Dinis Guarda
IntelligentHQ Your New Business Network.
IntelligentHQ is a Business network and an expert source for finance, capital markets and intelligence for thousands of global business professionals, startups, and companies.
We exist at the point of intersection between technology, social media, finance and innovation.
IntelligentHQ leverages innovation and scale of social digital technology, analytics, news and distribution to create an unparalleled, full digital medium and social business network spectrum.
IntelligentHQ is working hard, to become a trusted, and indispensable source of business news and analytics, within financial services and its associated supply chains and ecosystems.