Big data is a critical concept for businesses and any modern company strategic intelligence. Enterprises have been managing all sources of offline data for ages and part of the success of any business is to exchange some accountability of product or data through a given price and being accountable for that. With the emergence of computing, digital insights, analytic software and business and social media intelligence the concept of data is now the present frontier for innovation, competition, and productivity for companies.
According to IBM big data research at the moment every day, human interactions create 2.5 quintillion bytes of data. That means so much that 90% of the data in the world today has been created in the last two years alone and in the next months probably with augment to the double. This data comes from everywhere: SMS, wireless spots, video digital cameras, sensors used to gather climate information, posts to social media sites (Facebook likes, Google+, Twitter, Pinterest, LinkedIN and so forth), digital pictures and videos, purchase transaction records, browser cookies, mobile payments, company analytics, website analytics, behaviour data, search queries, and cell phone GPS signals to name a few. This data is big, therefore the concept of big data and it is now being increasingly used by everyone, both individuals and professionals.
As of 2012, data numbers have been exploding and will increase. For instance something as simple as popular as the Psy´s "Gangnam style" song became the first video to hit 1 billion views on YouTube! The views of this video are therefore part of the process of the big data that all of us are producing.
Scientists and analysts regularly encounter limitations to manage the exobytes of data due to large data sets in many different areas of business, sector and devices, platforms, including: web, meteorology, genomics, connectomics, complex physics simulations,and biological and environmental research. The limitations also affect Internet search, finance and business informatics. Data sets grow in size in part because they are increasingly being gathered by ubiquitous information-sensing mobile devices, aerial sensory technologies (remote sensing), software logs, cameras, microphones, radio-frequency identification readers, and wireless sensor networks. A concept that has been associated with this is the Internet of all things.
The astonishing fact is that the world's technological per-capita capacity to store data has definitely gone a big way. that means various sources of information has roughly doubled every 40 months since the 1980s. Most recently with the emergence of smart phones, mobile devices and tables and as of 2012, every day 2.5 quintillion (2.5×1018) bytes of data were created.
The use of big data is now a key basis of competition and growth for firms, both new startups, medium enterprises or big multinational corporations. From the standpoint of increasing competitiveness, the related potential capture of valuable insights, all companies have to take big data seriously. In most industries whatever the vertical, established brands and their competitors and newbie entrants alike are now leveraging data-driven strategies to their business intelligence operations in order to innovate, compete, and capture the right value from deep and up-to-real-time managed reporting of data.
In this context how to concretely define big data on the big picture context of information technology? Trying to synthetise the term big data leaves to a definition as a collection of data sets, this amounts this set to become so large and complex that it becomes difficult to process using simple on-hand database management tools or traditional data processing applications.
The challenges therefore to big data include the full scope of capture, curation, storage, search, sharing, analysis, and visualization. The trend to larger data sets is due to the additional information derivable from analysis of a single large set of related data, as compared to separate smaller sets with the same total amount of data, allowing correlations to be found to report, analyse and "spot business intelligence, the right trends, moreover to determine the quality of research, create new innovative directions, also prevent diseases through processing the cause and symptoms, link legal citations, combat crime, and determine real-time roadway traffic conditions."
So the future of big data is in part the present definitions of a given business attention it puts in its present data. The advent of big data is that it will inetevely be a part of anything done by humans and businesses in a time of fast changing operations and business new cycles. Big data can be managed in various ways for business and it can be described in five dimensions:
Big Data Volume: Data is about volume, but the importance is how to manage and digest this big quantity of data. Therefore enterprises are now considerably taking this seriously and a-washed with ever-growing data of all types, easily amassing terabytes—even petabytes—of information and the ned to manage it properly and first of all to understand it and see its place within the organisation.This so big volume of data turn 12 terabytes of Tweets created each day into improved product sentiment analysis. It also convert 350 billion annual meter readings to better predict power consumption;
Big Data Velocity: When it comes to manage data sometimes 1 or 2 minutes is too late. For time-sensitive processes such as catching fraud, hacking, big data must be used as it streams into any enterprise IT set up in order to maximise its functionality and value. This comes when it is necessary to scrutinise various million of trade events created each day to identify potential fraud, look at details in who is real and fake in search queries and in ecommerce all the business conversion funnel that leaves to a new customer or lead.
Big data Legal and privacy implications: with big amounts of data coming from different IPs legal considerations about data increase with the challenge to manage the right approach to it, the users, companies and different IPs and copyrights involved.
Big Data Variety: Big data is varied and it is important to manage any type of data in the right context. Big data is structured and unstructured data such as text, sensor data, audio, video, click streams, log files and more. New insights are found when analysing these data types together. Monitor 100's of live video feeds from surveillance cameras to target points of interest. Exploit the 80% data growth in images, video and documents to improve customer satisfaction.
Big Data Veracity: How credible is data? that is one critical question 1 in 3 business leaders have in mind when research states that they don't trust the information they use to make decisions. How can thus a big data analyst or business professional act upon information if he or she don't trust it? Establishing the right criterium and trust in big data presents the most huge challenge for businesses as the variety and number of sources grows and with it the degrees of complexity.
At the moment there big data is a massive opportunity for business and professionals. With a shortage of talent in this field where it is more and more necessary for organizations to take advantage of big data process. Big Data is a present and future driver and alone can be a new economic driver as its critical importance is opening new doors and new careers.
Numbers from a study Report by McKinsey Global Institute: Big data: The next frontier for innovation, competition, and productivityfrom May 2011 created by James Manyika, Michael Chui, Brad Brown, Jacques Bughin, Richard Dobbs, Charles Roxburgh, Angela Hung Byers state that by 2018, the United States alone could face a shortage of 140,000 to 190,000 people with deep analytical skills as well as 1.5 million managers and analysts. II advice you to download the report or ebook.
This is a massive business opportunity for companies and professionals worldwide that need to work on their know-how to use the proper analysis, insights of big data to make effective and sound business intelligence decisions.
The future of big data will be that this discipline will be part of daily life both for individuals and businesses and the fact is that we will have to become all managers of analytics data, big data.
The next article will focus on that in particular: The Future Of Big Data – Part 2 – 10 Trends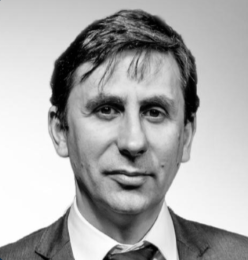 Dinis Guarda is the founder of intelligenthq.com and an author, serial entrepreneur and CEO of ztudium that manages openbusinesscouncil.org, fashionabc.org, blocksdna.com, lifesdna.com.
He creates and helps build ventures focused on global growth, 360 digital strategies, sustainable innovation, Blockchain, Fintech, AI and new emerging business models such as ICOs / tokenomics.
Dinis is the founder/CEO of ztudium that manages blocksdna / lifesdna. These products and platforms offer multiple AI P2P, fintech, blockchain, search engine and PaaS solutions in consumer wellness healthcare and life style with a global team of experts and universities.
He is the founder of coinsdna a new swiss regulated, Swiss based, institutional grade token and cryptocurrencies blockchain exchange. He is founder of DragonBloc a blockchain, AI, Fintech fund and co-founder of Freedomee project.
Dinis has created various companies namely Ztudium, a tech, digital and AI blockchain startup that builds cutting edge software, big data insights, publishes intelligenthq.com, hedgethink.com, fashionabc.org, openbusinesscouncil.org and tradersdna.com, citiesabc.com among others.
Dinis is the author of various books. His upcoming books "4IR AI Blockchain Fintech IoT Reinventing a Nation", "How Businesses and Governments can Prosper with Fintech, Blockchain and AI?", also the bigger case study and book (400 pages) "Blockchain, AI and Crypto Economics – The Next Tsunami?" last the "Tokenomics and ICOs – How to be good at the new digital world of finance / Crypto" will be launched in 2018.
Some of the companies Dinis created or has been involved have reached over 1 USD billions in valuation. Dinis has advised and was responsible for some top financial organisations, 100 cryptocurrencies worldwide and Fortune 500 companies.
Dinis is involved as a strategist, board member and advisor with the payments, lifestyle, blockchain reward community app Glance technologies, for whom he built the blockchain messaging / payment / loyalty software Blockimpact, the seminal Hyperloop Transportations project, Kora, and blockchain cybersecurity Privus.
He is listed in various global fintech, blockchain, AI, social media industry top lists as an influencer in position top 10/20 within 100 rankings: such as Top People In Blockchain | Cointelegraph https://top.cointelegraph.com/ and https://cryptoweekly.co/100/ .
He has been a lecturer at Copenhagen Business School, Groupe INSEEC/Monaco University and other leading world universities.
He is a shareholder of the fintech social money transfer app Moneymailme and math edutech gamification children's app Gozoa.
Between 2014 and 2015 he was involved in creating a fabbanking.com a digital bank between Asia and Africa as Chief Commercial Officer and Marketing Officer responsible for all legal, tech and business development. Between 2009 and 2010 he was the founder of one of the world first fintech, social trading platforms tradingfloor.com for Saxo Bank. In 2011 he created the B2B platforms socialmediacouncil.org and openbusinesscouncil.org with Jamie Burke.