Huawei hosted its Huawei Better World Summit 2021 recently, where they highlighted the huge potential that 5G + AR holds to create more modern and innovative industries. They lit up the future together with carriers, regulators, partners and analysts from around the globe for a better life powered by AR.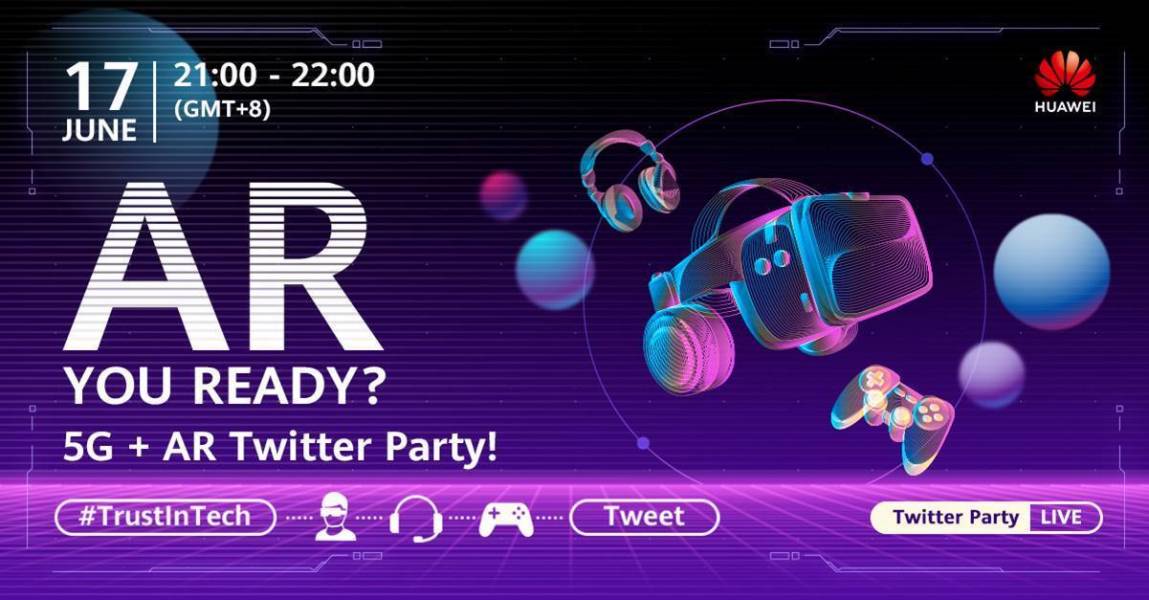 The 5G ecosystem is maturing, and we are seeing a great increase in the integration of augmented reality (AR) with industry applications. In this context, the symbiosis of 5G + AR expands the scope of connectivity and the boundaries of user experience, enriching both our lives and communications. As the digital foundation of innovative technologies, the ICT industry will support carriers and other industry partners in broadening the horizons of 5G + AR and paving the way to endless possibilities and opportunities.
"The huge potential of 5G is now emerging. The entire industry needs to act now, to build new capabilities and realise the 5G vision".
These words, said by Ryan Ding, the President of Carrier Business Group, Huawei, realize the potentiality of 5G connectivity speed. The latest mobile communications technology that can significantly boost many industries' performance.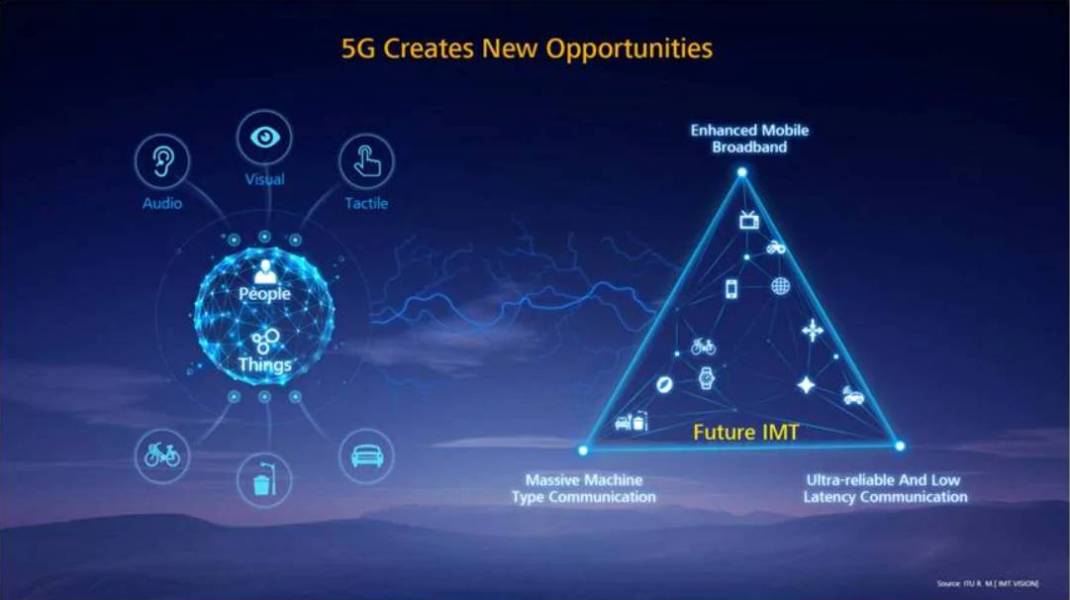 For starters, 5G's capabilities are classified into three areas:
1) Enhanced Mobile Broadband, which enables faster data speeds as total capacity is expanded. This helped the introduction of first-edition 5G smartphones and fixed wireless access (FWA) services;
2) Ultra-Reliable Low-Latency Connectivity, which is essential for autonomous driving, industrial automation and remote medical assistance applications; and
3) Massive Machine Type Control, which ensures 5G mobile networks are able to connect millions of devices per square kilometre – essential for the development of connected smart cities of the future.
5G is a milestone in the history of mobile communications. Going back in history, whilst 2G enabled people to connect through mobile voice devices, 3G and 4G empowered the internet. What about 5G? How will it transform our world as we know it? 
As quoted in ComputerWeekly, Manu Tyagi, associate partner, retail and consumer goods at Infosys Consulting, believes that 5G is not like any other telecoms improvement; with the potential to reach speeds of 10Gbps with minimal latency and pervasive connectivity, 
"it opens up an array of possibilities for retailers and their technology teams. 5G will enable them to supercharge innovative consumer experiences and provide highly personalised engagement to consumers, powered by seamless connectivity and ultra-fast response times".
"The main examples where we expect retailers and leading consumer goods companies to use 5G are smart shelves, real-time merchandising messaging and promotions, personalised digital signage both in-store and in mobile apps, and virtual reality (VR) and augmented reality (AR)-enabled technologies like adaptive magic mirrors, which would have an impact for fashion retailers," he says.
What is more, the ability to track and monitor store inventories in real time "is another where the quick response times powered by 5G will make a big difference for consumers seeking great retail experiences".
5G + AR Applied to Industries
AR device market growth
As was thoroughly explained in the Huawei Better World Summit 2021 and in Huawei's Insight and Application Practice Whitepaper, AR devices differ and have various use-cases. The more advanced ones are not only more expensive, but also weigh more, which limits design choices, making them unusable in some circumstances.
• Binocular – featuring transparent binocular display, enabling 3D stereoscopic images, these can address any use case. Examples: HoloLens and Magic Leap:  some of the most advanced and expensive devices on the market today. Another option: Nreal Light.
• Monocular – suitable for simple use cases such as notifications or simple navigation.  Examples: Google Glass and Solos. 
• Slot-in – these glasses use the smartphone in a horizontal position with a downward-facing screen reflected in a semi-transparent mirror. Example: Lenovo Star Wars device.
• Contact Lens – Mojo Vision's AR contact lenses are medical devices made to improve the perception of visually impaired users; currently undergoing clinical trials. 
• Static Holographic Displays – holographic displays with AR for specific use-cases. Examples include the static desktop display from Sony and an add-on smartphone screen from IKIN.
• In-car AR – displays inside cars are becoming more and more popular. Car manufacturers who started using them include BMW and Hyundai. 
As the Whitepaper findings show, the AR headset market is currently still characterised by high price points and low volume. This is despite the fact that the market is growing at a rapid pace.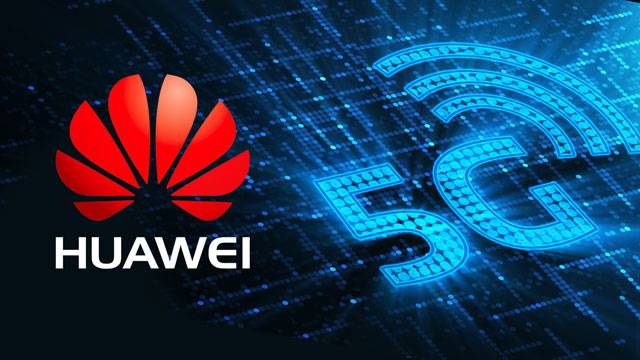 Strategy Analytics data for the year 2020 sizes the market with global shipments of just under 115,000 units, generating revenues of $166M. In that, 81% of headset shipments were to the enterprises. In the future, Huawei expects that by 2026, over 53M units will ship globally, and generate revenues worth over $30 Billion. For the market distribution to change, the headsets price will have to go down considerably. For instance, the first Google Glass device was aimed at private customers, but priced at a whopping $1,500. Furthermore, Magic Leap's standalone device retailed at $3,000. More recently, in 2020, Nreal launched its device at a more consumer-friendly price point of just under $600, achieved by reducing the component cost by tethering the device to a smartphone.
Games
With the incredible success of Pokémon GO, the game-related AR craze started. The game was an international hit, with over 147m monthly active users by May 2018, over a billion downloads by early 2019, and more than $6 billion in revenue by 2020. What made this game unusual was the location-based AR experience. Pokémon (pocket monsters) are located throughout the real world, and players must move around to collect them. 
Later, using the HMS Core AR Engine, Huawei also developed various games with Chinese partners, such as Tencent, NetEase, Perfect World, and Miniwan Technology. 
Education
AR has also been used for educational purposes. A great example of this is the Big Bang AR app from CERN (Conseil Européen pour la Recherche Nucléaire, or the European Council for Nuclear Research) working with Google Arts & Culture. What it does, is the following: "It uses AR to show the story of the formation of the universe from the big bang, using hand tracking to allow users to set off supernovas or hold planets in the palm of their hands. In this way it brings a new level of interactivity to learning". 
Navigation & Tourism
Navigation is another key area for AR. For instance, Google started providing AR functions in both Google Maps and Google Earth. 
Another example can be the West Lake AR Tour; an innovative application for tourism. It has to do with the West Lake in Hangzhou, China, which is a UNESCO World Heritage Site, and a  famous destination for international and domestic tourists alike. 
These are the features of the tour that make it so attractive: "Visitors can now enjoy an engaging and immersive experience through the West Lake AR Tour feature provided on the mobile app West Lake in the Palm. When visitors hold their phones up to a scenic spot, their phone screens will display background stories. The 1.4 km-long AR-enhanced scenic route includes Ping Hu Qiu Yue (Autumn Moon over the Calm Lake), Crane Release Pavilion, Tomb of Su Xiaoxiao, and Yue Fei Temple. The app also provides AR navigation, tour guides, and shopping guides".
There is no doubt that AR technology is going to be huge in the future, no matter how slowly it is reaching the private customer market. 
"I do think that a significant portion of the population of developed countries, and eventually all countries, will have AR experiences every day, almost like eating three meals a day. It will become that much a part of you" – Tim Cook
"Well we believe that augmented reality is one of those new mediums that could be as big as if not bigger than the web. One of the areas where consumers adopt something new is when it makes something drastically easier. When I think about augmented reality I think about instances like finding your way somewhere, finding your friends in a stadium, or going to a conference and looking around and knowing who everyone is because their LinkedIn profile is hanging over their heads… I think we will start finding a lot of things like that where AR just removes friction" – Scott Belsky
Another 5G technology which is growing at a rapid pace is the technology behind connected drones. Connected drones lengthen our perceptions of space. They are much more than just toys; they can be utilised in high-altitude live video broadcasting, package delivery, emergency medical assistance, and agriculture management. 
"As the digital foundation of innovative technologies, the ICT industry will support carriers and other industry partners in broadening the horizons of 5G + AR and paving the way to endless possibilities and opportunities," said Huawei in the Huawei Better World Summit 2021. And they were right, with a connectivity speed ranging from ~50 Mbit/s to over a gigabit/s and AR capabilities for enhancing reality and boosting performance, we are at the verge of a new and modern industry.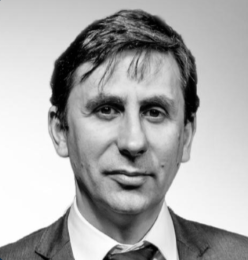 Dinis Guarda is an author, academic, influencer, serial entrepreneur, and leader in 4IR, AI, Fintech, digital transformation, and Blockchain. Dinis has created various companies such as Ztudium tech platform; founder of global digital platform directory openbusinesscouncil.org; digital transformation platform to empower, guide and index cities citiesabc.com and fashion technology platform fashionabc.org. He is also the publisher of intelligenthq.com, hedgethink.com and tradersdna.com. He has been working with the likes of UN / UNITAR, UNESCO, European Space Agency, Davos WEF, Philips, Saxo Bank, Mastercard, Barclays, and governments all over the world.
With over two decades of experience in international business, C-level positions, and digital transformation, Dinis has worked with new tech, cryptocurrencies, driven ICOs, regulation, compliance, and legal international processes, and has created a bank, and been involved in the inception of some of the top 100 digital currencies.
He creates and helps build ventures focused on global growth, 360 digital strategies, sustainable innovation, Blockchain, Fintech, AI and new emerging business models such as ICOs / tokenomics.
Dinis is the founder/CEO of ztudium that manages blocksdna / lifesdna. These products and platforms offer multiple AI P2P, fintech, blockchain, search engine and PaaS solutions in consumer wellness healthcare and life style with a global team of experts and universities.
He is the founder of coinsdna a new swiss regulated, Swiss based, institutional grade token and cryptocurrencies blockchain exchange. He is founder of DragonBloc a blockchain, AI, Fintech fund and co-founder of Freedomee project.
Dinis is the author of various books. He has published different books such "4IR AI Blockchain Fintech IoT Reinventing a Nation", "How Businesses and Governments can Prosper with Fintech, Blockchain and AI?", also the bigger case study and book (400 pages) "Blockchain, AI and Crypto Economics – The Next Tsunami?" last the "Tokenomics and ICOs – How to be good at the new digital world of finance / Crypto" was launched in 2018.
Some of the companies Dinis created or has been involved have reached over 1 USD billions in valuation. Dinis has advised and was responsible for some top financial organisations, 100 cryptocurrencies worldwide and Fortune 500 companies.
Dinis is involved as a strategist, board member and advisor with the payments, lifestyle, blockchain reward community app Glance technologies, for whom he built the blockchain messaging / payment / loyalty software Blockimpact, the seminal Hyperloop Transportations project, Kora, and blockchain cybersecurity Privus.
He is listed in various global fintech, blockchain, AI, social media industry top lists as an influencer in position top 10/20 within 100 rankings: such as Top People In Blockchain | Cointelegraph https://top.cointelegraph.com/ and https://cryptoweekly.co/100/ .
Between 2014 and 2015 he was involved in creating a fabbanking.com a digital bank between Asia and Africa as Chief Commercial Officer and Marketing Officer responsible for all legal, tech and business development. Between 2009 and 2010 he was the founder of one of the world first fintech, social trading platforms tradingfloor.com for Saxo Bank.
He is a shareholder of the fintech social money transfer app Moneymailme and math edutech gamification children's app Gozoa.
He has been a lecturer at Copenhagen Business School, Groupe INSEEC/Monaco University and other leading world universities.