Dinis Guarda interviews Brendan Buckingham, Business Development Leader for Data and AI at IBM UKI, in the latest episode of his YouTube channel. The two discuss some of the latest AI and technology-enabled solutions that IBM is developing for businesses. Most of these will be highlighted at the Think IBM London, scheduled on October 10, 2023. The episode is live now on YouTube, selected podcast directories, openbusinesscouncil.org and citiesabc.com.
The Article is sponsored by IBM.
With more than 27 years of his career at IBM UKI, Brendan Buckingham is currently the Business Development Leader, leading and managing teams involved in data tech, Red Hat IBM AI, hybrid cloud, and information architecture. He has deep understanding and experience in the latest industry trends, best practices, ethics, and regulatory requirements across various industries and technologies.
In this episode of Dinis Guarda YouTube podcast, the conversation goes around the recent AI revolution, lead by GenAI and how big companies like IBM are leading this revolution. These solutions and what's next in the tech sector, as Brendan tells Dinis Guarda, is what IBM Think London 2023 event is about. It is an opportunity for all the players in the field of technology and innovation, including developers, leaders, policy makers, and even users to meet and follow-up on the conversation of "what's next".
"Through this event, our customers have insights on our advancements, particularly in the areas that we believe are enhancing the way enterprises work with AI and its solutions. It's not just the sessions that makes it interesting for the customers attending these events, but the ability to talk to each other and to the experts", Brendan told Dinis.
He explained that with the changing tech trends and policies, the nature of risks for businesses and enterprises also changes, which brings dynamism to an overall ecosystem. This is where, he says, IBM plays a pivotal role in maintaining the culture of innovation and development.
"We provide an understanding of how to manage the growing ecosystem by placing innovation in the hands of the people who have got ideas. We need to keep running the innovation cycle with businesses, we need to keep in touch with the innovation, and be in control of it, and see the results happening quickly and safely in an organisation", he said.
IBM Think London 2023 And What's Next In Computing
IBM Think is an annual conference that delves into a wide array of topics critical to the future of the industry, offering valuable insights and opportunities for attendees. The IBM Think® 2023 flagship event was held at the Universal Loews Resort in Orlando in May of 2023 to travel to 11 cities across the world including: Paris, Frankfurt, Toronto, Madrid, Sydney, São Paulo, Mumbai, Milan, Singapore, Tokyo, and London, where the final episode will be held on October 10.
The conference focuses on a broad spectrum of topics, including Hybrid Cloud, Artificial Intelligence (AI), Automation, Data, Security, and Sustainability. Additionally, attendees will explore "What's next in computing," anticipating the future of this dynamic field.
"IBM is intensely focussed on AI. Not just AI for AI's sake, but the AI that can be used in an enterprise to really achieve its RoI or enhance a way the enterprise works", Brendan told Dinis during the interview.
As Brendan mentioned, IBM Think London 2023 is all about networking opportunities. The Think Forum connects attendees with subject matter experts, providing a chance to engage with the brilliant minds driving the latest technological innovations and business trends. It's an ideal setting to build new relationships, seek advice from industry leaders, and connect with peers who share common interests and goals.
"Any organisation that really wants to discuss something like models with latest AI tools or how they can make them safe from risk and regulatory point of view, and management control are welcome to the conference", Brendan said.
IBM AI solutions for businesses
IBM's watsonx is a new AI and data platform that aims to maximise the impact of advanced AI with trusted data and will allow enterprises to scale and accelerate their AI capabilities across any cloud environment.
Brendan also explained IBM's latest AI development studio, Watsonx, that provides access to IBM-curated models, a data store for gathering and cleansing training data, and a toolkit for AI governance. This, he explains, is a comprehensive solution aimed to streamline the process of AI adaptation and scaling.
He also highlighted some of the use cases of watsonx, including the AI generated commentary and AI draw analysis feature in Wimbledon 2023. These two new features, he said, expanded on the suite of digital tools for fans on the Wimbledon App and wimbledon.com to help fans engage with The Championships on a deeper level.
The next use case Brendan highlighted was IBM's AI interface for HR systems. He told Dinis that IBM watsonx Assistant uses best-in-class natural language understanding (NLU) to provide easy access to HR policies and automate often-requested tasks. Stating the examples of WestBank and ABN AMRO, Brendan said that this interface improved employee experience and drove efficiency.
"The new use cases are inspiring customers to change the way they work or enhance their work", Brendan said. Explaining IBM's approach to make We are in an era where what you have already and how we can augment that to help you achieve your goal. This is our technical engineering approach in many cases."
Another highlight that Brendan brought forward was NASA's Marshall Space Flight Center collaboration with IBM to use its artificial intelligence (AI) AI foundation model technology. The collaborative effort, Brendan told Dinis, allows NASA's Earth-observing satellite data to discover new insights in NASA's massive trove of Earth and geospatial science data. Commenting on the effectiveness of of the model, he said:
"The model that we selected for this project proved to be 50% more effective than any other model in this space, and we used just half the tokens to generate it."
Brendan told Dinis that besides developing tech solutions for their clients, IBM is also focussed on helping them understand how to structure and govern these systems responsibly so as to avoid bias and errors as the scalability of AI technology can have costly effects to both business and society.
"The way we augment our solutions for customers really proves that we're not just a tech company; we are prepared to invest in how our customers crystallise the outcomes, deliver, and illustrate value to them", he said.
Speaking about the future trends for innovations and technological development in AI, Brendan said that significant efforts are being made to overcome the challenges in the traditional models of AI, including biases and other ethical issues. "Today, the AI is not only trying to improve the extent of accuracy but also the intent of users", he said.
He also hinted about the progress being made in the field of 'creating systems with persona'. "I can see the use of assistants and personas being more and more powerful in the Generative AI space, starting to produce more powerful outcomes as well."
Emphasising on the need of governing models, he said:
"There is so much we can do to enhance our understanding of how models are working and govern themselves. The better the understanding of AI and the existing processes can do when they are brought together, the better the innovation will be in that area. We are only at the beginning of that."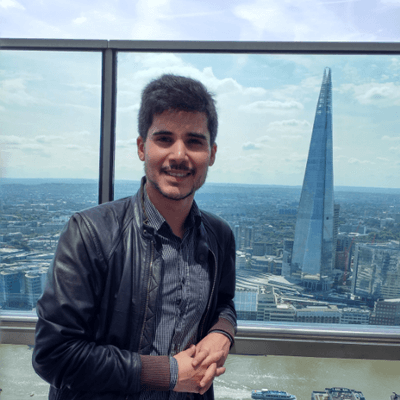 Hernaldo Turrillo is a writer and author specialised in innovation, AI, DLT, SMEs, trading, investing and new trends in technology and business. He has been working for ztudium group since 2017. He is the editor of openbusinesscouncil.org, tradersdna.com, hedgethink.com, and writes regularly for intelligenthq.com, socialmediacouncil.eu. Hernaldo was born in Spain and finally settled in London, United Kingdom, after a few years of personal growth. Hernaldo finished his Journalism bachelor degree in the University of Seville, Spain, and began working as reporter in the newspaper, Europa Sur, writing about Politics and Society. He also worked as community manager and marketing advisor in Los Barrios, Spain. Innovation, technology, politics and economy are his main interests, with special focus on new trends and ethical projects. He enjoys finding himself getting lost in words, explaining what he understands from the world and helping others. Besides a journalist, he is also a thinker and proactive in digital transformation strategies. Knowledge and ideas have no limits.