Studying Economics For Transition, at Schumacher College
If still more education is to save us, it would have to be education of a different kind: an education that takes us into the depth of things. E.F. Schumacher
A new generation is looking at economics in a novel way. They've moved beyond the profit mindset, and have embrace a new set of core values. Firmly believing that mainstream economics needs to change, their goal is to work with economics/businesses in ways that disrupt traditional economics, as they are grounded in values of social and environmental justice, collaboration and community building. These novel ways of working with economics are broadly entitled of New Economics. The term is relatively recent and still a bit undefined. A quick simple way to explain what New Economics means, is given by The New Economics Foundation: "economics as if people and the planet mattered." Examples of New Economics include cooperatives, social enterprises, the transition towns movement, new non-hierachical ways of management, the (real) sharing economy etc.
There are now a few Colleges and Business Schools offering degrees in this recent field.
Schumacher College, a unique educational centre, is a college providing education around the broad field of New Economics.
Schumacher College is an international centre for nature-based education, personal transformation and collective action. Located in the beautiful surroundings of Dartington, South Devon, it has a strong reputation for cutting-edge learning.
Their mission is:
"to inspire, challenge and question ourselves as co-inhabitants of the world, to ask the questions we all struggle to find answers to and to find sound knowledge, intuition and wonder in our search for solutions."
Schumacher College was founded in 1990 by Satish Kumar, John Lane and others, and first opened to students in January 1991 in Dartington. Its first visiting teacher was James Lovelock.
The college is located in the beautiful surrounds of South Devon, on the Dartington Hall Estate. The Dartington Hall Estate was founded in the 1920s by Leonard and Dorothy Elmhirst. They had been inspired by their long friendship with Rabindranath Tagore and their knowledge of Shantiniketan, that was owned by the Tagore family. At Shantiniketan, Tagore had tried to introduce progressive education and rural reconstruction. Leonard and Dorothy Elmhirst set out on a similar goal for the depressed agricultural economy in rural England. In 1935, the Dartington Hall Trust, a registered charity, was set up in order to run the estate. The goal of the trust was to cross influences from east and west to set up an experiment in rural regeneration. Their project was to experiment with progressive forms of education, art and agriculture – a legacy which we continue today.
College Schumacher is part of the Dartington Hall Trust. The name of the college, was inspired by E.F. Schumacher, the economist, environmentalist, and development educator and the author of the book "Small is Beautiful". Consisting of a collection of essays, the book critiques of Western economics and reflects whether mainstream economics really has anything to do with what we truly care about. "Small is beautiful" was one of his mottos. He wrote: "Any intelligent fool can make things bigger and more complex… It takes a touch of genius – and a lot of courage to move in the opposite direction."
Schumacher also believed that we cannot consider the problem of technological production solved if it requires that we recklessly erode our finite natural capital and deprive future generations of its benefits. The famous economist has influenced a whole generation of visionary thinkers and his one of the main sources of inspiration to the work developed at Schumacher College.
The following video gives us a glimpse of how education happens at Schumacher College:
Since 2011 Schumacher College launched their first postgraduate programme in Economics for Transition in association with the New Economics Foundation, the Transition Network and the Business School at Plymouth University.
The MA in Economics for Transition aims to educate students on a economic system fit for the ecological, social, economic and spiritual challenges of the 21st century as we make the great transition to low carbon, high wellbeing and resilient economies. Its aim is to educate students about radical economic thinking, activism and entrepreneurship globally.
Besides the MA in transition economics, the college offers other post graduate courses such as an MA in Ecological Design Thinking and a MSc in holistic Science besides numerous short courses. The overall ethos of the College is to offer transformative learning for "Sustainable living", and holistic education courses for people concerned with economic social and environmental issues. All of their courses are deeply grounded in an ecological and holistic worldview which, once experienced, the college promises, will completely transform the way you live and work in the world.
Some of its renowned teacher are Jonathan Dawson, Kate Raworth, Rob Hopkins, Fiona Ward and many others.
Famous visiting lecturers include Fritjof Capra, Ph.D., physicist and systems theorist, is a founding director of the Center for Ecoliteracy in Berkeley, California, Dr. Vandana Shiva, a famous Indian Scholar and environment activist, Rupert Sheldrake, one of the world's most innovative biologists and writers, best known for his theory of morphic fields and morphic resonance, and many others.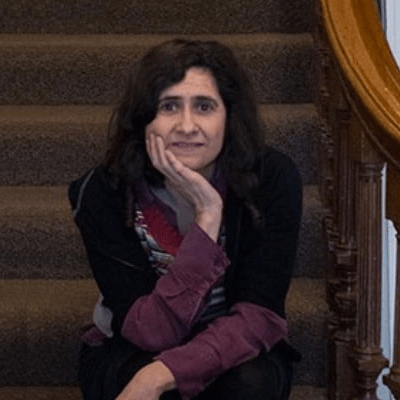 Maria Fonseca is the Editor and Infographic Artist for IntelligentHQ. She is also a thought leader writing about social innovation, sharing economy, social business, and the commons. Aside her work for IntelligentHQ, Maria Fonseca is a visual artist and filmmaker that has exhibited widely in international events such as Manifesta 5, Sao Paulo Biennial, Photo Espana, Moderna Museet in Stockholm, Joshibi University and many others. She concluded her PhD on essayistic filmmaking , taken at University of Westminster in London and is preparing her post doc that will explore the links between creativity and the sharing economy.