In any social business environment the sales and marketing functions of organisations are expect to deliver, and usually to increasingly high targets. Many organisations come up with transformation programmes to try and improve their marketing and sales to be able to achieve this, but according to McKinsey, 66% of these efforts fail. McKinsey analysts Hatami, McLellan, Plotkin and Schulze (2015) set out to address this challenge, and they believe they have delivered an approach that leads to a 90% success rate, and organisations being able to sustain above market growth over time. On their approach, they state that:
"Our experience leading 100 commercial transformations in the past five years, together with the results from a survey of 2,300 executives, distilled the recipe for success into the following six components."
Know where you are and where you are going
The components start with "Know where you are and where you are going." Specifically, what this means is that organisations need to have a good business case for change and understand what they want to achieve from the change. Relying on intuition is not good enough, and will not lead to success. This means coming up with some goals and visions based on real competencies. It is argued that a workshop to brainstorm can be a helpful approach in gaining this vision and goals, as well as being able to understand true competencies in the commercial area.
Create a transformation team built on trust
The second step is "Create a transformation team built on trust." This team will need to lead the commercial change to success. Such a team will often include the Chief Marketing Officer, sales head and the CEO but it is also argued that it needs to include marketing and sales unit heads, and in some cases operations. An HR representative can also be helpful to deal with people aspects, and a communications professional can be useful in helping to tailor messages around the change. Within this team trust needs to be built so that the team can be successful with its endeavours. This means that the team members need to know and understand one another very well.
Score quick wins
The third step is "Score quick wins". One of the problems outlined with transformational change is that unless results are seen quickly, the efforts on them will be stopped. Showing that change can be achieved quickly helps to support the business case and continue the momentum in favour of change. Showing that products can be moved into new markets or sold in different ways proves the case for change and builds support among stakeholders in what is being done.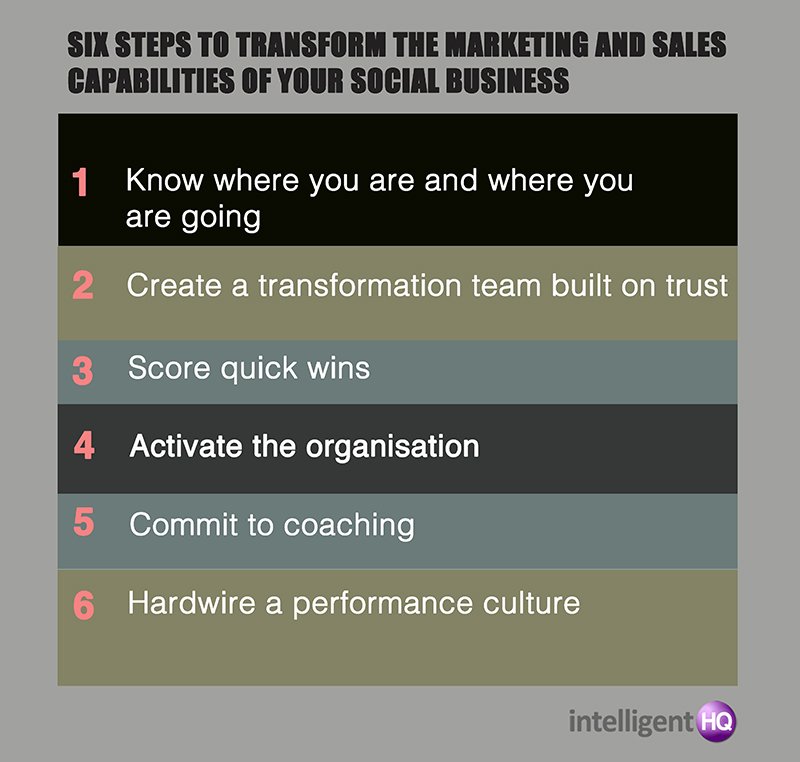 Activate the organisation
The fourth step is "Activate the organisation". The team that has been set up to lead the transformation is responsible for achieving this, and this requires creating change at all levels. There need to be new behaviours, attitudes and mind-sets. This requires coaching, problem solving and reinforcement of what is needed. One approach that is considered to be helpful is finding committed people throughout the organisation that are prepared to support the change and to some degree act as champions of it. These are the people that really help to drive the change through the organisation at levels that may be less accessible to the transformation team.
Commit to coaching
The fifth step is "Commit to coaching." It is only in providing the support and constructive feedback needed that people can learn and grow and develop the new behaviours and mind-sets. Coaching may include measures to increase sales skills, but may also include soft skills such as improving customer service or dealing with difficult conversations. In some cases, McKinsey found that an increase of 25% in close rates could be achieved through coaching.
Hardwire a performance culture

The final step necessary to succeed with the change is "Hardwire a performance culture." One of the most important ways that it is argued that this can be achieved is in monitoring and measuring the change to make sure that the business is going along the right track. Metrics used could include looking at behavioural change and measuring that, but also looking at how training correlates with improved performance. Other steps in this that can be taken are carrying out surveys with staff to understand the extent to which people believe that efforts are succeeding. Customer surveys and metrics are also helpful in this regard. All of this can help to maintain the success that the organisation has achieved for the longer term.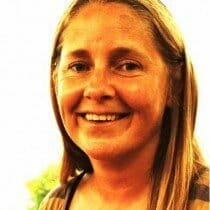 Paula Newton is a business writer, editor and management consultant with extensive experience writing and consulting for both start-ups and long established companies. She has ten years management and leadership experience gained at BSkyB in London and Viva Travel Guides in Quito, Ecuador, giving her a depth of insight into innovation in international business. With an MBA from the University of Hull and many years of experience running her own business consultancy, Paula's background allows her to connect with a diverse range of clients, including cutting edge technology and web-based start-ups but also multinationals in need of assistance. Paula has played a defining role in shaping organizational strategy for a wide range of different organizations, including for-profit, NGOs and charities. Paula has also served on the Board of Directors for the South American Explorers Club in Quito, Ecuador.