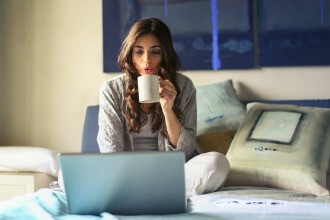 Ever since the coronavirus pandemic made itself known to the world, businesses from every corner of the world had to shut down their offices and had instructed their employees to work from home. Even though remote work is not a new concept as it has been around for quite a while, it has certainly blown up ever since COVID-19 started enveloping the world.
Now to answer the question posed by the title of this article, yes, working from home is indeed profitable. In fact, you'll find that numerous work from home jobs pay just as much or even more than the average American salary. And there are plenty of benefits that come with remote jobs as well, such as the convenience of time, transportation, responsiveness, and much more.
Benefits of Work From Home
We are going to name some of the benefits or remote jobs. Let's start.
1. Spend Less Time Commuting
Not only will cutting commute out save big on time but also greatly enhance employee morale. And best of all, there won't be any money spent on transportation, personal or public.
2. More Comfortable Work-life Balance
Instead of having to rely on a fixed nine-to-five schedule, you can contribute as many hours as you like during the day as long as your work gets done. This also results in strong outcomes and better work satisfaction. It also means you can reserve time for house errands, medical appointments, school schedules, and other activities if it's feasible.
3. You Can Work Anywhere You Like
Remote work doesn't necessarily involve working from home exclusively. In fact, you can work from any corner of the world as long as you can deliver your assignments and tasks within a day or a specific deadline. You can even work from your own bed or even the bathroom.
4. Employees Will be More Productive
Because employees have better control over their schedule and operate from a more comfortable work environment, they tend to be more productive working from home.
5.Enhanced Inclusivity
Remote work allows companies to welcome inclusion and diversity by hiring people from several cultural, geographic, and socioeconomic backgrounds and varying perspectives.
We're pretty certain that you now understand the kind of value and facilities that remote work can offer you. Now let's have a look at some of the best work-from-home jobs available today that pay more than just a decent buck.
Best Work-From-Home Jobs
1.Developer
One of the coolest jobs that can be done online is that of a developer. This means that whether you're an app developer, games developer, and engineer, or even a full stack developer, there is good money to be made here.
Developer occupations are frequently remote and receive enormous demand from many well-established businesses from around the world. This is what makes this field one of the most profitable jobs in general.
This also increases the tech industry's growth potential in the years to come. If this field interests you, then good for you, and even if you don't have the skills but are still interested, you'll find that there are plenty of free resources available, which will give you all the skills you need without contributing any kind of fee.
The BLS reports that 16% of all the web developers in 2018 were self-employed with most of them working from home, or anywhere else with nothing to work with but a fast internet connection and a laptop.
In 2018, the national median wage for web developers was $69,430, alongside a 10% earning on average of $124,480.
2.Computer Support Specialist
Another commendable remote work job that's getting a lot of buzzes recently is a computer support specialist. This field receives great demand from call centers, corporations, nonprofits, and other types of businesses.
As a matter of fact, Global Workplace Analytics President Kate Lister has named computer support specialist as one of her favorite remote work jobs.
The US Bureau of Labor expects a 10% growth in the field by 2028 as businesses upgrade their computer software and equipment.
The median annual wage rate for a computer network support specialist is $63,460. On the other hand, a computer user support specialist's median annual wage rate is $52,270.
3.Virtual Assistant
With many businesses going online today, it's no wonder so many firms are willing to hire virtual assistants. This is one of the jobs which helps business owners remove the pressure of taking on simplistic but time-consuming tasks.
A virtual assistant fulfills orders for online stores or performs customer service duties. Sometimes, they're also responsible for making small changes and updates to websites or even take care of calendars. Virtual assistants need to be organized, responsible, and possess commendable communication skills.
One interesting observation is that a virtual assistant isn't exactly a full-time post, which is why there's plenty of flexibility that comes with it. This job is typically for those who are dealing with plenty of time constraints.
Some of the best sites to opt for virtual assistant jobs are Zirtual.com or Upwork.com.
Although the pay may vary, virtual assistants make an average of around $26,350 annually, with the top percentage making over $43,000.
4.Bookkeeping
Bookkeeping is a conventional type of job that can transition online pretty easily since there is less client interaction involved anyway. If you're good at organization and with numbers, then bookkeeping is a reasonable remote job for you. And since virtually every business requires a bookkeeper, there are plenty of options available when it comes to looking for bookkeeping jobs online.
And if you have a massive network, you can extend your services to those that you already are in contact with or can also utilize a freelancing website to your advantage. Bookkeeping job pay varies between $25 to $100 an hour.
5.Translator/Interpreter
If you have a high native proficiency in English, and at least one or two other languages, then there are plenty of remote work job opportunities available at hospitals, schools, corporations, courts, and other private and public sector entities. Translators mainly work with audio or written documents.
Translators perform a variety of tasks like translating documents, proofreading, or testing websites. The median annual wage rate for a translator is $51,830. The BLS projects a 19% growth rate in this job field, which is even faster than average.
This is an article provided by our partners network. It does not reflect the views or opinions of our editorial team and management.
Sponsored content

Founder Dinis Guarda
IntelligentHQ Your New Business Network.
IntelligentHQ is a Business network and an expert source for finance, capital markets and intelligence for thousands of global business professionals, startups, and companies.
We exist at the point of intersection between technology, social media, finance and innovation.
IntelligentHQ leverages innovation and scale of social digital technology, analytics, news and distribution to create an unparalleled, full digital medium and social business network spectrum.
IntelligentHQ is working hard, to become a trusted, and indispensable source of business news and analytics, within financial services and its associated supply chains and ecosystems.