Professor Yu Xiong At 'Living With Sunny'
Professor Yu Xiong joins Sunny (Gurpreet) Singh and Thomas Power in the sixth episode of the 'Living with Sunny' Youtube podcast series. The three experts discuss the most prevalent issues in sustainability, entrepreneurship, innovation, China's development, and more. Professor Yu Xiong At 'Living With Sunny' : Living with Sunny's episode 6 is out now on YouTube and chosen podcast destinations.
Professor Yu Xiong At 'Living With Sunny'
Professor Yu Xiong is an academic, researcher and serial entrepreneur. He was trained as a computer scientist, then became a professor in various business schools across the UK. He is active in doing research, growing start-ups, and creating his own companies. He shares his extensive knowledge about innovation with the listeners.
The conversation has included a comparison between Chinese vs. Western work cultures. "In China, people work for most of their time. 12 o'clock, in China, is like daytime in the UK. All the shops are open, especially the food shops and the entertainment centres. However, people don't just tirelessly, without direction. For each endeavour, the government will have a whitepaper, a document that will say, let's work on the direction for the next 5 years. Then it's 5 years. Nothing like in the UK", says Xiong.
In the sustainability area, Singh has made a plea for the Western leaders to introduce a global green tax: "America says, ok, we're going to have a global 10% tax rate, mandatory across the world. They were able to achieve that. What makes us think that we are not able to achieve, through the will, through the political and the corporate will, that every corporation in the world has to give X percent, towards sustainability, and if they don't do that, they get taxed a bit higher. I can live with that".
Professor Yu Xiong At 'Living With Sunny'
The 'Living with Sunny' YouTube podcast series is co-hosted by Sunny (Gurpreet) Singh and Thomas Power. As seekers of wellbeing, the two interview a range of figures from the worlds of business, medicine, academia, science, technology, and publishing, to explore individual wellbeing journeys and map out society's progress towards a better, more harmonious world, across various industries.
Sunny strongly believes in the Wholistic Wellbeing concept. That is what this podcast really is about. Wholistic Wellbeing makes you feel better; it is about becoming a better person, mentally, emotionally, and physically. 
As a seeker, Sunny has long studied how the use of holistic health can help everyone achieve a feeling of wholeness necessary to their overall wellbeing. He calls this concept Wholistic Wellbeing, which consists of 7 pillars: Emotional Wellbeing, Physical Wellbeing, Social Wellbeing, Financial Wellbeing, Professional Wellbeing, Community Wellbeing, and Planetary Wellbeing.
You can find 'Living With Sunny' via YouTube, but also via LinkedIn, Apple, Google Podcast, Spotify, and over 20 podcast directories. Tune into the Living with Sunny podcast on YouTube and Podcast directories. New episodes every Tuesday.
Living with Sunny: The Hosts
Sunny (Gurpreet) Singh
Sunny (Gurpreet) Singh is the founder of RoundGlass and Edifecs, and the visionary behind the Wholistic Wellbeing concept: the practice of using wholistic health in order to feel whole and at one with ourselves.
A serial entrepreneur and paragon of corporate wellbeing, Sunny has dedicated his life to developing and sharing a sustainable and accessible holistic healthcare model. The culmination of years of work in this field, RoundGlass is Sunny's magnum opus: a company through which he offers cutting-edge solutions, content, an app, and other technologies to facilitate people's journeys towards Wholistic Wellbeing.
Sunny's altruism also shines through his philanthropy, most notably through the RoundGlass Foundation in India. Among other impressive projects, the Foundation has been supporting over 700 villages in India and other exceptional work in wellbeing, education, sustainability, and sports. Offshoots like RoundGlass Sustain and RoundGlass Sports have contributed tremendous progress in their respective areas.
Thomas Power
Business advisor and tech trailblazer, Thomas Power is an entrepreneur and serial board member, with expertise spanning multiple industries. He has worked for the likes of Apple, Google, and Microsoft, and now sits on the board for The Business Café, Social Power Limited, Digital Entrepreneur, and, most significantly, 9 Spokes, the software company responsible for the 9 Spokes business management app allowing companies to aggregate meaningful data across their business, apps and banks. In this capacity, Power has harnessed his technical acumen to deliver insights to small businesses so they may improve their efficiency, and offer them access to vital industry information, normally only available to bigger businesses with greater budgets. Supporting corporations from start-ups to household names, Thomas' input is visionary and scalable to any size, helping businesses grow and thrive.
Pursuing his passion to help others on their journey to corporate success, Power founded Business is Personal, a mentoring service for businesses and professionals, in 2019. He runs the service with his wife Penny, and they offer seasoned advice on Mental Wellbeing for employees as well as bespoke services to enhance the health and vitality of businesses.
With over 1,000 speeches delivered in more than 56 countries, including a TEDx talk on 'The Future of Social Networks', Thomas' three decades at the forefront of tech have earned him enviable status as a speaker. Much of Power's present time is dedicated to traveling the world, educating and advising corporate clients, and hosting industry conferences.
About Professor Yu Xiong
Professor Yu Xiong At 'Living With Sunny' : Professor Yu Xiong is an academic, researcher and serial entrepreneur. He was trained as a computer scientist, then became a professor in various business schools across the UK. He is active in doing research, growing start-ups, creating his own companies. During his career, he has had wide publications in top academic journals and created business impact in multiple industries. His research has been published in world-leading and international excellence journals including the European Journal of Operational Research, International Journal of Production Research, International Journal of Production Economics etc. His research has been funded by EPSRC (Engineering and Physic Science Research Council), Department of Business, Energy and Industry Strategies, British Academy, British Council, Offshore Renewable Energy Catapults, China National Science Foundation etc. Professor Xiong is a Fellow of the University of Cambridge Institute for Sustainability Leadership. He is also the President-elect of the Chinese Economic Association of EU/UK.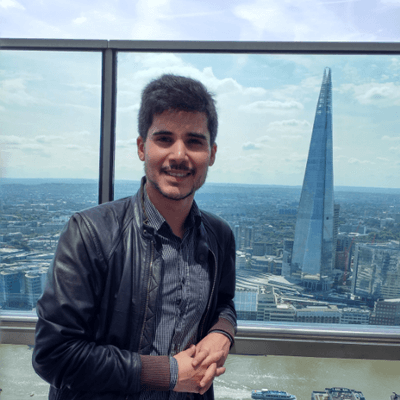 Hernaldo Turrillo is a writer and author specialised in innovation, AI, DLT, SMEs, trading, investing and new trends in technology and business. He has been working for ztudium group since 2017. He is the editor of openbusinesscouncil.org, tradersdna.com, hedgethink.com, and writes regularly for intelligenthq.com, socialmediacouncil.eu. Hernaldo was born in Spain and finally settled in London, United Kingdom, after a few years of personal growth. Hernaldo finished his Journalism bachelor degree in the University of Seville, Spain, and began working as reporter in the newspaper, Europa Sur, writing about Politics and Society. He also worked as community manager and marketing advisor in Los Barrios, Spain. Innovation, technology, politics and economy are his main interests, with special focus on new trends and ethical projects. He enjoys finding himself getting lost in words, explaining what he understands from the world and helping others. Besides a journalist, he is also a thinker and proactive in digital transformation strategies. Knowledge and ideas have no limits.