Music For Loss And Grief By Amrita Sen and Dinis Guarda
Music For is the new podcast between artist, designer and producer Amrita Sen and citiesabc and openbusinesscouncil Founder Dinis Guarda. In this episode of Music For Loss And Grief  Amrita and Dinis explore the difficult concept of loss and grief and how music can help us get through them.
Thought as a collaborative work between the two, the podcast showcases the power of music to improve our wellbeing and healing as well as Amrita's exclusive ideas in terms of narratives from Indian Mythology. She aesthetically introduces a fresh perspective to the potentials of music in alleviating one's inner self by taking an illustration of Buddha's life. 
About Amrita Sen
Originally from India, Amrita Sen is a US-based designer, singer, producer and businesswoman of Indian-themed products and entertainment for global markets. Amrita Sen combines the creation of original artistic content with extensive business experience to commercialize unique products at retail and on the air.
Among her many achievements, Amrita performed at the 2009's Academy Awards with music legend AR Rahman, singing Jai Ho from the Oscar-winning movie, Slumdog Millionaire. As an entrepreneur, Amrita creates original Indian-themed art on successful lines of fashion and home products and distributes it through her own personal brand, Amrita Sen Designs.
More about Amrita Sen
Read The Book: https://issuu.com/bollydoll/docs/awakened_art_edition_website
Listen To Amrita's Music: https://open.spotify.com/artist/21n4V78skCmFZRgMxtLic0?si=4hirzwf-RLeeZJ6UrPFdpA
https://www.amritasen.com/
About Dinis Guarda
Dinis Guarda is an author, academic, influencer, serial entrepreneur and leader in 4IR, AI, Fintech, digital transformation and Blockchain. With over two decades of experience in international business, C level positions and digital transformation, Dinis has worked with new tech, cryptocurrencies, drive ICOs, regulation, compliance, legal international processes, and has created a bank, and been involved in the inception of some of the top 100 digital currencies.
Dinis has created various companies such as Ztudium tech platform a digital and blockchain startup that created the software Blockimpact (sold to Glance Technologies Inc) and founder and publisher of intelligenthq.com, hedgethink.com, fashionabc.org and tradersdna.com. Dinis is also the co-founder of techabc and citiesabc, a digital transformation platform to empower, guide and index cities through 4IR based technologies like blockchain, AI, IoT, etc.
He has been working with the likes of  UN / UNITAR, UNESCO, European Space Agency, Davos WEF, Philips, Saxo Bank, Mastercard, Barclays and governments all over the world.
He has been a guest lecturer at Copenhagen Business School, Group INSEEC/Monaco University, where he coordinates executive Masters and MBAs.
As an author, Dinis Guarda published the book 4IR: AI, Blockchain, FinTech, IoT, Reinventing a Nation in 2019, among others. His upcoming book, titled 4IR Magna Carta Cities ABC: A tech AI blockchain 4IR Smart Cities Data Research Charter of Liberties for our humanity is due to be published in 2020.
He is ranked as one of the most influential people in Blockchain in the world by Right Relevance as well as being listed in Cointelegraph's Top People In Blockchain and Rise Global's The Artificial Intelligence Power 100. He was also listed as one of the 100 B2B Thought Leaders and Influencers to Follow in 2020 by Thinkers360.
Music For Loss And Grief By Amrita Sen and Dinis Guarda
Other Episodes:
Music For Buddha 3 – Yaśodharās Story: Awakened By Amrita Sen and Dinis Guarda
Amrita Sen And Dinis Guarda Launch New Youtube Podcast Series "Music For" Reflecting On Life And Wellbeing With Global Special Guests
Music For Podcast: Music For Buddha 2 With Special Guest Suvarna Jha Sira – Reconstructing Buddha's Life
Music For Career: You Shrink Before You Expand By Amrita Sen x Dinis Guarda
PODCAST: Music For Series – Reimagining Buddha's Life By Amrita Sen And Dinis Guarda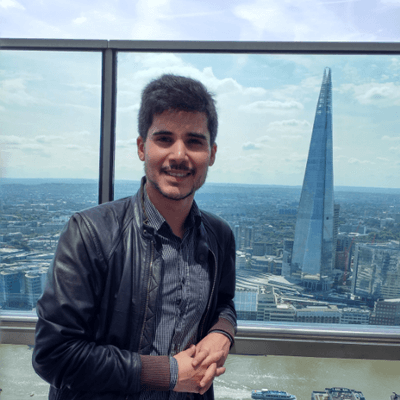 Hernaldo Turrillo is a writer and author specialised in innovation, AI, DLT, SMEs, trading, investing and new trends in technology and business. He has been working for ztudium group since 2017. He is the editor of openbusinesscouncil.org, tradersdna.com, hedgethink.com, and writes regularly for intelligenthq.com, socialmediacouncil.eu. Hernaldo was born in Spain and finally settled in London, United Kingdom, after a few years of personal growth. Hernaldo finished his Journalism bachelor degree in the University of Seville, Spain, and began working as reporter in the newspaper, Europa Sur, writing about Politics and Society. He also worked as community manager and marketing advisor in Los Barrios, Spain. Innovation, technology, politics and economy are his main interests, with special focus on new trends and ethical projects. He enjoys finding himself getting lost in words, explaining what he understands from the world and helping others. Besides a journalist, he is also a thinker and proactive in digital transformation strategies. Knowledge and ideas have no limits.