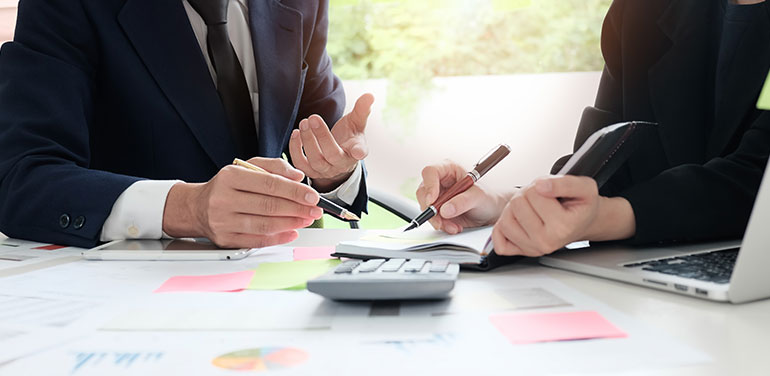 There's a common misconception that working with a financial planner is only for wealthy people. The reality is, there are many reasons you could benefit from working with a financial professional. Financial professionals, for example, can help you understand how to plan for retirement, regardless of where you are in your career.
They can help you create a solid long-term plan and answer questions you may have.
The following are some things to know about working with a financial planner.
What Is a Financial Planner?
A financial planner is sometimes also called a financial adviser.
A certified financial planner or CFP is someone who meets high industry standards. For example, they've completed education in personal financial planning, they have thousands of hours of experience, and they've passed a board exam.
A financial planner is someone who should be able to offer you broad advice in different areas of your finances, relevant to your personal situation. With that being said, some financial planners do focus on a specific area like retirement planning.
It doesn't matter what your income level is for you to find the services of a financial planner beneficial.
Fee-Only vs. Fee-Based
There are two general ways a financial planner charges for their services.
There's something called fee-only, and then there's another category called fee-based.
Fee-only financial planners don't receive a commission, and they are fiduciaries. A fiduciary is someone who had to make decisions in your best interest as the client. You would pay a fee-only financial planner by the hour, a flat fee, or a fee based on assets under management.
A fee-only planner can't receive money from a brokerage firm or an insurance company if their client puts their money there.
A fee-based planner isn't a bad thing. It just means that they might recommend specific products or services to you based on a commission they could receive.
The Benefits of a Financial Advisor
You don't have to be rich to work with a financial advisor, but the services can be expensive, so there are certain circumstances where you might find it's more beneficial to use a financial advisor than others.
You might see a financial planner when you first start in your career and perhaps you have to make decisions about savings and retirement. They can help you create a roadmap for your future spending and saving.
You might also just not enjoy the ins and outs of managing your money, or you feel like someone who's an independent third-party might help you, whereas when you do everything on your own your emotions might get in the way.
If you don't yet have a nest egg set aside, you might not want to invest in the services of a financial planner.
Once you do have some savings set aside, you can start to consider it. A financial planner can pay for themselves within a few years if they help you make smart money decisions.
Types of Financial Advisors
Above, we've primarily been discussing traditional in-person advisors. In-person advisors may include not only CFPs but brokers or stockbrokers may fall into this category as can registered investment advisors and wealth managers.
There are alternatives if you're not ready for traditional financial advisement services, however.
For example, there are robo-advisors. Robo-advisors are an inexpensive way to have a managed investment portfolio. A robo-advisor makes investments based on algorithms.
Benefits of a robo-advisor include the fact that there are usually either low or no account minimums to get started, and they're a good starting point if you want to save for retirement. You don't have to learn much, if anything about investing, and you can create a set-it-and-forget-it strategy easily.
There are also online financial planning services available, and these tend to be less expensive than working with a traditional financial planner but more expensive than a robo-advisor. With online services, you'll usually do virtual meetings, and you'll get a personalized financial plan.
Overall, no one can tell you when you should get a financial planner. It depends on your budget, your goals, and your comfort level.
You could start with a robo-advisor and save money and start planning for the future, and then as you advance in your career you might want the more personalized advice of an in-person, traditional advisor. Everyone is on a different financial path, but understanding what a planner or advisor does can help you know what's right for you currently.

Founder Dinis Guarda
IntelligentHQ Your New Business Network.
IntelligentHQ is a Business network and an expert source for finance, capital markets and intelligence for thousands of global business professionals, startups, and companies.
We exist at the point of intersection between technology, social media, finance and innovation.
IntelligentHQ leverages innovation and scale of social digital technology, analytics, news and distribution to create an unparalleled, full digital medium and social business network spectrum.
IntelligentHQ is working hard, to become a trusted, and indispensable source of business news and analytics, within financial services and its associated supply chains and ecosystems.