IntelligentHQ decided to interview an emergent author and entrepreneur Mark Mueller-Eberstein. Prof. Mark Mueller-Eberstein is an internationally renowned business leader, entrepreneur, consultant, best-selling author, and a Professor at Rutgers University Center for Management Development. He leads "The Knowledge Economy Research Institute" as well as Adgetec Corporation's consulting business. Using a cross-functional and international approach, they help current and future leaders align their business and technology strategies, and leverage opportunities.
Mark is fascinated by the dynamic between the human and technical factors that positively impact business operations, and has advised business leaders from a variety of industries on these topics for over a decade.  Mark has become one of the world's leading experts on how businesses can leverage key technology trends to drive a competitive advantage and his books have been translated into a dozen languages and been recommended by leading publications from the US over Russia and China to Germany.
Each year, Mark sets aside time to personally work with select clients around the world as a keynote speaker, workshop facilitator, and trainer.
IntelligentHQ: Can you tell us about you, your education and your career?
Mark Mueller-Eberstein: I was born and raised in Germany and have been fascinated by technology, business challenges and how and why people behave as long as I can remember.
Having worked in technology leadership positions at Fortune 500 companies, including Hewlett Packard and Microsoft, I can look back and contribute more than 20 years of experience in the information technology industry to clients reaching from startups to Industry leaders.
IntelligentHQ: You founded adgetec.com, can you tell us about it?
Mark Mueller-Eberstein: Adgetec was founded in 2009 based on client's demand for independent consulting bridging the (communication) gap between technology and business teams.  The core belief, guiding our consultants is that people and organizations deliver their best when they have access and share knowledge, expertise and information technologies to collaborate  and innovate. As a nearly completely virtual organization, we leverage our self the latest mobile, social and cloud technologies and ensure clear alignment for our team members behind core values that include:
Adgetec's mission is to help individuals and their organizations to be their best.
Adgetec's teams believe that science and data should guide decisions.
Adgetec's clients will succeed when they deliver value to their customers and realizing customer value is our top priority as well.
Adgetec's consultants are located in the US and in Europe but are helping clients worldwide. Over the last years we also have established strong relationships and insights into the Chinese market and help organizations and their leaders to succeed in the largest growing economy.
IntelligentHQ: You wrote "No Fear: Business Leadership In the Age of Digital Cowboys", can you tell us about it?
Mark Mueller-Eberstein: After Wiley published my first book "Agility: Competing and Winning in a Tech-Savvy Marketplace" with a focus on Information and communication technologies' impact on business success, the next frontier was the "personal" challenges of organizations and their leaders. The "No Fear project" goes far beyond the book "No Fear" itself.
Joining my co-author Pekka Viljakainen are dozens of leaders from around the world (including Peter Vesterbacka from Rovio, Birger Steen from Parallels, Victor Orlovsky (CIO of the largest Russian bank), Justin Fox from HBR (and previously Time Magazine), Peter Sondergaard from Gartner, Esther Dyson etc….). They all believe that FEAR is the biggest factor preventing us from growing as business leaders in a world that is more open to competition and growth than ever before. Borders are open. Goods, information and assets travel freely. 
Even consumers have changed. We are more willing to give our TRUST to bankers, shopkeepers and media houses, even if they are no longer located around the corner. So the world is open but people need to be aware and overcome their individual fears and concerns to fully realize their own and their organizations' potential and to create value for the people. The community can be found at http://www.nofear-community.com/
The book "No Fear" has been bestselling in many countries and is translated and available in over a dozen language (including Chinese, Russian, French, German) http://www.nofear-community.com/order/  Currently, I am working on my next book "The Agile CEO" to summarize best practices for anybody to succeed in business in a quickly transforming world.
IntelligentHQ: You are an author, speaker, coacher, mentor and consultant how do you manage the borders between these different areas?
Mark Mueller-Eberstein: First and foremost, nearly everything is team work. Discovering and knowing your own strengths and weaknesses allows to complements an individuals potential with great people in an environment where the sum its parts goes far beyond what one person can achieve. Personally, having the luxury of independence allows focus on the "top of Maslow's pyramid" for my own activities and dedicating my (limited) time to those areas and projects, where I can personally make the biggest value contribution.
Allowing to share, communicate, collaborate and learn on a global scale strengthens the value my team and I can deliver in all of the areas we are active and leverage the synergies.
IntelligentHQ: How do you see mentoring in a world obsessed with fast deliveries and in a accelerated startup focus?
Mark Mueller-Eberstein: Based on the broad experiences of building and managing global businesses and value of "making connections between great people" it has been extremely satisfying to help entrepreneur on their route to success. Often their passion and deep understanding of their areas of expertise can benefit tremendously from brief conversations with experts that can complement their strengths.
IntelligentHQ: As a speaker what is more important for you?
Mark Mueller-Eberstein: Customer Value. Aka the Satisfaction of the audience (learned something new and where entertained) and the organizers (consistent high quality delivery, exceeding their audiences expectations and easy to do business with)
What are the key areas for you as a business consultant? Working with our clients in truly defining their challenges and collaborating with them and their ecosystem to define the highest value solutions.
Because we are not looking for "yearlong contracts" but fast and agile results and to leverage the expertise and insights that are often already existing in an organization, one of our most successful "products" is the "Rapid Vision and Strategy development workshop" in which we bring people (often cross functional) together and in a proven methodology define a common understanding of challenge, situation and solution path. Participants and clients have called the results of the one or two day workshops  far more valuable for them and their organizations then 6 months "strategic project" of the traditional management consulting providers.
IntelligentHQ: How do you think IT is transforming with the advent of the web, apps and social media?
Mark Mueller-Eberstein: Information and communication technologies have radically transformed business and societies over the last decades. And we have just seen the beginning. It is a very exciting time with huge potential and opportunities for individuals and organizations. Relatively small organizations can (and do) compete with established players. Look at the small finish company Rovio, that created with the "Angry Bird brand" a company valued at US$8 Billion with less than 200 people and is competing successfully with e.g. Disney.
Geographical boundaries become far less relevant and smart and educated people from around the world collaborate on the "next big things". Business and society is going through some disruptive times. How do you see the big picture of business in a time of fast accelerated tech and digital redesign?
The traditional "management best practices" alone do not prepare organizations and individuals for success in  a quickly changing world.
Often analysis to a detail level expect 15 years ago is simply not feasible anymore and situations can change within weeks or even days dramatically. Often people are scared and don't know how to take advantage of this changed landscape. An truly "agile management" approach can be the answer but requires a fundamental different way of thinking and collaboration. Historical, cultural and other barriers will get in the way, but it also opens opportunities for individuals and organizations to achieve unprecedented success independent of traditional "success factors" like e.g. gender, race, access to physical interpersonal networks or geographical location.
IntelligentHQ: What is the main advice you would give to business leaders, startups or wannabes?
Mark Mueller-Eberstein: LEARN! Constantly and quickly. And the best way to learn is to "do". To try something new, collaborate, share, make big bets. Learn from what you do and listen to the market and your customers. Be the change you want to see in the world.
Lead and be the change: Mark Mueller-Eberstein at TEDxRainier:

Learn more about about Mark and Adgetec:www.Mueller-eberstein.com   www.adgetec.com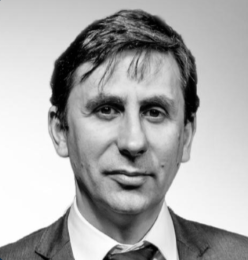 Dinis Guarda is an author, academic, influencer, serial entrepreneur, and leader in 4IR, AI, Fintech, digital transformation, and Blockchain. Dinis has created various companies such as Ztudium tech platform; founder of global digital platform directory openbusinesscouncil.org; digital transformation platform to empower, guide and index cities citiesabc.com and fashion technology platform fashionabc.org. He is also the publisher of intelligenthq.com, hedgethink.com and tradersdna.com. He has been working with the likes of UN / UNITAR, UNESCO, European Space Agency, Davos WEF, Philips, Saxo Bank, Mastercard, Barclays, and governments all over the world.
With over two decades of experience in international business, C-level positions, and digital transformation, Dinis has worked with new tech, cryptocurrencies, driven ICOs, regulation, compliance, and legal international processes, and has created a bank, and been involved in the inception of some of the top 100 digital currencies.
He creates and helps build ventures focused on global growth, 360 digital strategies, sustainable innovation, Blockchain, Fintech, AI and new emerging business models such as ICOs / tokenomics.
Dinis is the founder/CEO of ztudium that manages blocksdna / lifesdna. These products and platforms offer multiple AI P2P, fintech, blockchain, search engine and PaaS solutions in consumer wellness healthcare and life style with a global team of experts and universities.
He is the founder of coinsdna a new swiss regulated, Swiss based, institutional grade token and cryptocurrencies blockchain exchange. He is founder of DragonBloc a blockchain, AI, Fintech fund and co-founder of Freedomee project.
Dinis is the author of various books. He has published different books such "4IR AI Blockchain Fintech IoT Reinventing a Nation", "How Businesses and Governments can Prosper with Fintech, Blockchain and AI?", also the bigger case study and book (400 pages) "Blockchain, AI and Crypto Economics – The Next Tsunami?" last the "Tokenomics and ICOs – How to be good at the new digital world of finance / Crypto" was launched in 2018.
Some of the companies Dinis created or has been involved have reached over 1 USD billions in valuation. Dinis has advised and was responsible for some top financial organisations, 100 cryptocurrencies worldwide and Fortune 500 companies.
Dinis is involved as a strategist, board member and advisor with the payments, lifestyle, blockchain reward community app Glance technologies, for whom he built the blockchain messaging / payment / loyalty software Blockimpact, the seminal Hyperloop Transportations project, Kora, and blockchain cybersecurity Privus.
He is listed in various global fintech, blockchain, AI, social media industry top lists as an influencer in position top 10/20 within 100 rankings: such as Top People In Blockchain | Cointelegraph https://top.cointelegraph.com/ and https://cryptoweekly.co/100/ .
Between 2014 and 2015 he was involved in creating a fabbanking.com a digital bank between Asia and Africa as Chief Commercial Officer and Marketing Officer responsible for all legal, tech and business development. Between 2009 and 2010 he was the founder of one of the world first fintech, social trading platforms tradingfloor.com for Saxo Bank.
He is a shareholder of the fintech social money transfer app Moneymailme and math edutech gamification children's app Gozoa.
He has been a lecturer at Copenhagen Business School, Groupe INSEEC/Monaco University and other leading world universities.