Nick Ayton is a thought leader and a global expert in blockchain. A prolific man, Nick Ayton is not only a Blockchain Architect, Ethereum Believer and ICO Advisor, but also a filmmaker, who is creating a new film project project, that is revolutionising the way films are produced and financed. Besides aiming to design Blockchain propositions in film and entertainment, he is also interested in renewable energy, sharing economy, trading, insurance, capital markets.
Nick Ayton has worked in technology for 35 years with a background in Computer Science, Product Development, Sales and Restructuring. He was involved in 8 tech starts and used to be a corporate citizen holding senior roles in some of the largest IT Services, BPO and Tech companies over a career spanning more than 30 years.
screenshot of website 21million.com
He is a Writer, Speaker and Lecturer about Blockchain and ranks in some lists as one of the most influential Blockchain experts on a global scale. He was named as a Fintech 100 Influencer for 2017 and number 21 at the rise blockchain Top 100. He has chaired various Blockchain events and has been a keynote speaker to various events. He has also runned sessions for boards and hosted Blockchain Hackathons.
He advises a range of clients and sits on advisory boards of several Blockchain start ups supporting the founders.
Nick Clayton
Nick Ayton is currently writing a book entitled "Blockchain Design and Implementation Strategies" due to be published in 2017. Nick has published a range of White Papers and articles and is London's correspondent for CoinTelegraph. Some of his articles include: Myths about Blockchain, 50 Shades of Blockchain, Ignoring Blockchain is Corporate Suicide, Blockchain Returns Trust, Blockchain will Change Asset Management as we know it. White Papers include Global Custody Asset Management, Insurance Claims and Marine Insurance on the Blockchain.
His most recent project 21 million , will launch an ICO 12th June 2017. 21 million aims to make a crypto-funded blockchain indy tv series about the Bitcoin Revolution, an asset backed Token and a new Media and Film Production business on Ethereum.
With 21 million, Nick is experimenting with a new film finance model, using cryptocurrencies, where all staff are treated the same regardless of gender, creed, and beliefs. Everyone who joins the team will earn more than on any other comparable production because they will be paid not only a fair daily rate, but bonus 21 Million coins too. This approach also means that the crew is guaranteed to receive the same crypto value independently of where they live. Also, all 21M Coin holders receive royalties from income at exactly the same time. There will be no such thing as "first position". 21M Coin represents a contractual right to receive a royalty derived from the sale of 21Million content – the TV series. Early investors buying 21MCoin during the ICO will be entitled to receive royalties in perpetuity for Season 1 and follow on seasons.
If you would like to know more about the project and read its white paper, please check the < href="https://www.21million.co.uk/" target="_blank" rel="noopener noreferrer">website 21 million.
Dinis Guarda, the CEO of humaniq, had the pleasure of interviewing Nick Ayton, for the series Humaniq Faces, a Youtube video series with thought leaders who change the world.
Article powered by Humaniq
Launched in 2016, Humaniq aims to provide mobile finance to the 2 billion unbanked population through its mobile app for good, that uses biometric authentication to replace traditional methods of ID and security. Humaniq's open source stack and API will be available for startups and other businesses to build services on its core technology, making it easy to adapt their service and plug it into Humaniq's network to reach a huge, untapped audience.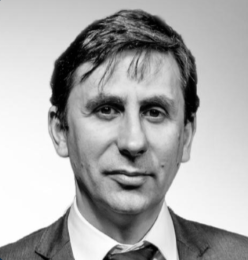 Dinis Guarda is the founder of intelligenthq.com and an author, serial entrepreneur and CEO of ztudium that manages openbusinesscouncil.org, fashionabc.org, blocksdna.com, lifesdna.com.
He creates and helps build ventures focused on global growth, 360 digital strategies, sustainable innovation, Blockchain, Fintech, AI and new emerging business models such as ICOs / tokenomics.
Dinis is the founder/CEO of ztudium that manages blocksdna / lifesdna. These products and platforms offer multiple AI P2P, fintech, blockchain, search engine and PaaS solutions in consumer wellness healthcare and life style with a global team of experts and universities.
He is the founder of coinsdna a new swiss regulated, Swiss based, institutional grade token and cryptocurrencies blockchain exchange. He is founder of DragonBloc a blockchain, AI, Fintech fund and co-founder of Freedomee project.
Dinis has created various companies namely Ztudium, a tech, digital and AI blockchain startup that builds cutting edge software, big data insights, publishes intelligenthq.com, hedgethink.com, fashionabc.org, openbusinesscouncil.org and tradersdna.com, citiesabc.com among others.
Dinis is the author of various books. His upcoming books "4IR AI Blockchain Fintech IoT Reinventing a Nation", "How Businesses and Governments can Prosper with Fintech, Blockchain and AI?", also the bigger case study and book (400 pages) "Blockchain, AI and Crypto Economics – The Next Tsunami?" last the "Tokenomics and ICOs – How to be good at the new digital world of finance / Crypto" will be launched in 2018.
Some of the companies Dinis created or has been involved have reached over 1 USD billions in valuation. Dinis has advised and was responsible for some top financial organisations, 100 cryptocurrencies worldwide and Fortune 500 companies.
Dinis is involved as a strategist, board member and advisor with the payments, lifestyle, blockchain reward community app Glance technologies, for whom he built the blockchain messaging / payment / loyalty software Blockimpact, the seminal Hyperloop Transportations project, Kora, and blockchain cybersecurity Privus.
He is listed in various global fintech, blockchain, AI, social media industry top lists as an influencer in position top 10/20 within 100 rankings: such as Top People In Blockchain | Cointelegraph https://top.cointelegraph.com/ and https://cryptoweekly.co/100/ .
He has been a lecturer at Copenhagen Business School, Groupe INSEEC/Monaco University and other leading world universities.
He is a shareholder of the fintech social money transfer app Moneymailme and math edutech gamification children's app Gozoa.
Between 2014 and 2015 he was involved in creating a fabbanking.com a digital bank between Asia and Africa as Chief Commercial Officer and Marketing Officer responsible for all legal, tech and business development. Between 2009 and 2010 he was the founder of one of the world first fintech, social trading platforms tradingfloor.com for Saxo Bank. In 2011 he created the B2B platforms socialmediacouncil.org and openbusinesscouncil.org with Jamie Burke.