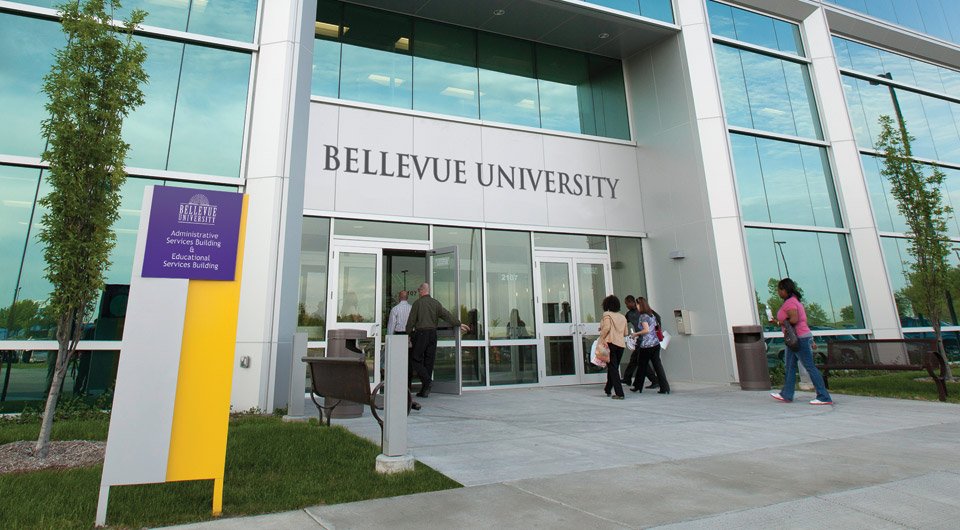 Dr. Michelle Kempke Eppler was appointed Associate Vice President for the University in December of 2017. She is the head of the Human Capital Lab and the founding Dean of Bellevue University's College of Continuing & Professional Education. She is also the Program Director for the Masters of Professional Studies (MPSD) degree for the University. Previously, Dr. Eppler served as Assistant Vice President of Academic Services/Dean of Students from 2003-2012, and the Faculty Athletic Representative (FAR) for BU Athletics from 2012-2018. She has more than twenty years of experience in higher education, including fifteen years of experience in academic administration.
Michelle has been recognized for her accomplishments by the Midlands Business Journal (40 Under 40 Award, 2008) and the Omaha World Herald (Suburban Under 40 Award, 2010). Michelle has an Ed.D. in Educational Leadership & Policy Analysis from the University of Missouri, a Master of Science in Counseling from the University of Nebraska, a Bachelor of Arts in International Relations/Latin American Studies (with minors in Geography and Spanish) from Drake University, and was an ISEP Scholar at la Universidad del Salvador, Buenos Aires, Argentina. She is a graduate of the Omaha Chamber's Leadership Omaha program, a current member of the Board of Directors of Kids Can Community Center, and Nebraska Council for Problem Gambling. Dr. Eppler was named to the Education Committee for the National Council for Problem Gambling in October of 2017 and was made chair of the Education Committee this January, 2018 as a result of her work as an educator and NE board member.
1.Please tell us a little about your department at the university?
The Human Capital Lab was founded in 2008. It was the first in the nation to study the business impact of learning. The Human Capital Lab has focused on measuring the impact of learning on productivity in the workplace – showing companies the return on investment (ROI) of investments made in the people who make up their workforces. We have partnered with numerous companies and support knowledge creation to the field through the University's Ph.D. program in Human Capital Management.
The College of Continuing & Professional Studies was founded in 2015. The vision for the college was to offer the University's world class expertise in online learning combined with our published subject matter experts to support organizational development needs. From supporting behavioral science licensure to business and leadership programs, the college continuously is expanding its portfolio to ensure Bellevue University learners can continue their life-long learning pursuits and ever-changing career fields with known supporters and friends.
2. Please describe what your work entails at the university?
I have the opportunity to represent the Human Capital Lab and the College of Continuing & Professional Education. I lead development of the vision, strategic planning and portfolio expansion of the Lab and College.
3. How did you get started in this line of work? How long have you been with your university?
I began in higher education in November of 1995as a Director of International Programs at Iowa Western. I helped establish an ESL program, study abroad programs and exchanges, and lead USAID grant programs. I next held the role of Registrar and Primary Designated School Official at Dana College. In 2003 I joined Bellevue University initially as the Dean of Academic Services and Dean of Students.
4. How have you prepared for your administrative career in higher education?
For careers in higher education, it helps to be flexible, open to diverse experiences and people, and to have a strong desire to help others learn and achieve their success. I was selected for my first position in higher education with Iowa Western because I had studied abroad in Argentina through Georgetown University's ISEP program as a student at Drake University. The experience with being an international student, an ability to speak Spanish, and having a strong personality coupled with a strong desire to make a difference in the world secured the position. As a first-generation college student, I really wanted to make sure I helped others accomplish their college dreams and know earning a college education is possible; even when people tell you "maybe you are not college material". After growing Iowa Western's programs, my mentor encouraged me to earn a Master's degree. If you want advance, you have to do more learning than just immigration regulations, international student health insurance policies, and non-immigrant tax obligations. I pursued a Master of Science in Counseling: College Student Personnel.
I selected this program over a Public Administration degree for two reasons. I needed to learn how to listen to others better and this background would help me help my students more especially with culture shock and re-entry issues. When I became a Dean of Academic Services at Bellevue University, I knew it was only a matter of time before I pursued a doctorate. I had a lot of referrals to various programs, but ended up selecting University of Missouri's Educational Leadership & Policy Analysis Ed.D. The learning from all of my degrees, though they may not look related, actually have prepared me to be the professional I am today.
5. How does your work support the university's overall strategy?
The work in the College of Continuing & Professional Education (CPE) supports the University's overall strategy of providing "Real Learning for Real Life". Earning a degree isn't the end of your educational experiences, sometimes it is the beginning. CPE provides learning for professionals who need to polish a skill, maintain their license, or just want to try something new, like start a business or fly a drone…or start a drone flying business. The Human Capital Lab helps businesses and organizations who invest in training or workforce development measure the impact or the return on investment (ROI). Demonstrating the ROI of learning interventions helps organizations make more informed decisions when they are examining their tuition assistance and training and development budgets that engage and maintain their workforce. Bellevue University has numerous Campus@Work corporate partners and a Premier Partnership Network with more than 50 community colleges across the nation. We strive to support them all and help demonstrate the value learning interventions contribute to a business's bottom line.
6. How does your work serve your institution's student and faculty population?
The tools and experiences in CPE are now being used to pilot initiatives to improve adjunct and faculty development experiences. The Human Capital Lab will begin to promote the knowledge and research being developed in our Ph.D. and Masters of Organizational Performance. We will be expanding our efforts to share the learning not only derived from the students but also our alumni and faculty. It's an exciting time to be able to bridge the power of learning from our educational programs with the power of application found in our Lab.
7. What is the most rewarding aspect of your work and what do you find to be the most challenging?
The most rewarding aspect of my work is we are always building, creating, and supporting learning. Being at an institution that accepts learners where they are and supports and helps them grow into being a well-rounded leader, citizen and learner. It's exciting.
The most challenging has been keeping up with this ever-changing field. Technology changes so quickly. Making sure we provide the most up to date and relevant content, technology, and experience has really supported my belief in working in pairs and traveling in groups. You can't possibly know everything. Being humble, admitting what you know and do not know, and surrounding yourself with others who know more than you is critical in making sure the learning experience is the best it can be for our students and partners.
8. Are there any projects you are working on to advance your institution?
I am but I can't talk about them at this time.
9. What is your leadership style and management principles for success?
I like maintaining a flat team structure. We divide the work based on our time, talent, and interests. We plan our goals together, write our strategic plans together, celebrate our wins and problem solve together. I try to mentor new administrative employees, help them learn the University's culture, their role and the work they need to complete. After a quarter, I let them do their work. We meet weekly to check in at a minimum. I feel like I work for them. It is my job to make sure they have the resources they need, solve the problems they cannot, and provide guidance and support with the more challenging cases they face.
10. Is there anything you want to share with our readers in closing?
Higher education administrators need to be life-long learners. If you find you are in a groove and doing the same thing you did last year, you might want to reconsider. Our work and best practices are changing and could be constantly enhancing the student learning experience. To provide the most engaging experience for students, you have to be ready for constant change and continuous learning.
Dr. Emad Rahim is an award-winning entrepreneur, educator, author, community leader and TEDx Speaker. He currently serve as the Endowed Entrepreneur-in-Residence at Oklahoma State University and teaches at the Jack Welch Management Institute in the Executive MBA program. He was recognized by the United Nations Foundation as a 2013 Empact100 Honoree for his social entrepreneurship work, received a Congressional Award for his community service and was the recipient of the Forty Under 40 Business Leadership Award sponsored by Syracuse University. His personal story was turned into a short documentary, "Against the Odds," and featured in the Huffington Post and Forbes. He co-authored "Leading Through Diversity: Transforming Managers Into Effective Leaders" and "The 4-Tions: Your Guide to Developing Successful Job Search Strategies" and is a frequent contributor to the Refractive Thinker book series, CEO Magazine, TweakYourBiz and YFS Entrepreneurship Magazine. Fellow him on Twitter @DrEmadRahim