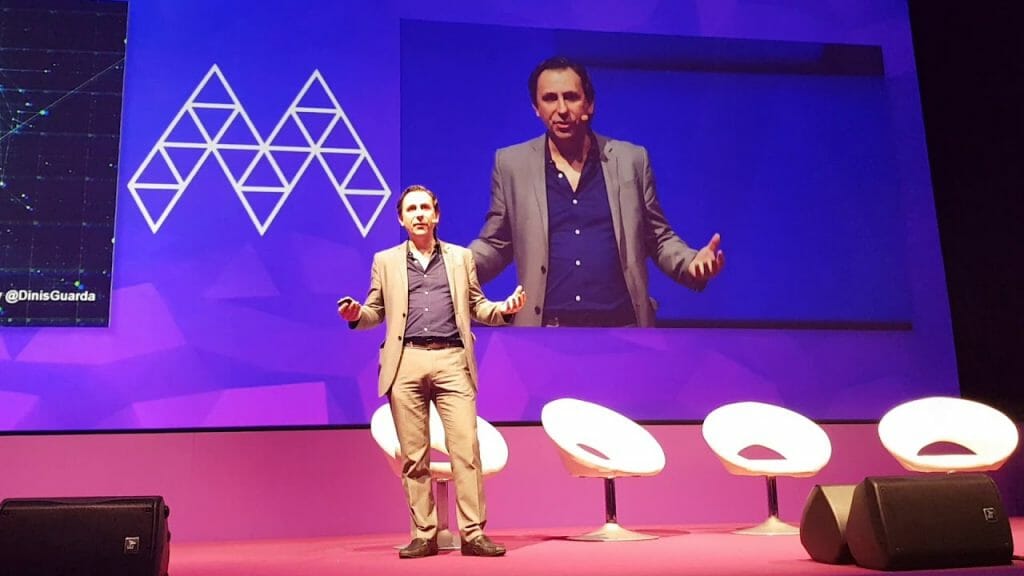 Intelligenthq Founder Dinis Guarda Ranks 4 In The Top 50 Blockchain Global Thought Leader Ranking By Thinkers360Intelligenthq founder Dinis Guarda ranked in 4th position in Thinkers360's Top 50 Blockchain Global Thought Leader live ranking. As a global thought leader in the areas of blockchain and emerging technologies, Dinis Guarda featured a score of 79.52 out of 100.
Dinis Guarda, author, serial entrepreneur and CEO of ztudium, among others, was especially active in the areas of Influencer, Author and Entrepreneurship, which propelled him to the top levels of the list.
The citiesabc founder shared the top 5 of Thinkers360's list with recognized global thought leaders. The first spot was held by Chief Technology Officer at BeyondIdentity, Gokul Alex, which achieved an impressive 100 score rating. The CTO at BeyondIdentity was especially active in the areas of Entrepreneurship, Authorship and as a Key Speaker in various events.
Gokul Alex is better known as a Blockchain Educator, Enterprise Architect, Data Scientist, Internet Technologist, and Quantum Computing Researcher with strong expertise on Artificial Intelligence, Distributed Computing, Digital Transformation, Epistemology, Innovation Management, Social Entrepreneurship and Semiotics. He is contributing to the global blockchain ecosystem as the ambassador for Hashgraph and ZCash. He has authored four patents and published numerous articles and blogs.He is an advisor to numerous Startups, Funds, Communities, Governmental and Non-Governmental Organizations, Social Networks, Regulatory Bodies and Business Consortiums. He has developed Blockchain reference architectures and proof of concepts for Product Provenance, Land Registry, Biometric Identity, Energy Audit, Health Records, Cybersecurity, Internet of Things etc.
The top 5 was completed by Founder at Datafloq, Dr Mark van Rijmenam (91.22 score); Founder, Blockchain and smart contracts Expert, Olivier Rikken (81.32) and Global Practice Leader at Tech Mahindra, Rajesh Dhuddu (75.92), respectively.
Special mention goes to citiesabc collaborator Sally Eaves, which made it to the position 17 and featuring a 48.23 score. Sally Eaves is a recognised thought leader in emergent technology (Blockchain, AI, Machine Learning, VR/AR), intrapreneurship, online media and navigating digital disruption and by working with authenticity, purpose and drive. This time, she was very active as an Influencer and Entrepreneur.
Likewise, recent citiesabc interview guest Helen Yu was also featured in the list. The Founder & CEO at Tigon Advisory Corp. was quite active as an Influencer and Entrepreneur, which granted her enough score to position herself as the 32nd top global influencer in the Top 50 Blockchain Global Thought Leader Ranking By Thinkers360.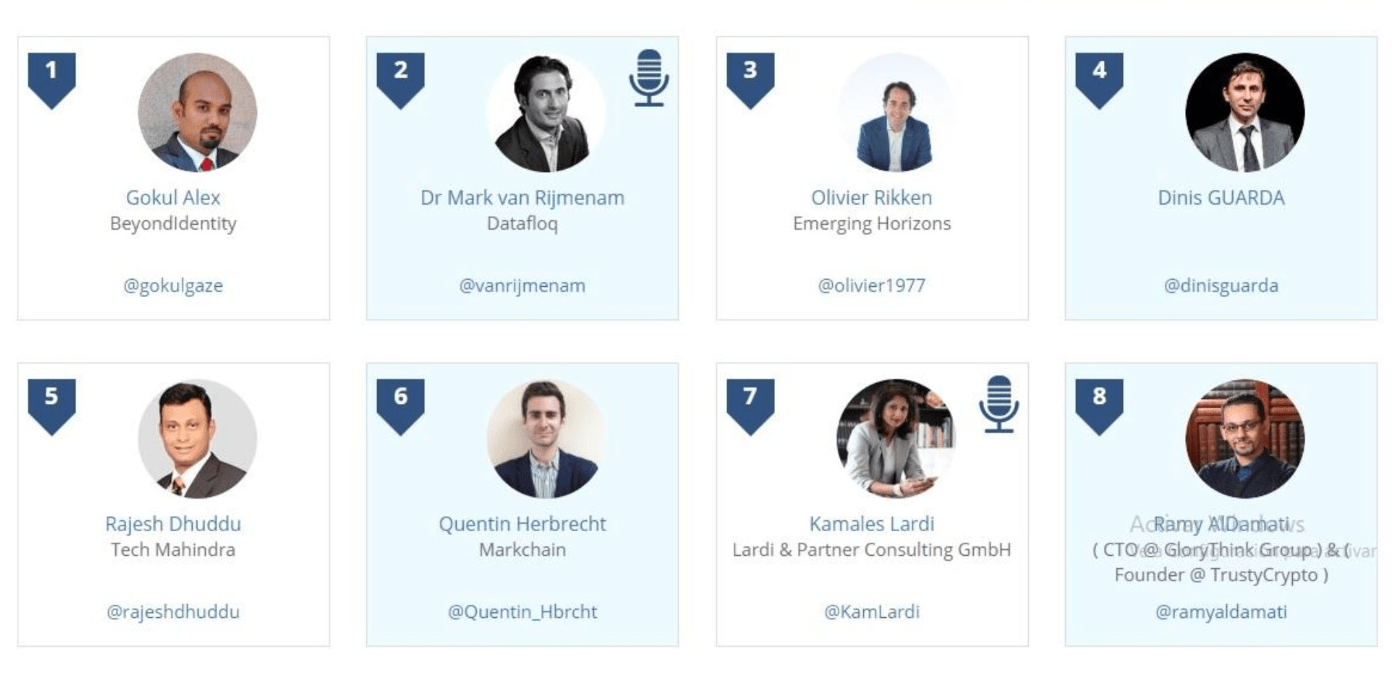 Thinkers360 Ranking Methodology
The Thinkers360 patent-pending algorithm helps to produce leaderboards that look across all thought leader roles and across the quantity and quality of their thought leadership content. It provides a valuable measure of thought leadership content, encourages genuine content creation, incorporates social media influence as one of the measures, and encourages richer profiles and portfolios through gamification.
Thinkers360's listing includes authors, influencers and speakers who are members of Thinkers360 and who have curated and shared their thought leadership content – including articles, blogs, books, keynotes, media interviews, panels, podcasts, social media, speaking events, videos, webinars and whitepapers – via their platform.
As the company said, their differentiation from the various influencer leaderboards on social media, is that we take a holistic view of thought leaders and experts, beyond their social media activity, and look across all the hats they may wear – such as academic, author, consultant, entrepreneur, influencer and speaker – and all the types of thought leadership content they produce.
They currently cover business and technology topics including Agile, AI, Analytics, AR/VR, Autonomous Vehicles, Big Data, Blockchain, Change Management, Cloud, CRM, Cryptocurrency, Culture, Customer Experience, Cybersecurity, Design Thinking, Digital Disruption, Digital Transformation, Edtech, Emerging Technology, Entrepreneurship, ERP, FinTech, GovTech, Health & Safety, HealthTech, HR, Innovation, IoT, Leadership, Lean Startup, Management, Marketing, Mobility, Open Innovation, Predictive Analytics, Procurement, PropTech, Quantum Computing, Retail, Risk Management, Sales, Social, Startups, Supply Chain and Sustainability.
Of course, no measurement system related to influence or thought leadership is perfect, but the thought leadership scoring system within Thinkers360 is a highly-differentiated approach to help you identify authentic thought leaders – looking far beyond social media – serving as the tip of the spear for your B2B influencer marketing objectives.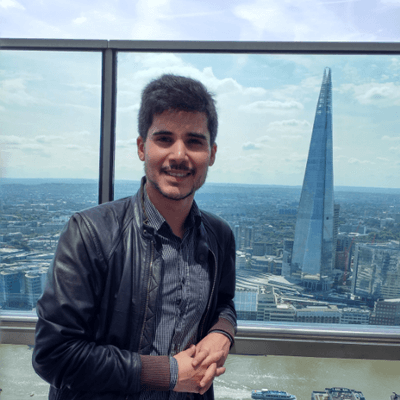 Hernaldo Turrillo is a writer and author specialised in innovation, AI, DLT, SMEs, trading, investing and new trends in technology and business. He has been working for ztudium group since 2017. He is the editor of openbusinesscouncil.org, tradersdna.com, hedgethink.com, and writes regularly for intelligenthq.com, socialmediacouncil.eu. Hernaldo was born in Spain and finally settled in London, United Kingdom, after a few years of personal growth. Hernaldo finished his Journalism bachelor degree in the University of Seville, Spain, and began working as reporter in the newspaper, Europa Sur, writing about Politics and Society. He also worked as community manager and marketing advisor in Los Barrios, Spain. Innovation, technology, politics and economy are his main interests, with special focus on new trends and ethical projects. He enjoys finding himself getting lost in words, explaining what he understands from the world and helping others. Besides a journalist, he is also a thinker and proactive in digital transformation strategies. Knowledge and ideas have no limits.