In this day and age, almost everyone has a digital reputation whether they want to have one or not. Many of us create these for ourselves through social media and other websites. These can be profiles can be accessed by search engines, and people can find out more about you than you might think. According to Norton:
"Everything we post – blogs, tweets, photos and videos, likes, links, comments and shares – contributes to our online reputation. So, too, does whatever other people post about us."
That is great, so long as you have a great digital profile, but likely not everything that people will find there is good. The problem is that you may be judged on your digital profile by a variety of different people, such as clients, employers, landlords and those in the financial industry. This means you may want to consider changing your profile to what it is you want these types of people and others to see about you. Norton recommends six steps to achieve this.
Step One: Look for your digital reputation – you need to know what is already available online about you so that you can address any problem areas. You can do this by removing your browsing history in your browser and then adding your name to a variety of different search engines. Try out different search terms for yourself, and add things about you that are relevant like schools, jobs and clubs. You will want to make sure to look out for pictures and videos, not just what is written about you. Be sure to include social media websites and online directories, among others.
Step Two: Evaluate your online reputation – weigh up what the outcome is of what you have found. You will want to review whether your online information really reflects who you are, or how you want to be seen. This does not just include looking at what is there that may be bad, but also what isn't there that is good and perhaps should be included. Ask yourself if you would be comfortable for a range of different people to see your online items. You could consider separating out profiles for personal use and those for professional use. Don't forget to look at privacy settings and what can be done with those to improve your reputation.
Step Three: Think before you post – when considering whether or not to put a post up you need to weigh up the advantages and disadvantages of doing so. Wild drinking photos may seem like fun at the time, but a bit down the road you might not be happy about them. Consider what a future employer might think, or your current or future partner. If they would be upset by what they see, then it probably shouldn't be posted. One good tip is to use a tool from Google called Me on the Web, which can monitor when content about you gets added.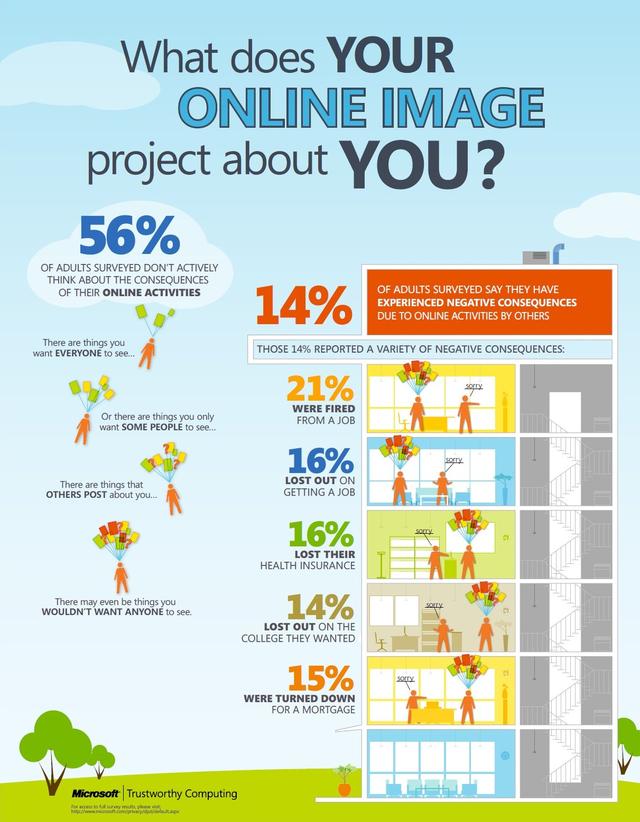 Step Four: Keep it private – there are plenty of ways that you can protect your online reputation by making sure you use privacy settings. You can hide contact details like email address and numbers. You should never add information about other people without asking. Then look at ways you can restrict access to your profile for different groups of people in your life, such as acquaintances, family and close friends. Each should have a different level of access to your information. Be sure to let your friends and family know what they can or cannot post about you, and steer clear about mentioning work online, to avoid problems.
Step Five: Rectify problems – if your online reputation has problems you will not be able to fix all of them, but some you can. You can ask search engines to remove information about you from search results. You can also get rid of obsolete accounts that you do not use any more. Often you will not be able to remove content about you added by others, but you can ask them to remove it.
Step Six: Focus on what is great – work towards creating a digital reputation that promotes the most positive and best aspects of you. This will help to avoid other more negative content surfacing in searches, at least high up or on early search pages. You can create a blog and post regularly, and add positive content. You can also make sure that you use professional sites like LinkedIn, and work on building a great profile on those. You might also even consider buying a domain name that matches your name. All of this will keep the negatives off the first page of search.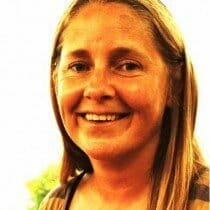 Paula Newton is a business writer, editor and management consultant with extensive experience writing and consulting for both start-ups and long established companies. She has ten years management and leadership experience gained at BSkyB in London and Viva Travel Guides in Quito, Ecuador, giving her a depth of insight into innovation in international business. With an MBA from the University of Hull and many years of experience running her own business consultancy, Paula's background allows her to connect with a diverse range of clients, including cutting edge technology and web-based start-ups but also multinationals in need of assistance. Paula has played a defining role in shaping organizational strategy for a wide range of different organizations, including for-profit, NGOs and charities. Paula has also served on the Board of Directors for the South American Explorers Club in Quito, Ecuador.