Bitcoin has been a transformational technological development that has been observed in recent years, yet blockchain could be of even greater value, going forward. What will the future reserve for Blockchain?
According to Raj Kosaraju of icrunchdata blockchain technology has a long way to go yet, with plenty of likely advances forthcoming. This is because there are many possible uses of blockchain that are not yet being taken advantage of, such as the management of medical records, property deeds and music rights, among others. It could also be very efficiently used for operations such as electronic voting, for supply chain uses and smart contracts. Indeed, it is anticipated that blockchain will have a disruptive effect on hundreds of industries.
Blockchain and Smart Contracts
Blockchains rely on algorithms to validate activities. This is likely to have the impact of reducing costs for companies because information can be much more efficiently exchanged between organisations. This can be further facilitated by smart contracts. Smart contracts allow standard operating procedures and business practices to be built into software, leading to the development of streamlined operational processes. This will lead to more cost effective solutions for businesses. At the current time, it is suggested that the best approach is to start with single-use applications. These are recommended because they do not link much with third parties. Bitcoin could be added as a payment mechanism, or blockchain could be used for managing internal assets and transactions.
Blockchain and the TCP/IP technology
Blockchain is also compared with TCP/IP in the way that its development and maintenance is open, distributed and shared. It is explained that," Just as email enabled bilateral messaging, bitcoin enables bilateral financial transactions." At first with bitcoin a small but very interested community were early adopters, and it was exactly the same thing with TCP/IP. Additionally, bitcoin is maintained globally by a relatively small team of volunteers, and this was also the case with TCP/IP. This infrastructure began to attract a lot of attention, and companies started using it to create exciting new businesses that could offer a lot more than in the past.
Examples given include that of Amazon, which was able to offer a good deal more in book selection than any traditional bricks and mortar bookshop, and Expedia, which enabled customers to purchase airline tickets, and which made the whole process of booking travel tickets much more transparent. This led to a great deal of pressure being placed on traditional businesses. Following on from this, companies built further on the architecture offering solutions such as Skype, which has transformed the telecommunication industry, and Napster which did the same thing in the music industry.
TCP/IP technology took in excess of 30 years to gain genuine critical mass and reshape the economy. It moved through a variety of stages from single use to localised use, localised use to substitution and transformation, and finally transforming the economy. Currently, more than 50% of the world's most important public companies use these types of models. The implication is that it may take blockchain as long to achieve this, but that there is definitely the potential for this to be accomplished.
One area of anticipated future growth in the uses of blockchain is with increased transactions by devices. It is predicted by Gartner that blockchains for transactions will make up 30% of the global customer base. Blockchain will be combined with Internet of Things technology allowing transactions to be transmitted. This is believed to be a more robust approach than those currently in use, as it is much harder to breach the security of blockchain. One area in which massive improvements could be made using blockchain is with government agency processing, allowing citizens to access services when needed, more efficiently.
People who are writing blockchain off need to consider that it may well have plenty of steam left in it yet. If its path continues to follow that of TCP/IP the change it could bring about to technology could be truly tremendous. Rather than assuming it will not take off, we need to be patient, and watch this space!
Article powered by Humaniq
Launched in 2016, Humaniq aims to provide mobile finance to the 2 billion unbanked population through its mobile app for good, that uses biometric authentication to replace traditional methods of ID and security. Humaniq's open source stack and API will be available for startups and other businesses to build services on its core technology, making it easy to adapt their service and plug it into Humaniq's network to reach a huge, untapped audience.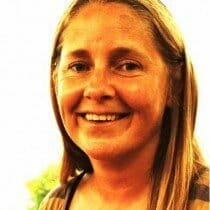 Paula Newton is a business writer, editor and management consultant with extensive experience writing and consulting for both start-ups and long established companies. She has ten years management and leadership experience gained at BSkyB in London and Viva Travel Guides in Quito, Ecuador, giving her a depth of insight into innovation in international business. With an MBA from the University of Hull and many years of experience running her own business consultancy, Paula's background allows her to connect with a diverse range of clients, including cutting edge technology and web-based start-ups but also multinationals in need of assistance. Paula has played a defining role in shaping organizational strategy for a wide range of different organizations, including for-profit, NGOs and charities. Paula has also served on the Board of Directors for the South American Explorers Club in Quito, Ecuador.