Guide To the New SEO – Total Internet Optimisation Part 2
This is the second part of a series of articles that reflect how search engine optimisation has been changing. The guide describes a more powerful way of looking at this online marketing discipline and it introduces a approach to internet optimization entitling it "Total Internet Optimisation (TIO).
The second part of the guide begins by describing 30 Total Internet Optimisation critical procedures, and then moves on to describe a link building strategy, having in mind the total internet optimisation of your website.
1. 30 SEO/Total Internet Optimisation critical procedures:
There are a series of crucial procedures one needs to following, if you want to have the best SEO strategy for your website. Those procedures are the following:
Choice of a strong domain name and a web system that dynamically generates search engine friendly URLs for product and content pages
Ability to specify / edit URLs for individual pages via CMS – this is important for campaign landing pages and micro sites.
Consistency across the keyword DNA and the content strategy and indexation.
301 redirects to preserve search engine rankings
Avoiding duplicate content and use of the canonical tag when relevant
Support for linking of different theme/product pages and content pages to improve internal linking – should be delivered via the Catalogue Management tool or CMS
CSS absolute positioning for text links on product list pages to ensure the first link for each product is keyword rich
Dynamic XML sitemap that is submitted on a regular basis. If you have news,  a news site map
HTML sitemap that is auto generated based on your catalogue and site structure
Support for rich snippets within platform – encoding of data in RDF format e.g. customer ratings & reviews
Custom 404 error page and automated report to flag error pages so your internal team can take action (you can achieve this through a separate monitoring tool such as Indiabook)
Robots.txt file is provided and you can access and edit when required
Core provision for meta content (title, description, keywords) that is auto-generated when you load new products and content pages and can also be edited easily from within the CMS
Text links in navigation not images; if coders are using sIFR (flash replacements) push them for clarification on how this is being done to ensure it complies with accessibility standards
Keyword optimised H tags within html for headings – structure for use of H1 to H6 to provide a relevant hierarchy of content
Ensuring flash objects are search engine friendly
Ensuring pdf content is readable e.g. captions for images, document meta data
Graceful degradation – when elements like JavaScript, flash are disabled in the browser, key content is still visible to search engine spiders/bots as well as to visitors
RSS feeds to support product and news announcements e.g. deal of the day
Page load time to meet agreed threshold but make sure you define how load speed is measured e.g. after all the page elements have loaded – this factor was included in Google's algorithm in 2010
Social media content such as blogs are hosted on your primary website domain using an SEO friendly blog engine (e.g. WordPress is better than Blogger) – blogs usually sit on a sub-domain such as blog.yoursite.com to ensure you benefit from the search engine juice.
Avoiding the 'copy and paste' trap
Duplicating that unique and valuable description
Not paying attention to the affiliate channel
Revealing way too much
Making profound changes to the website
Integrating the website in the social graph with Add this buttons and related
Facebook (open graph) and Twitter integration
Social Media

total

integration.
Total Internet Optimisation.
It is essential that site-specific SEO and social media requirements are accurately documented during your project scoping phase, to ensure you evaluate the relative optimisation strengths of potential vendors.
The following infographic, resumes the 30 procedures:
Infographic by Maria Fonseca
2.  Link Building for Total Internet Optimisation
According to most of the industry experts it takes around a minimum of 10 weeks on average to see 1 rank jump. But if you start link building now, you won't see results in 10 weeks or sooner, as the 10 week estimate implies that you have already a sound system in place and a website that Google and most of the social media engines have already indexed.
So bear in mind that it takes a long time to get links from a (legitimate and effective) link building campaign. Each link building strategy has different steps which imply a varying amount of time, based on the team / platforms you use / work for and the background / resources you already have.
Here's a comprehensive list of steps you should keep in mind. It is critical to work with online PR. You can work with your PR team to start optimizing their media hits to also include good links. The success of this strategy will vary based on whether you're going for general Domain Authority link building — in which case, all of those homepage links they're getting will help you a lot — or trying to build Page Authority to individual landing pages, in which case they'll probably have a hard time helping you out.
Step 1: Map and focus on your long tail right segment 
Step 2: Reach out to relevant communities
The way to reach out to relevant communities is important as it is a great way to acquire links. One can reach out via forums or Slack's chat rooms, or private chats, or it could be IRC. It could be a whole bunch of different things such as blog comments, media and digital press and publications
Step 3: Build a link acquisition spreadsheet
You need to build a link acquisition spreadsheet. The way to construct the spreadsheet is not that dissimilar to how we do keyword research, except we're prioritizing things based on answering questions such as:
"How important is this and how much do I feel like I could get that link? Do I have a process for it? Do I have someone to reach out to?"
Step 4: Execute, learn, and iterate
Once you've got your list you should go through the process of actually using these approaches and these opportunity types to reach out to people, get the links that you're hoping to get. This is the phase when one needs to execute, learn, and iterate.If you engage in a  one-to-one outreach that doesn't bring the results you want, it is then time to ask:
"Why was that? Why didn't that resonate with those people?"
Step 5: Create and build a solid link building strategy 
A critical way to maximise SEO is to have a sound and detailed, methodic link building strategy. Therefore the focus on creating and building a solid link building strategy is something that an organisation / website team / manager needs to put the effort on. It takes from 3 weeks – 2 month but it is worth it!
Step 6: Implement the following top link building tactics
Creation of infographics and its outreach (1–3 months)
Share prospect lists via BuzzStream
Use Twitter and Facebook to create links and search for email addresses
Check annual reports
Search for your target on YouTube
Finally, don't forget to analyse you competitors links.
Guide To the New SEO – Total Internet Optimisation Part 3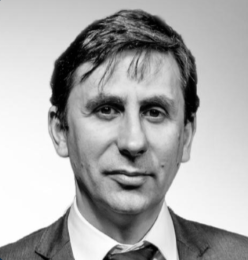 Dinis Guarda is an author, academic, influencer, serial entrepreneur, and leader in 4IR, AI, Fintech, digital transformation, and Blockchain. Dinis has created various companies such as Ztudium tech platform; founder of global digital platform directory openbusinesscouncil.org; digital transformation platform to empower, guide and index cities citiesabc.com and fashion technology platform fashionabc.org. He is also the publisher of intelligenthq.com, hedgethink.com and tradersdna.com. He has been working with the likes of UN / UNITAR, UNESCO, European Space Agency, Davos WEF, Philips, Saxo Bank, Mastercard, Barclays, and governments all over the world.
With over two decades of experience in international business, C-level positions, and digital transformation, Dinis has worked with new tech, cryptocurrencies, driven ICOs, regulation, compliance, and legal international processes, and has created a bank, and been involved in the inception of some of the top 100 digital currencies.
He creates and helps build ventures focused on global growth, 360 digital strategies, sustainable innovation, Blockchain, Fintech, AI and new emerging business models such as ICOs / tokenomics.
Dinis is the founder/CEO of ztudium that manages blocksdna / lifesdna. These products and platforms offer multiple AI P2P, fintech, blockchain, search engine and PaaS solutions in consumer wellness healthcare and life style with a global team of experts and universities.
He is the founder of coinsdna a new swiss regulated, Swiss based, institutional grade token and cryptocurrencies blockchain exchange. He is founder of DragonBloc a blockchain, AI, Fintech fund and co-founder of Freedomee project.
Dinis is the author of various books. He has published different books such "4IR AI Blockchain Fintech IoT Reinventing a Nation", "How Businesses and Governments can Prosper with Fintech, Blockchain and AI?", also the bigger case study and book (400 pages) "Blockchain, AI and Crypto Economics – The Next Tsunami?" last the "Tokenomics and ICOs – How to be good at the new digital world of finance / Crypto" was launched in 2018.
Some of the companies Dinis created or has been involved have reached over 1 USD billions in valuation. Dinis has advised and was responsible for some top financial organisations, 100 cryptocurrencies worldwide and Fortune 500 companies.
Dinis is involved as a strategist, board member and advisor with the payments, lifestyle, blockchain reward community app Glance technologies, for whom he built the blockchain messaging / payment / loyalty software Blockimpact, the seminal Hyperloop Transportations project, Kora, and blockchain cybersecurity Privus.
He is listed in various global fintech, blockchain, AI, social media industry top lists as an influencer in position top 10/20 within 100 rankings: such as Top People In Blockchain | Cointelegraph https://top.cointelegraph.com/ and https://cryptoweekly.co/100/ .
Between 2014 and 2015 he was involved in creating a fabbanking.com a digital bank between Asia and Africa as Chief Commercial Officer and Marketing Officer responsible for all legal, tech and business development. Between 2009 and 2010 he was the founder of one of the world first fintech, social trading platforms tradingfloor.com for Saxo Bank.
He is a shareholder of the fintech social money transfer app Moneymailme and math edutech gamification children's app Gozoa.
He has been a lecturer at Copenhagen Business School, Groupe INSEEC/Monaco University and other leading world universities.