There is a technique that must be mastered if you want your content to be noticed on Google.  It starts with figuring out where you fit in and ends with creating valuable content.  This article is aimed to increase awareness of what it takes to become an online authority and show you how to get your content recognized on the web.
Google has always taken pride in providing search results and websites of the highest quality.  This has resulted in a gamut of different algorithms have become more and more advanced as the years have passed, making the accepted process of having external hyperlinks point to websites much more difficult.
One technique, created by Glen Allsopp, a seasoned vet in building and marketing websites since a teenager, is based around the purchase of domains that already have a high amount of traffic and high-quality links that point to them.  He says to buy domains with a high PageRank, the value score Google gives your website, which is calculated by the number of quality links that linkback to the site.
But what if you have no interest in buying a domain name that's already been established?  Well, then you'll have to build your own website and begin creating valuable content that's worth sharing.  These means, not only should you have the goal to create content that's worth reading, but to also optimize the way you write and present it.
This includes knowing how to use the right keywords and utilizing valuable SEO tactics to create high-quality content.
Using the right Keywords
One of Allsop's techniques is based around researching keywords for businesses who want to appear high in search engine results.  He states that the marketed keywords should meet three sets of criteria:
Popularity:  The keyword needs ensure that the search volume helps the website meet marketing objectives
Relevance:  The keyword must be related to the members of your target audience and what they're most likely going to be searching for.
Competitiveness:  The keyword should make it easy for you to appear higher in an organic search-results stack.  Opensiteexplorer gives a valuable tool that helps you gauge the competitiveness of whatever keyword you may choose.
The easiest way to discover which keywords work best for your is to use an analytics tool.  The keyword tool should tell you how your customers interact with your site, and not just which keywords will optimize for your site.  It should also tell you how to organize keywords and what to do with newly found ones so you can get the most out of your search marketing plan.
WordStream's Free Keyword Tool
is a great tool to start with.  Wordstream has indexed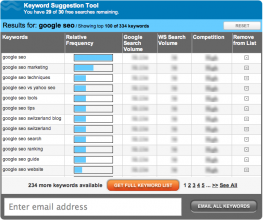 over a trillion search queries in order to provide more accurate results at a faster rate, and to return more long-tail keywords than other SEO keyword tools.  These keywords can be used in your website's information architecture, in search-friendly web pages and blog posts, social media campaigns, as anchor text and in internal linking campaigns, and even newsletters and other marketing materials.  The tool also lets you enter your email so you can receive the entire list of keywords for future use.
Determining the right keywords
also requires you understand your target audience and they keywords they're most likely to use when they search for your product.  You can't dominate a niche by using generic keywords; they must be specific, but directly related to your product.  Just think if someone were to google "shoes", versus "cross-training shoes for football"; we know that the second search would provide a much more specific list of results.  Find out what your target audience wants, and use those keywords in your content.
Creating Valuable Content
SEO has dramatically shifted over the past decade from little hacker tricks to a much more broad understanding of what will make your website thrive.  This is due to the
changes Google has made to their SEO scheme o
ver the years and how they operate.  This includes improved quality of search queries, better detection of black-hat spam and hack sites, the tightening of PageRank guidelines and a better support system for webmasters.
For instance, Google now ranks pages according to the quality and legitimacy.  This means that every website is scrutinized and reviewed; if they're are of high enough quality, they'll be presented higher in search queries.
Matt Cutts, head of Search Spam at Google, said that
SEO
used to be this mythical idea that people that "happened in the dark corners of the world".  Really, SEO is just using good online tactics to create higher website traffic.  One of these tactics is creating quality content.
Cutts stated in an interview with Eric Enge of Stone Temple Consulting
that not all link building is bad, and that if the quality of the content is good, then more people will want to link to it and read it.  The problem is that, most of the time, this is approached in the exact opposite way, where people first trying to create high-traffic, instead of creating high-quality content.
 Copyblogger.com gives a great e-book titled How to Create Compelling Content that Ranks Well in Search Engines.  A lot of thing are covered in the 52 page online manual, including the history of SEO, new SEO techniques, how search engines work, how to use SEO when copywriting, and how to create valuable content.
They say that when trying to rank well for central topics that your site is designed around, creating cornerstone content is a necessity.  This means creating a unique FAQ page or inspirational mission statement that will provide your sit with a solid foundation for search optimization and usability.  The first goal of creating this type of content is cashing in on its usefulness and relevancy to the website visitor.  The second is to make the content so compelling and comprehensive that people are willing to link to it when referencing the same subject.
The e-book gives a 5-step strategy in developing cornerstone content and getting it to rank high in searches.
Keywords:  Choose the most appropriate keywords (sound familiar?) by figuring out what the relevant question searchers are asking about your content.
Title Tags and Headlines:  Use your target keyword phrase in your headline, but it's important to remember to make the headline catchy by strategically using the keywords to answer the exact question your article is answering.
Content:  It doesn't matter how many words your article is, it matter how compelling it is and how many links from other authoritative sources it contains.  This will improve the quality and scope of your content.
Content Landing Page:  This is designed to immediately communicate to the visitor the scope of your content ASAP – it acts as a sort of table of contents for the user.  The benefits of this landing page include higher retention of users, more bookmarks and sharing of your page, more linkbacks to you and a higher website optimization.
Related Content:  Search engines favor websites with a lot of relevant, updated content.  Use blogging software to manage your content and social media space to build general site authority via links and reference your cornerstone content.
Remember, writing great authoritative content will have a major impact on your online reputation and popularity, but it's important to not stray away from the website's focus and always write for your target audience, and not for Google.  
Writing high-quality content
ultimately serves three purposes:
It shows you're an expert and a thought leader in your particular field.
It acts as a resource for your potential clients or customers and gives them a reason to re-visit your website or linkback to it.
It gives Google more high-quality content to index, which will make you appear higher in search rankings.
Trevor Micklow is a business writer and content curator based out of Chicago, IL. US. He specializes in digital strategies, social media, psychology, executive education and business school related topics. He has been working and coordinating the general content of IntelligentHQ's business school directory, which gives key information and programme details on the top business schools in the world. He has a BS, Psychology from Central Michigan University.