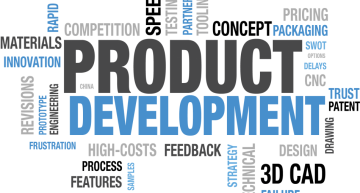 Developing a new product can be exciting, but it also comes with challenges. Having a general understanding of what this process might look like is important. Just one example is hardware product development.
You might need a specialized hardware product for your own project, or you might just want to develop a hardware product to sell it to others.
Maybe it's a combination of both.
Regardless of why you're developing a product, including a hardware product, the steps can look similar during the development phase.
The following are some things to know about the general phases of product development.
Gathering Requirements
The first and perhaps most important stage of developing a new hardware product is when you gather requirements. You may speak to stakeholders, if others are involved, to determine the goal of the product and what its uses will be.
Sometimes during this phase, you might create what's called a product requirement document or PRD.
This can be especially pertinent during rapid prototyping.
This is a list of features and elements that your product must have. These are the essentials that you view as unchangeable.
Included in this document should be details of how the product will be used, when, where, and who will use it. You'll include details of the size you'd like it to be, whether it'll have special features such as being waterproof, and how it will work along with other systems or components.
During this time, it can be useful to get input from different people with varying perspectives who might all use your product eventually.
CAD and Rapid Prototyping
If you're developing something like a hardware product, following the phase of gathering requirements, you may move into CAD or rapid prototyping.
CAD software is used as a way to replace manual drafting. CAD stands for computer-aided design, and it can help visualize designs and bring concepts to life, at least digitally.
CAD can also help create not only realistic renderings but also simulate how your hardware product or other types of products could potentially perform in real-world settings.
3D CAD is usually preferred, and it gives even more ability to visualize a product, including complex products.
The use of 3D CAD software can help improve productivity during the product development process, even with a high level of complexity.
What's important to realize as you're finding a company to work with to bring your product to life is that not everyone is going to have an in-house CAD specialist, and CAD is a complicated software to use in some ways.
Then, after that is rapid prototyping.
Rapid prototyping is the fabrication of a model or part that uses CAD. In most cases, 3D printing is used during rapid prototyping.
There are both low- and high-fidelity prototypes.
With a low-fidelity prototype, there are usually significant differences between it and what the final product will ultimately be.
Rapid prototyping uses different forms of manufacturing technology, and in addition to 3D printing may include casting, molding, and high-speed machining.
The parts of the product can be tested, and this ultimately leads to the creation of a design that will best meet the requirements laid out at the start of the process.
Refinement, Validation, and Production
There are three general stages that come after the creation of a rapid prototype.
First, there is refinement.
During the refinement phase of creating a hardware product, you would look at the design as it's been optimized and refine the specifications for production. There is a focus on how the product looks, the materials being used, and also the function.
This is a time to weigh and balance cost with the results that are going to work best for the particular project.
Once the product is finalized and refined, tooling validation begins.
Finally, the part goes into production.
When you're choosing a production company to work with, it's important to make sure they have a stringent and well-maintained quality assurance process throughout the actual development of a product.
When you have an understanding of what all of the above steps might look like within the context of your particular product, it becomes easier to plan, budget, and if necessary get investment to create your product.
When you work with a good engineering company, it's also going to simplify this process quite a bit, so if you focus your attention on one area, make sure it's that you're finding the right partner for your project.

Founder Dinis Guarda
IntelligentHQ Your New Business Network.
IntelligentHQ is a Business network and an expert source for finance, capital markets and intelligence for thousands of global business professionals, startups, and companies.
We exist at the point of intersection between technology, social media, finance and innovation.
IntelligentHQ leverages innovation and scale of social digital technology, analytics, news and distribution to create an unparalleled, full digital medium and social business network spectrum.
IntelligentHQ is working hard, to become a trusted, and indispensable source of business news and analytics, within financial services and its associated supply chains and ecosystems.