Tech Internet Blockchain AI DNA Interview with Alexander Shelkovnikov from IntelligentHQ on Vimeo.
Alex Shelkovnikov is a leading thought leader and practitioner in technology and innovation, who is responsible for Deloitte's corporate venturing and blockchain activities in the UK. His areas of interest include blockchain, cryptocurrencies, bitcoin, artificial intelligence, mobile / smart devices, enterprise / SaaS, digital technology, startup innovation, digital payments.
Alexander Shelkovnikov co-founded the Deloitte Blockchain Lab and is part of the leadership team within Deloitte's global crypto community.
Prior to that, he worked in strategy consulting at Monitor Deloitte where he advised some of the largest companies in technology, media, telecoms and digital payments across the globe as well as start-ups, focusing on helping them launch digital businesses, development of digital propositions, growth, commercial strategy and M&A.
He is one of the founding members of Bitcoin Foundation Ukraine (BFU). In Deloitte he delivered a number of landmark engagements, helping companies across TMT (technology, media, telecoms), Financial Services (payments, fin-tech), Consumer Packaged Goods, Retail at the board, and executive and key senior leadership levels, to gain strategic advantage, achieve operational improvements, develop partnerships, complete M&A transactions.
Alexander Shelkovnikov holds a PhD in Electronic Engineering taken at the University of Westminster, where he was part of the Wireless Communications Research Group from October 2002 to July 2006. His research led to the development of novel RF front-end for next generation broadband wireless communication systems (WiMAX, Digital Radio, LMDS).
Since January 2016 Alexander has been leading Deloitte Smart Identity project.
Alex Shelkovnikov
This is a solution that will allow users to create a universal digital identity powered by blockchain technology. The Smart Identity solution allows users to create and control all aspects of their digital identity within a highly structured and accessible environment. Smart Identity functions as a digital account containing the information and credentials needed for trusted digital interaction.
Alexander has recently co-authored a report: Blockchain. Enigma. Paradox. Opportunity. It explored new and emerging opportunities for organisations in all sectors to use blockchain technology to create and deliver compelling services to their customers.
Questions in the video Interview with Alexander Shelkovnikov Corporate Venturing & Blockchain Lead
Can you tell us about you, your education and your personal and professional background?
You did a PhD Research at the Wireless Communications Research Group, University of Westminster. Can you elaborate about your research and the changes in tech that happened after that?
Can you tell us about your vision about the technological advances, "startupization" and accelerated disruption of businesses and society?
How do you see crypto-currencies/bitcoin and how did you get into that?
In an increasing new scenario fostered by blockchain, how do you see this holistic fast growing technology?
How do you see the challenges brought by the DAO, Ethereum and fragmentation?
Do you see Blockchain as a tech ledger between artificial intelligence, mobile / smart devices, IOE, enterprise / SaaS, digital technologies?
Can you tell us about your role – Corporate Venturing and Blockchain Lead at Deloitte?
Can you explain how the Deloitte unit you lead and its business incubator works?
Deloitte´s business, innovation processes bridging, is investing in and partnering with high growth technology companies, and launching / partner with shipping digital ventures and business propositions. Can you tell us more about this?
Deloitte has been releasing some powerful research about Fintech, Blockchain. What are your highlights?
One of the products you are very involved with is smart identity project. Can you tell us about it and other related similar tech projects?
How do you see the traditional role of Deloitte in the general overview of the business world? How to deal with innovation and how to move forward in a fast-changing world?
You wrote an interesting text I would like to highlight, about what makes Apple special. Can you elaborate about this:
"Many people think it's design, brand, product innovation. Not many mentionessential things that actually really made Apple the most valuable company:
1) Outstanding operational excellence (e.g. supply chain)
2) Shrewd sales channel and pricing strategy (incl. prime retail experience)
3) Ability to strike crucial partnerships on favourable terms (e.g. AT&T)
4) Distinctive marketing
5) Ecosystem!"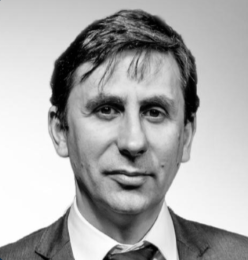 Dinis Guarda is an author, academic, influencer, serial entrepreneur, and leader in 4IR, AI, Fintech, digital transformation, and Blockchain. Dinis has created various companies such as Ztudium tech platform; founder of global digital platform directory openbusinesscouncil.org; digital transformation platform to empower, guide and index cities citiesabc.com and fashion technology platform fashionabc.org. He is also the publisher of intelligenthq.com, hedgethink.com and tradersdna.com. He has been working with the likes of UN / UNITAR, UNESCO, European Space Agency, Davos WEF, Philips, Saxo Bank, Mastercard, Barclays, and governments all over the world.
With over two decades of experience in international business, C-level positions, and digital transformation, Dinis has worked with new tech, cryptocurrencies, driven ICOs, regulation, compliance, and legal international processes, and has created a bank, and been involved in the inception of some of the top 100 digital currencies.
He creates and helps build ventures focused on global growth, 360 digital strategies, sustainable innovation, Blockchain, Fintech, AI and new emerging business models such as ICOs / tokenomics.
Dinis is the founder/CEO of ztudium that manages blocksdna / lifesdna. These products and platforms offer multiple AI P2P, fintech, blockchain, search engine and PaaS solutions in consumer wellness healthcare and life style with a global team of experts and universities.
He is the founder of coinsdna a new swiss regulated, Swiss based, institutional grade token and cryptocurrencies blockchain exchange. He is founder of DragonBloc a blockchain, AI, Fintech fund and co-founder of Freedomee project.
Dinis is the author of various books. He has published different books such "4IR AI Blockchain Fintech IoT Reinventing a Nation", "How Businesses and Governments can Prosper with Fintech, Blockchain and AI?", also the bigger case study and book (400 pages) "Blockchain, AI and Crypto Economics – The Next Tsunami?" last the "Tokenomics and ICOs – How to be good at the new digital world of finance / Crypto" was launched in 2018.
Some of the companies Dinis created or has been involved have reached over 1 USD billions in valuation. Dinis has advised and was responsible for some top financial organisations, 100 cryptocurrencies worldwide and Fortune 500 companies.
Dinis is involved as a strategist, board member and advisor with the payments, lifestyle, blockchain reward community app Glance technologies, for whom he built the blockchain messaging / payment / loyalty software Blockimpact, the seminal Hyperloop Transportations project, Kora, and blockchain cybersecurity Privus.
He is listed in various global fintech, blockchain, AI, social media industry top lists as an influencer in position top 10/20 within 100 rankings: such as Top People In Blockchain | Cointelegraph https://top.cointelegraph.com/ and https://cryptoweekly.co/100/ .
Between 2014 and 2015 he was involved in creating a fabbanking.com a digital bank between Asia and Africa as Chief Commercial Officer and Marketing Officer responsible for all legal, tech and business development. Between 2009 and 2010 he was the founder of one of the world first fintech, social trading platforms tradingfloor.com for Saxo Bank.
He is a shareholder of the fintech social money transfer app Moneymailme and math edutech gamification children's app Gozoa.
He has been a lecturer at Copenhagen Business School, Groupe INSEEC/Monaco University and other leading world universities.