Are you thinking of taking your business to a new level? Well, what is better than getting it on the world wide web, aka the Internet. The reach you get to customers and opportunities the online world brings you will take your business across boundaries you never imagined. Companies like JC Penny, K mart and MACYs had a hard time just because they did not have an effective online presence. On the other hand, Circuit City was an online brand but suffered a lot just because they were not accepted by the consumers of certain reasons. You don't want to be like them, do you? Well, to avoid these unfortunate circumstances, you must know the importance and need of having a secure website.
With the growth for the need of security on the internet, people are becoming more and more aware about SSL. SSL certificate helps you combat yourself against the most common cyber threats.
Before jumping to the point where the site needs a SSL certificate, the concept of SSL protocol is worth noting. It stands for Secure Socket Layer, is the secure communication protocol that is used by websites which have the SSL certificate. It encrypts the data which is being exchanged by your web browser and the web server to ensure that no one listening on the channel can make sense of the information being transmitted. This is really helpful in maintaining the privacy of users.
The SSL certification is a guarantee of secure connection and helps to encrypt the data being exchanged.It also provides with some additional information like:
•Name of the certificate authority (CA) which issued the SSL
•Validity period of the SSL to know whether or not it is expired
•Shows the domain or public IP address to which it is issued
•Organization details for OV/EV certs
•Alternative domain names- SAN items
Do you know who creates the SSL certificates we see to ensure our security on some website? Certificate authorities are the ones we have assigned the job to provide digital certificates to the websites that are actually secure. These organisations act as a reliable third party.  We all trust them, including the consumers, providers and partners. The X.509 and similar standards ensure the security of transmitted data over HTTPS. If you want to see a list of some of the most popular SSl Certificate Authorities, you can check them out here and also see what type of SSL Certificates they each provide
SSL is also used for issuance of electronically signing documents required by the national governments.
These authorities insure that secure and encrypted connections are created between two parties. These ensure that no malware or hacker steals your personal information. Getting a SSL certificate is one of the best ways to keep your data secure.
Are you also planning to get a SSL certificate for your own page? Various such organisations are out there on the internet. One of the leading Certificate Authorities is Thawte SSL. It is an Africa based organisation, founded in 1995 which provides you with the X.509 SSL certificates. You should definitely try it out if you are searching for a good brand to buy yourself one such certificate.
In addition to this, people are becoming a lot more aware about the use of HTTPS. They now know the signs to look for to ensure if the site they are visiting is secure or not. Some people step it up and to check the security, look for the SSL certificate. Each browser has different ways of viewing it.If you are looking to see how to check the SSL certificate of the site you are visiting, this is the place for you.
Let us look in into how you can check the SSL certificate details, its validity, owner and other relevant information on your browser – be it, Microsoft Internet Explorer, Edge, Apple's Safari, Firefox, or the industry leader, Google Chrome.
1)  Viewing SSL certificate on Chrome
Google made many changes in the viewing procedure of SSL certificate on Chrome. It was quite easy to view the certificate before the release of version 55, we just had to click on the green padlock. After the release of version 55, the process became a bit lengthy and we had to go through a few mouse clicks to view the SSL certificate. This change was not in interest of many people. So, in version 61, Google again changed the way to view the SSL certificate. Now it was much easier. The steps are as follows:
•Go to a secure browser that has a SSL certificate.
•Click on the green lock present on the left side in the address bar.
•A small popup window appears which shows information about the organisation.
•Now click on VIEW CERTIFICATE.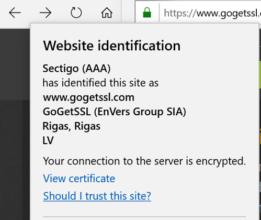 •The certificate will appear on the right side of your web page. You can now check the desired information.
2)  Viewing SSL certificate on Firefox
Opening the SSL certificate on Firefox requires only a few clicks and is quite simple. The following are the key steps:
•Go to any secure website which having an SSL certificate.
•On the left hand side of the address window, you will notice a green padlock. Click on it.
•A drop-down menu appears.
•On the right side of the menu, you will see a left facing arrow. Click on it.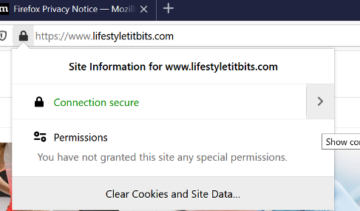 •After clicking on the arrow, you will see another pop up window. This shows details about the organisation.
•To get more details about the certificate you must click on More Information.
•A new window appears where you will find an option to view certificate.
3)  Viewing SSL certificate on Safari
The process of viewing SSL certificate of a secured website in safari is almost same as in Firefox. The procedure is as follows:
•On your safari browser, visit a secured website with a SSL certificate.
•You will see a green padlock key to the left of the address bar. Double click on it.

•After clicking, you will see a window on your screen.
•View the SSL certificate by clicking on Show Certificate.
•To see further details, click on details.
•The certificate is now displayed on your screen.
4)  Viewing SSL certificate in Internet Explorer
To view SSL certificate in your internet explorer browser is also similar to the other browsers. Follow the given procedure:
•Visit a secure website in your browser which has a SSL certificate.
•To the right of the address window, you will see a padlock key.
•Click on the key and a drop down menu appears.
•This will present the name of the certificate issuing authority.
•For further viewing the whole certificate, click on view certificate.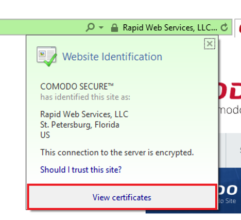 5)  Viewing SSL certificate on Microsoft Edge
Are you a person who uses Microsoft edge and wants to look for SSL certificate of a website? Well, here is the procedure that will help you to view it:
•Open a secure website on your browser.
•Click on the padlock key which you will find to the left hand side of the address window.
•A drop down menu appears.
•Click on the certificate option
•Another dialog box opens which will show all the information you need from your SSL certificate.
Conclusion
With people becoming more aware about their security, the internet has to become a more secure place for visitors, and the onus is with us to make sure that our customers feel safe. Viewing a SSL certificate is not a difficult task and can prove to be very useful for anyone who visits your visit. It might cost you some of your time but your security is much more precious. Even if you have antivirus software and follow other protective measures but you visit an unsecure site and enter some information, you can lose all your data in just some seconds. Even if you are the owner of the website, you can lose your whole business if you are not secure.
This is an article provided by our partners network. It does not reflect the views or opinions of our editorial team and management.
Contributed content

Founder Dinis Guarda
IntelligentHQ Your New Business Network.
IntelligentHQ is a Business network and an expert source for finance, capital markets and intelligence for thousands of global business professionals, startups, and companies.
We exist at the point of intersection between technology, social media, finance and innovation.
IntelligentHQ leverages innovation and scale of social digital technology, analytics, news and distribution to create an unparalleled, full digital medium and social business network spectrum.
IntelligentHQ is working hard, to become a trusted, and indispensable source of business news and analytics, within financial services and its associated supply chains and ecosystems.