Muhammad Yunus, a young economics professor during a famine in Bangladesh in the late 1970s, came across rural women skilled in local handicrafts who owed so much to local moneylenders that they earned only pennies each day from hours of labour. So he decided to start giving loans away, starting from as little as $27 of his own pocket, as micro-credits to help those in deep need.
After that, Yunus created a bank that would lend small sums to such clients, filling the gap that traditional banks had left and cutting out local loan sharks. The model of small sums lent mainly to women, often organised into mutually supporting groups, was extremely successful, with very few loans left un-repaid and a wide range of social benefits. Professor Yunnus would go on the win of a Nobel Prize for its work years after.
He might have not known at that time the revolution he just started, but he just put up the first stone of the Financial Inclusion with that mercy gesture.
The Microfinance system expands
So far, the microcredits methodology was the the first step of bringing financial services to those who were most in need and forgotten by big corporations and banks. The challenge for those who were willing to help was huge as in late 1970s there were more than 4 billion people worldwide still unbanked or with lack of access to financial services.
This microcredit system that started in Bangladesh rapidly expanded beyond Asia to other continents, especially important the movement was in South America by the late 2000s. In countries like Peru, all the main actors have made huge efforts in bringing financial services to its mostly unbanked society. Microfinance, then, became the term of art. This shift reflected the growing understanding that low-income people wanted and needed more than credit: they wanted financial services including savings, insurance, asset-leasing, pensions, and more.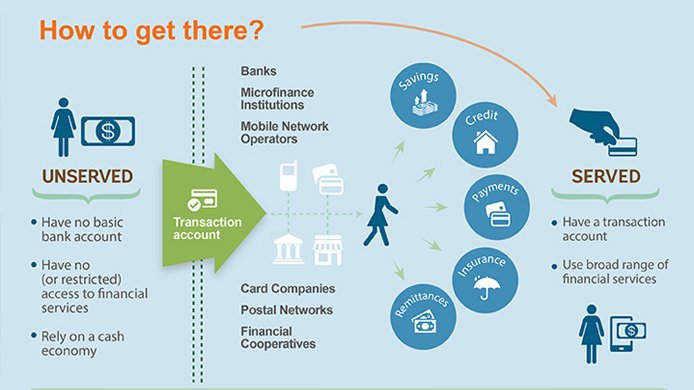 The Financial Inclusion Strategies
As Professor Yunus well saw it, the best way of bringing financial services is through the microcredit method. To do so he created a bank and started delivering loans with the lowest or none interest rate at all. He saw that to being able to deliver an effective service he must do it with the established system.
And so the banks, national governments and international institutions like the World Bank started programs to bring this kind of service based in 3 major strategies: Banks programs, National aid and Digital Literacy.
The Bank card
According to a report by the Center for Financial Inclusion, about the role of the banks in the Financial Inclusion, they said that "most of the banks follow a hybrid approach [to bringing financial services], combining Corporate Social Responsibility (CSR) and business strategies. A CSR component may serve harder-to-reach customers or provide complementary services such as financial literacy, while a financial inclusion strategy on the business side may encompass investment, retail banking for underserved niche markets, and retail banking for mass markets".
And they also added a few examples, like Citi. This bank is one global bank that treats financial inclusion through innovative CSR work, in order to tackle industry-wide problems, while also pursuing a business strategy of investing in last-mile financial service providers such as microfinance institutions and value chain players, as part of its approach to building inclusive economies.
The Governments effort
All of this effort wouldn't be possible without the national government support. For the World Bank it is crucial that the local governments provides programs and acts to tackle the financial services problem. Moreover, to be successful in achieving financial inclusion, it's essential for a country to have a strong political commitment and coordination across relevant public and private stakeholders, and be able to create an enabling environment and wide-reaching policies that promote responsible financial access, financial capability, innovative products and delivery mechanisms, and high quality data to inform policy-making. This also include the developing of new technological infrastructure that allows companies and banks use digital opportunities. Governments could focus on controlling tech-devices prices accessible and providing internet coverage in countryside areas.
The Digital Literacy
Also, and most importantly, the lack of knowledge and thus practice about these services would become a huge problem in order to provide financial services. The world works digitally but most of the people that lives in these developing areas have none or little access to digital devices. Without a basic literacy in the Digital, all the strategies would end up in a failure. So educational programs of capabilities in these areas are essential.
The Financial Inclusion Dream
Financial inclusion means that individuals and businesses have access to useful and affordable financial products and services that meet their needs – transactions, payments, savings, credit and insurance – delivered in a responsible and sustainable way.
This is a long-run movement that started back in the 1970s with a $27 loan in Bangladesh. Today, more than 2 billion people have been aimed in having access to financial services. Financial access facilitates day-to-day living, and helps families and businesses plan for everything from long-term goals to unexpected emergencies.And there are still 2 billion that need help.
Thought leadership series on new trends and blockchain, powered by Humaniq.
Launched in 2016, Humaniq aims to provide mobile finance to the 2 billion unbanked population through its mobile app for good, that uses biometric authentication to replace traditional methods of ID and security. Humaniq's open source stack and API will be available for startups and other businesses to build services on its core technology, making it easy to adapt their service and plug it into Humaniq's network to reach a huge, untapped audience.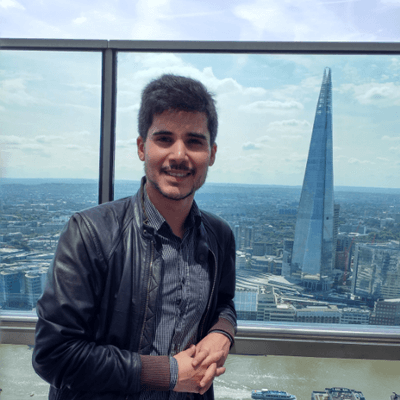 Hernaldo Turrillo is a writer and author specialised in innovation, AI, DLT, SMEs, trading, investing and new trends in technology and business. He has been working for ztudium group since 2017. He is the editor of openbusinesscouncil.org, tradersdna.com, hedgethink.com, and writes regularly for intelligenthq.com, socialmediacouncil.eu. Hernaldo was born in Spain and finally settled in London, United Kingdom, after a few years of personal growth. Hernaldo finished his Journalism bachelor degree in the University of Seville, Spain, and began working as reporter in the newspaper, Europa Sur, writing about Politics and Society. He also worked as community manager and marketing advisor in Los Barrios, Spain. Innovation, technology, politics and economy are his main interests, with special focus on new trends and ethical projects. He enjoys finding himself getting lost in words, explaining what he understands from the world and helping others. Besides a journalist, he is also a thinker and proactive in digital transformation strategies. Knowledge and ideas have no limits.