Two years ago, I attended a workshop about money. The facilitator, at a certain point, told us to empty our pockets, in order to spend some quality time looking, smelling and feeling our money. That, he said, was a first step, into developing a more conscious relationship with money.
The workshop was mind blowing. I became aware of the dysfunctional relationship we all have with money. Even if it is a bit counter intuitive, most of us have a lot of anxiety towards money, and are fearful of not having enough. Why? Because our minds operate under the mindset of scarcity, not wealth and abundance. That type of mindset, which was appropriate to the world we lived in, 200 years ago, doesn't serve us anymore, particularly if you live in the West. It is a mindset which is damaging the world.
Don't fool yourself though, into thinking it is all your fault. The scarcity mindset is the core structure of the current system, the search engine needed, to wealth accumulation. Take the example of debt. We all take loans because the systems pushes us into doing it. Debt makes money grow. It is a core functionality of the current economic system.
We all need to develop a healthier relationship with money on a personal basis, alongside with political action which looks for ways to tackle inequality and policies providing us with alternatives to the current system.
Where is the soul of money?
One author who can help us with this, is Lynne Twist. She has written about how to develop more conscious relationship with money. Lynne thinks that the 2008 crash was actually the best thing ever that happened to the world. Things just can't go on the way they are going. The scarcity mindset is emptying the world of resources. Which ironically enough, is also the cause of the inequality in which we live today. A shift is needed urgently.
Lynne Twist is an American social activist, writer, fundraiser, visionary and speaker, who has, for more than 40 years, helped alleviating poverty and hunger and supporting social justice and environmental sustainability. From working with Mother Teresa in Calcutta to the refugee camps in Ethiopia and the threatened rain forests of the Amazon, Lynne's on-the-ground work has brought her a deep understanding of the social tapestry of the world and the historical landscape of the times we are living in.
Lynne Twist recalls a fundamental encounter with someone that would change her forever Mother Theresa. In one letter, Mother Theresa explained to her the following:
"What is less obvious and goes almost completely unacknowledged is the vicious cycle of wealth. There is no recognition of the trap wealth so often is, and of the suffering of the wealthy: the loneliness, the isolation, the hardening of the heart, the hunger and the poverty of the soul that can come with the burden of wealth. She said that I had extended little or no compassion to the strong, the powerful, and the wealthy, while they need as much compassion as anyone else on earth."
In 2003 she published the book "The soul of money". The book shows us how if we develop a conscious relationship with money, examining our attitudes toward money―earning it, spending it, and giving it away―we can discover surprising insight into our lives, our values, and the essence of prosperity. Plus, the book explains how instead of viewing money as a scarce commodity to be pursued, we can function from a base of sufficiency. When one operates from the mindset of having enough money, one becomes more concerned with allocation and less with accumulation.
If one becomes more aware of money, one realizes how money carries the intentions of those who use it. For example, if you buy free range eggs, you have the intention of alleviating animals suffering, whether if you carry the guilt of being a large corporate polluting the environment, you will make monetary gifts to offset your wrongdoing.
In her book Lynne explains what she considers to be three toxic myths of scarcity.
1) There is not enough. This belief creates a fear base that underlies many of our decisions and actions.
2) More is better. This belief drives a competitive culture of accumulation, acquisition and greed that heightens fears and quickens the pace of the race, but doesn't make life more valuable.
3) That is just the way it is. This belief creates an environment of hopelessness and disempowerment.
Lynne's argument is that we need to speak and act from the standpoint of reunion and connection with all sentient beings. The scarcity mindset is firmly anchored on an ingrained notion of separation. With the development of the internet, that notion is being disrupted, which is about time. People are hungry for more meaning and true connections, in their lives.
One year after the publication of her book, The Soul of Money, Lynne founded the Soul of Money Institute, which is a "center for exploring and sharing the best practices, theories, and attitudes that enable people to relate to money and the money culture with greater freedom, power, and effectiveness." Lynne Twist has received numerous awards for her dedication to a better world including being named a "Woman of Distinction" at the United Nations by the International Health Awareness Network for her work to end hunger and the 2005 Humanitarian of the Year Award from Youth at Risk. She has shared the stage with some of today's most influential thought leaders including: Jane Goodall, Jean Houston, His Holiness the Dalai Lama, F.W. de Klerk, Stephen Covey, Riane Eisler, Deepak Chopra, Barbara Marx Hubbard, Angeles Arrien, Marianne Williamson, Roshi Joan Halifax and Archbishop Desmond Tutu.
She has worked with social causes for many decades. In 1977 she helped found the Hunger Project and worked with it in an effort to end world hunger for more than 20 years. One of her most recent projects is the Pachamama Project, that she created with her husband, trying to answer indigenous peoples of the rainforest who asked her to help save their homes. Her goal with Pachamama project is to "preserve the rainforests by empowering the indigenous peoples who are its natural custodians."
Her thought provoking ideas are available online in various videos and podcasts.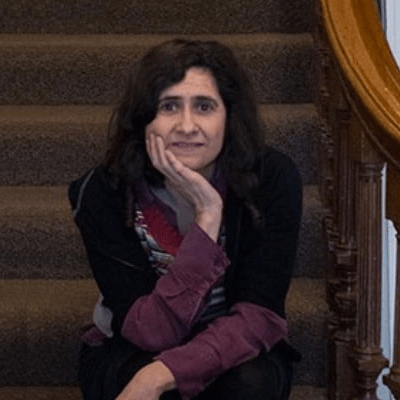 Maria Fonseca is the Editor and Infographic Artist for IntelligentHQ. She is also a thought leader writing about social innovation, sharing economy, social business, and the commons. Aside her work for IntelligentHQ, Maria Fonseca is a visual artist and filmmaker that has exhibited widely in international events such as Manifesta 5, Sao Paulo Biennial, Photo Espana, Moderna Museet in Stockholm, Joshibi University and many others. She concluded her PhD on essayistic filmmaking , taken at University of Westminster in London and is preparing her post doc that will explore the links between creativity and the sharing economy.