Blockchain and AI, particularly machine learning, are two quite recent revolutionary technologies that are being adopted by Governments and Businesses in all sorts of ways. In a series of articles (in 4 parts) I reflect in what ways these technologies have the potential to impact the lives of ordinary citizens.
Businesses such as the ORS Group are providing innovative tools that will incorporate lots of small businesses into the blockchain, and providing them with AI-based tools that will enable them massively scale up their operations. According to the ORS President Fabio Zoffi, ORS Group has created a new concept known as Hypersmart Contracts, which will serve as the backbone to connect small businesses into global players using he combination of the AI and the blockchain.
HyperSmart Contracts are smart daemons with an associated Ethereum account which run second layer, AI algorithms off-chain, to find solutions for complex optimization problems. The data used by the off chain solutions is using data stored on-chain. These smart daemons can also release instant payments optimizing the three major flows that constitute a value chain.
Let's clarify this using an example. A small wine produces wants to take the next step in her business, but she is finding it hard to sell her wine competitively. She needs to know the volumes of vines to be planted, delivery logistics, etc. HyperSmart contracts can empower her business by using optimal data collection from a variety of sources, such as weather forecasts and soil quality, and run algorithms for predicting her vines outcames as well as for dynamic pricing optimization.
By using a blockchain platform using hyper smart contracts, she in provided with transparency across the whole chain. This provides consumers with more safety around the quality of her wines. Also, she can be paid via cryptocurrencies, immediately.
As we can see in this example, blockchain can AI have the potential be used to create new businesses in almost every possible sector, which in turn could raise up to 1 billion new entrepreneurs by 2040.
Impact of AI/Blockchain On Education for Citizens
AI and the blockchain will change the way citizens can study. The role of AI in education is expected to expand by 47.50% from 2017 to 2021, according to a report on the Artificial Intelligence Market in the US Education Sector.
When one thinks of AI in study and research, Google Search and Siri immediately come to mind. Results of searches made on Google for any item are all based on AI-algorithms, and anyone who has used Google Search from its early days until now will quickly notice just how smarter the search engine has become in terms of results delivered.
Artificial intelligence is likely to find the following application in the educational sector, changing the way teacher and students interact in the classroom.
Grading of exam and test scripts will be taken over by AI-driven robots. This is already being applied in computer-based testing, which programs computers to mark scripts based on multiple-choice answer models. However, grading of written scripts may also be taken up by intelligent computers, freeing up time for teachers to do more of teaching and research (Lynch, 2018).
It is also possible that some element of the teaching process will be handled by AI-robots. This will transform the role of teachers and lecturers in the future, moving them into positions of learning facilitation and motivation.
In the same way robots can contribute to the teaching process, students may also get some form of AI support in the form of learning companionship provided by AI bots. An application for this technology could be in providing learning support for students with learning disabilities such as autism and attention-deficit disorders. Mika is an AI-based tutoring tool from Carnegie Learning for students that cannot attend after-school tutorials.
AI-driven machines and robots can also be used to create smart content. AI systems can create digital formats out of lecture notes, textbooks and customizable digital platforms that can be built to suit all age groups. This technology is already in use in some educational institutions. AI-driven applications already in the market include the Google Classroom Comment bank, Netex Learning, Brainly, Thinkster Math and Cram101.
Artificial intelligence is not expected to replace teachers and lecturers. Indeed, this is another case profile of where augmentation of existing methods of learning with AI will work better than with either the human element or AI working independently. The idea thus should be to free up the time a teacher spends in "automatic activities" in such a way that they become mentors and facilitators, helping students in a more personal way.
But it is not only in the world of the academia that AI and the blockchain will create impactful outcomes. Automation of administration in educational institutions will be a huge benefit derivable from deployment of AI and blockchain driven systems in the academic sector (Utermohlen, 2018). The blockchain will lend itself as a means of storing student records, exam scores and even exam questions in a secure and immutable format. This also cuts costs and affords added sanctity of academic records.
All told, AI and the blockchain will deliver immense benefits to all citizens who form part of the academia; students, teachers and administrators alike.
Impact of AI/Blockchain On Citizen Recreation
When it comes to the use of AI and the blockchain in leisure activities, a ready example presents itself in the video gaming world. Video games represent the earliest applications of artificial intelligence, dating back more than 40 years. However, the application of AI in the world of gaming and sports virtual reality is becoming a lot more sophisticated. Many gaming companies are now investing in the use of the blockchain to deliver their products to a global audience. Barriers for entry for developers and clients are being reduced, and this will create an entirely new ecosystem of creative innovations and game development (Heitner, 2018). Ultimately, the user experience of gamers all over the world will be very different from what it used to be.
Traditional sports are also starting to tap into the world of gaming and virtual reality sports. AI will enable consumers of sports content get a better feel and involvement in virtual reality sports that mimics or even surpasses the experience obtained from actual sports. Those who were fortunate enough to use the early two-player video games of the 70s and 80s can see an unbelievable transformation in the industry, with the development of the "one human – AI player" games such as Grand Theft Auto or FIFA Soccer Pro. There is an almost limitless array of scenarios that can be generated using the AI algorithms in these games that would be hard to generate if another human were to take the place of the AI player.
Projects like this will be seen a lot more as AI and the blockchain become part of the recreation and leisure industry.
Other examples in terms of recreation are interesting platforms of creatives, run cooperatively, such as Re(so)nate and Spotify. Resonate is a streaming music service cooperative owned by the people that use it – musicians, indie labels, fans + developers. The platform is blockchain-based, and unlike other streaming companies, it is a direct-to-artist and pay-as-you-listen. Its goal is to be able to pay artists up to 2.5x more than its competitors, while also offering better data and management tools. Stocksy is an artist-owned cooperative that sells stock-photography. The co-op is based in Victoria, British Columbia, and is built on the idea that the artists who contribute photos to the site should receive fair pay and have sustainable careers. Artist-members license images to Stocksy and receive 50 percent commission on sales and share any surplus-income at the end of each year.
Conclusion
AI and the blockchain will impact the lives of citizens in many ways, just the way smartphones have changed the way people live, work and play since they came on stream in 2006. One thing that stands out from this discussion is that some of these changes can produce desirable changes and at the same time, bring about undesirable ones. Imagine a world where people do not have to work so much because A-driven robots will think, say and do virtually everything for them. Will we have so much efficiency that the very essence of humanity is lost? Will we have a world filled with human zombies without life or work skills, communicative abilities or dulled brains? Or will we have more space to truly engage in deeper forms of communication and connection, having more time to engage more deeply with politics our families, our friends, now that most of our time dedicated to boring repetitive activities are performed by robots?
Even more concerning is the fact that AI is only as good as the data that constitutes its building blocks. Good data will lead to good AI, but what kind of AI will be produced from malicious data or data that has been tinkered with?
This brings us to the bigger question: should human existence be perfect? Isn't the very essence of life to experience happiness and some sadness, progress with some challenges and also results produced from a thought process which is then delivered through actual work? How would humanity handle a world where machines do everything and we just exist?Or shall we take another look at all this, by looking at machines not as separate from us, but extensions of what being human is?
There is no doubt that today's concept of being a citizen will change completely once AI and the blockchain are deployed globally. The very essence of human existence will change, as it will not be, as until now, bound to what you do for a living. It is left for all stakeholders to ensure that the adoption of AI and the blockchain will lead to maximum benefits for citizens, and to ensure that the use of these technologies is not channeled into negative causes that will be bad for citizens of the world.
Blockchain and AI Technology: Benefiting the Ordinary Citizen Part 1
Blockchain and AI Technology: Benefiting the Ordinary Citizen Part 2
Blockchain and AI Technology: Benefiting the Ordinary Citizen Part 3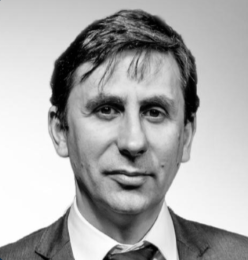 Dinis Guarda is an author, academic, influencer, serial entrepreneur, and leader in 4IR, AI, Fintech, digital transformation, and Blockchain. Dinis has created various companies such as Ztudium tech platform; founder of global digital platform directory openbusinesscouncil.org; digital transformation platform to empower, guide and index cities citiesabc.com and fashion technology platform fashionabc.org. He is also the publisher of intelligenthq.com, hedgethink.com and tradersdna.com. He has been working with the likes of UN / UNITAR, UNESCO, European Space Agency, Davos WEF, Philips, Saxo Bank, Mastercard, Barclays, and governments all over the world.
With over two decades of experience in international business, C-level positions, and digital transformation, Dinis has worked with new tech, cryptocurrencies, driven ICOs, regulation, compliance, and legal international processes, and has created a bank, and been involved in the inception of some of the top 100 digital currencies.
He creates and helps build ventures focused on global growth, 360 digital strategies, sustainable innovation, Blockchain, Fintech, AI and new emerging business models such as ICOs / tokenomics.
Dinis is the founder/CEO of ztudium that manages blocksdna / lifesdna. These products and platforms offer multiple AI P2P, fintech, blockchain, search engine and PaaS solutions in consumer wellness healthcare and life style with a global team of experts and universities.
He is the founder of coinsdna a new swiss regulated, Swiss based, institutional grade token and cryptocurrencies blockchain exchange. He is founder of DragonBloc a blockchain, AI, Fintech fund and co-founder of Freedomee project.
Dinis is the author of various books. He has published different books such "4IR AI Blockchain Fintech IoT Reinventing a Nation", "How Businesses and Governments can Prosper with Fintech, Blockchain and AI?", also the bigger case study and book (400 pages) "Blockchain, AI and Crypto Economics – The Next Tsunami?" last the "Tokenomics and ICOs – How to be good at the new digital world of finance / Crypto" was launched in 2018.
Some of the companies Dinis created or has been involved have reached over 1 USD billions in valuation. Dinis has advised and was responsible for some top financial organisations, 100 cryptocurrencies worldwide and Fortune 500 companies.
Dinis is involved as a strategist, board member and advisor with the payments, lifestyle, blockchain reward community app Glance technologies, for whom he built the blockchain messaging / payment / loyalty software Blockimpact, the seminal Hyperloop Transportations project, Kora, and blockchain cybersecurity Privus.
He is listed in various global fintech, blockchain, AI, social media industry top lists as an influencer in position top 10/20 within 100 rankings: such as Top People In Blockchain | Cointelegraph https://top.cointelegraph.com/ and https://cryptoweekly.co/100/ .
Between 2014 and 2015 he was involved in creating a fabbanking.com a digital bank between Asia and Africa as Chief Commercial Officer and Marketing Officer responsible for all legal, tech and business development. Between 2009 and 2010 he was the founder of one of the world first fintech, social trading platforms tradingfloor.com for Saxo Bank.
He is a shareholder of the fintech social money transfer app Moneymailme and math edutech gamification children's app Gozoa.
He has been a lecturer at Copenhagen Business School, Groupe INSEEC/Monaco University and other leading world universities.