Blockchain: 5 Key Concepts
Bockchain technology seems to be the buzzword of the day. Governments, entrepreneurs business people and banks, all have been paying attention and even allocating resources and investment to better understand and develop what sounds like the data structural holy grail of the future.
Blockchain promises to produce a shift in the current computing paradigm because  it has the potential to become the infrastructure catalyst for the creation of decentralised applications.Blockchain can be seen as the next-step evolution from distributed computing architectural constructs, to a global database of data and interfaces, integrating all kinds of machines and sources of data.
But what is Blochain after all? You can find out about it with the help of Coinformant.com, and in this introductory guide we review 5 key concepts that explain what blockchain is and why it is so revolutionary.
Five Key Concepts
In order to understand well blockchain one needs to grasp the following five key concepts, how they interrelate to one another, and how they might provide us with a new computing paradigm.
Blockchain- 5 key concepts Infographic by Intelligenthq
Those five concepts are:
Blockchain
Decentralized databases applications consensus
Smart contracts
Proof of work/stake.
Trusted advanced computing
1.Blockchain
As we all know blockchain technology started with the bitcoin. Bitcoin is a a peer-to-peer electronic payments system, also known as a cryptocurrency, that allows people to make instant, anonymous transactions online.
The unique characteristic of bitcoin is that it records every single transaction made on its network in a public record. This is known as the "blockchain". A new blockchain is created every ten minutes. That blockchain is afterwards shared throughout the network. The chain is constantly growing, because each completed "blocks" is added to the public ledger. There are an infinite number of blocks on the blockchain, because as soon as one block gets completed, another is automatically generated. Each block though, contains a "hash", which is a unique fingerprint of the previous code.
2. Decentralised Databases Applications Consensus
Blockchain's potential for the development of decentralised database applications consensus is based on the unique characteristics of the technology, as outlined previously.
What is used to secure the authentication of the source of the transaction is cryptography, through the hash codes. There is never a duplicate recording of the same transaction. As such, the need for a central intermediary is not there any more. This breaks with the paradigm of centralised consensus ( when one central database is used to rule transaction validity). As John Reed, former chairman and CEO of Citibank acknowledges:
"A decentralised scheme, on which the bitcoin protocol is based, transfers authority and trust to a decentralized virtual network and enables its nodes to continuously and sequentially record transactions on a public "block," creating a unique "chain": this is the inception and keywords genesis for blockchain."
Another way to put it is to think of blockchain as a meta database where you store any data semi-publicly in a linear container space (the block). Anyone can verify that you've placed that information because the container has a given signature on it, but only the person that created that bloc or a program can unlock what's inside the container because only that person holds the private keys to that data, securely. So, the blockchain is sort of a database, except that part of the information stored — its "header" — is available to the public. Here the public, of course, means a computer scientist or software engineer, knowing how to use it and how to access its APIs and different flows.
Distributed ledger taxonomy Infographic by Intelligenthq
William Mougayar, who wrote the book "The Business Blockchain" explains this with a great metaphor for Blockchain, which is how it is based on one' s own home address. One can publish hers or his home address publicly, but that doesn't give any information about what the home looks like on the inside. You'll need your private key to enter your private home, and since you have claimed that address as yours, no one else can claim the same address as theirs.
The value of decentralised databases applications consensus is enormous and it promises to disrupt the current ecosystem that tends to the monopoly. Companies like eBay, Facebook and Uber are very valuable because they benefit tremendously from the network effects that come from keeping all user information centralised in private silos and how they act as middle men taking a cut of all the transactions.
Decentralised protocols on top of the blockchain have the potential to undo every single part of the stacks that make these services valuable to consumers and investors. They can do this by, for example, creating common, decentralised data sets to which any one can plug into, and enabling peer-to-peer transactions powered by bitcoin and other cryptocurrencies.
A number of promising companies have already begun working on the protocols that will disrupt the business models of the companies above. One example is Lazooz, a protocol for real-time ride sharing and another is OpenBazaar, a protocol for free, decentralised peer-to-peer marketplaces.
Infographic by Intelligenthq
3. Smart contracts
A scaled blockchain is something that starts proving a new global (somehow still science fiction) ecosystem. For this the smart contracts are the building blocks for decentralized applications.
Smart contracts are contracts whose terms are recorded in a computer language instead of legal language. Smart contracts can be automatically executed by a computing system, such as a suitable distributed ledger system. The potential benefits of smart contracts include low contracting, enforcement, and compliance costs; consequently it becomes economically viable to form contracts over numerous low-value transactions.
So the question behind Bitcoin and Blockchain is why depend on a central authority when two (or more) parties can agree between themselves, and when they can bake the terms and implications of their agreement programmatically and conditionally, with automatic money releases when fulfilling services in a sequential manner, or incur in penalties if not fulfilled?
Smart contracts Infographic by Intelligenthq
4. Proof of work/stake
Proof of stake (PoS) is a method by which a cryptocurrency blockchain network aims to achieve distributed consensus. While the proof of work (PoW) method asks users to repeatedly run hashing algorithms or other client puzzles to validate electronic transactions, proof-of-stake asks users to prove ownership of a certain amount of currency (their "stake" in the currency). Peercoin was the first cryptocurrency to launch using proof-of-Stake. With Proof of Work, the probability of mining a block depends on the work done by the miner (e.g. CPU/GPU cycles spent checking hashes). With Proof of Stake, the resource that's compared is the amount of Bitcoin a miner holds – someone holding 1% of the Bitcoin can mine 1% of the "Proof of Stake blocks". According to Bitcoin wiki Proof of Stake is one way of changing the miner's incentives in favour of higher network security.
5. Trusted advanced computing
The integration of all the different concepts outlined here, namely, the blockchain, decentralised consensus and smart contracts, enables the spreading of the resources and transactions laterally, in a flat, peer to peer manner, and in doing that, they are enabling computers to trust one another at a deep level.
If institutions and central organizations are necessary nowadays as trusted authorities, in the future, a certain number of their central functions can be codified via smart contracts that are  governed by decentralised consensus on a blockchain.
Namely, due to the blockchain's role as the unequivocal validator of transactions, each peer can proceed and trust one another, because the rules of trust, compliance, authority, governance, contracts, law, and agreements live on top of the technology.
If you fast forward to a not-too-distant future, smart contracts and smart property will be created, dispensed or executed routinely between consenting parties, without either of them even knowing that blockchain technology was the trusted intermediary. "Trusted computing" on the Web seems to be a key tenet of the new crypto-driven paradigm.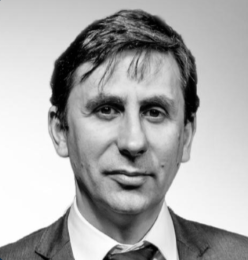 Dinis Guarda is an author, academic, influencer, serial entrepreneur, and leader in 4IR, AI, Fintech, digital transformation, and Blockchain. Dinis has created various companies such as Ztudium tech platform; founder of global digital platform directory openbusinesscouncil.org; digital transformation platform to empower, guide and index cities citiesabc.com and fashion technology platform fashionabc.org. He is also the publisher of intelligenthq.com, hedgethink.com and tradersdna.com. He has been working with the likes of UN / UNITAR, UNESCO, European Space Agency, Davos WEF, Philips, Saxo Bank, Mastercard, Barclays, and governments all over the world.
With over two decades of experience in international business, C-level positions, and digital transformation, Dinis has worked with new tech, cryptocurrencies, driven ICOs, regulation, compliance, and legal international processes, and has created a bank, and been involved in the inception of some of the top 100 digital currencies.
He creates and helps build ventures focused on global growth, 360 digital strategies, sustainable innovation, Blockchain, Fintech, AI and new emerging business models such as ICOs / tokenomics.
Dinis is the founder/CEO of ztudium that manages blocksdna / lifesdna. These products and platforms offer multiple AI P2P, fintech, blockchain, search engine and PaaS solutions in consumer wellness healthcare and life style with a global team of experts and universities.
He is the founder of coinsdna a new swiss regulated, Swiss based, institutional grade token and cryptocurrencies blockchain exchange. He is founder of DragonBloc a blockchain, AI, Fintech fund and co-founder of Freedomee project.
Dinis is the author of various books. He has published different books such "4IR AI Blockchain Fintech IoT Reinventing a Nation", "How Businesses and Governments can Prosper with Fintech, Blockchain and AI?", also the bigger case study and book (400 pages) "Blockchain, AI and Crypto Economics – The Next Tsunami?" last the "Tokenomics and ICOs – How to be good at the new digital world of finance / Crypto" was launched in 2018.
Some of the companies Dinis created or has been involved have reached over 1 USD billions in valuation. Dinis has advised and was responsible for some top financial organisations, 100 cryptocurrencies worldwide and Fortune 500 companies.
Dinis is involved as a strategist, board member and advisor with the payments, lifestyle, blockchain reward community app Glance technologies, for whom he built the blockchain messaging / payment / loyalty software Blockimpact, the seminal Hyperloop Transportations project, Kora, and blockchain cybersecurity Privus.
He is listed in various global fintech, blockchain, AI, social media industry top lists as an influencer in position top 10/20 within 100 rankings: such as Top People In Blockchain | Cointelegraph https://top.cointelegraph.com/ and https://cryptoweekly.co/100/ .
Between 2014 and 2015 he was involved in creating a fabbanking.com a digital bank between Asia and Africa as Chief Commercial Officer and Marketing Officer responsible for all legal, tech and business development. Between 2009 and 2010 he was the founder of one of the world first fintech, social trading platforms tradingfloor.com for Saxo Bank.
He is a shareholder of the fintech social money transfer app Moneymailme and math edutech gamification children's app Gozoa.
He has been a lecturer at Copenhagen Business School, Groupe INSEEC/Monaco University and other leading world universities.